The tales we thought we'd tell of us
The pandemic has turned up the volume on a somewhat new trend in Bengali non-fiction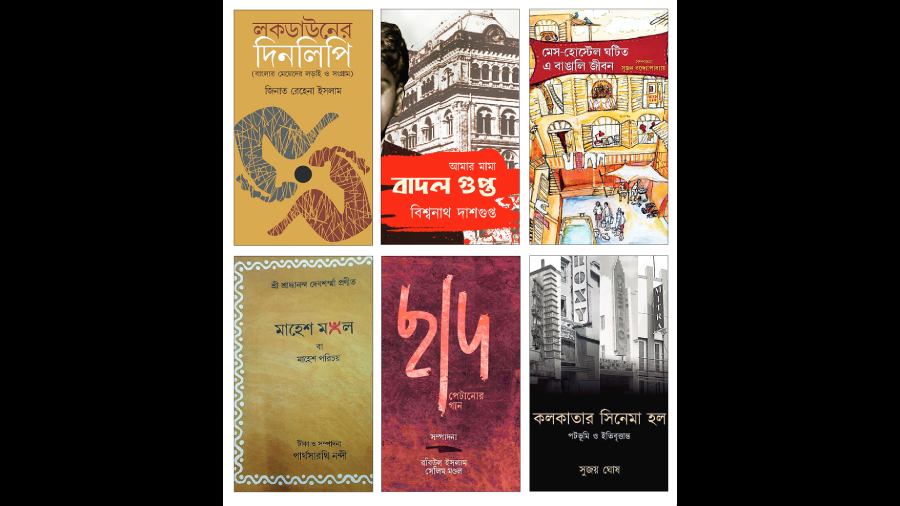 ---
Published 13.03.22, 02:59 AM
|
---
Of the 300 publishers who participated in the 45th edition of the Calcutta Book Fair that ends today, 40 were relatively new and small-time concerns with lyrical names such as Dhansere, Aranyamon, Sristisukh Prokashan, Suprokash, Sopan, Tobuo Proyas, Itykatha Publication, and yes, Lyriqal.
Most of their recent publications seem to have a theme in common — the hyper local. There is a history of Belgharia — it is a neighbourhood of the North 24-Parganas, reminiscings about Calcutta's cinema halls, and a study on the lesser-known gods and goddesses of Bengal. These have been written by Tanmoy Bhattacharya, Sujoy Ghosh and Tamaghna Naskar, respectively.
Such a trend may have been amplified by the pandemic and the different grades of lockdown, but it has been around for a while.
Bhattacharya is 26 years old and a qualified engineer from Belgharia. He says, "I learnt about Tagore's connection with Belgharia and started looking for archival matter. I interviewed elderly people living in the area too."  
Subho Bandyopadhyay launched Dhansere a decade ago. He says, "I used to teach in a school but publishing always attracted me and I decided to try and make a career of it. My father gave me a deadline and an ultimatum. I would have to set up my business on condition that if I didn't succeed, I would get back to teaching." He continues, "I stuck to my ideology. Name and the fame of the author were secondary. I was looking for books I thought should find space on shelves. My first was a book of poems. We will soon publish a book on the rivers of Bengal."
Dhansere also published Partha Sarathi Nandy's Mahesh Mongol. Nandy too is a schoolteacher and his book is all about the history of the Rath Yatra as celebrated in Mahesh in Hooghly district's Serampore.
Tobuo Proyas used to be a monthly magazine, but in 2018 it decided to jump into the publishing fray. Publisher Salim Mondal experimented with regional themes — a book on the boats of Bengal, a collection of speeches by 20 Nobel laureates. "As a little magazine we already had a reader base. We used to participate in the little magazine festival in Nandan and in district fairs." Mondal published research scholar Rabiul Islam's compilation of songs sung by construction workers of Nadia district. "Almost 100 copies of Chaad Petanor Gaan were sold in two days," he says.
Rohon Kuddus, who used to be an IT professional not long ago, founded Sristisukh in 2012. He says, "A market study indicated that non-fiction was catching up fast." Kuddus also used social media to keep track of the readers' pulse. One of his bestselling books during the pandemic has been a lockdown diary by Jinat Rehena Islam, who is a social activist based in Murshidabad. Her book Lockdown-er Dinolipi is about female migrant workers. "She travelled to Nadia, Midnapore, Birbhum, Murshidabad for her research," says Kuddus.
In the West, a bestseller is that which sells 1,000-5,000 copies a week. In India, there is no such benchmark. But Kuddus sold 300 copies of Lockdown-er Dinolipi within a month — which is considered good. There were bulk orders from small towns.  
Suprokash published Sujon Bandyopadhyay's documentation of messbaris, a kind of bed and boarding facility typical of 19th century Calcutta. Sreyan, who founded this publishing house, has also published Nadiar Hat-Hadda by Supriyo Ghosh, a high school teacher of Nadia. To date, 1,500 copies have been sold and the book is up for reprint for the eighth time. Also, a book on Bengal's street food was released in September 2021. Edited by Ardhendu Shekhar Goswami, a retired state government official, it is titled Bangalir Pothghater Khawa Dawa.
Lyriqal's Samran Huda, who has been working with web portals for almost a decade, talks about the book Rasona Smriti Basona Desh. "It is a collection of writings by 22 authors and has to do with food memories of West Bengal and Bangladesh," he says. The other Lyriqal publication is Soumyabrata Sarkar's Bhajane Bhojone Bangalir Smashan, which is about life and living in crematoriums.
What can possibly be the connection between these hyper local narratives and a rogue virus? Well, during the pandemic, wings clipped by the virus, readers, writers and publishers alike started looking at all things closer home with renewed interest. Interest combined with accessibility and dependence on local experts nurtured this genre of writing. And of course, there were rolling unimpeded fields of time like never before.
Says Mondal of Tobuo Proyas, who has published Narir Gaan Sromer Gaan, a book about the songs of women who sing as they sow and reap in the fields or work in the construction sites, "Readers are looking inwards."
Suprokash published Babar Yashica Camera, an autobiographical account by screenwriter Kallol Lahiri. Says Sreyan, "The book is about the journey of a refugee family from Bangladesh to India. It contains photographs chronicling what the family went through."
Sristisukh has come out with another biographical work, Amar Mama Badal Gupta by Biswanath Dasgupta. Says Kuddus, "Badal Gupta of the Binoy Badal Dinesh triumvirate (of freedom fighters) was the maternal uncle of Biswanath. He referred to the letters, jottings and writings of Gupta to put together the book."