The Royal Bengal Turkey
It's what The Telegraph found in the backyard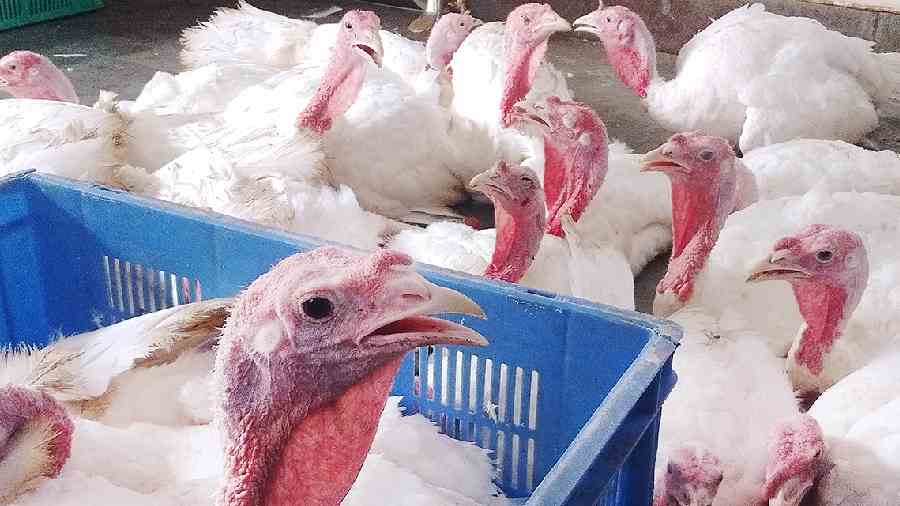 ANGRY BIRDS: The feisty and spirited turkeys of Sonarpur
Pics, courtesy SSKVK
---
Published 01.01.23, 05:46 AM
|
---
Until about seven years ago, the people of Kushtia village under Pratapnagar village panchayat in Bengal's South 24-Parganas had never heard of the Tarki murgi or turkey. Yes, they reared desi murgi, ducks, kuroiler or coloured broiler and the rajhans or swan. Then came along the agricultural research farm in Arapanch in Sonarpur.
The Sasya Shyamala Krishi Vigyan Kendra (SSKVK) was set up in 2013, nearly 30 kilometres from central Calcutta, under the aegis of the Ramakrishna Mission Vivekananda Educational and Research Institute. "This is a research and demonstration centre, where we train farmers in turkey rearing among other things such as the cultivation of paddy, mustard and mushroom, dairy farming and raising poultry," says Sarbaswarup Ghosh, subject matter specialist (animal science) at SSKVK. The farmers are mostly women.
The SSKVK has a large compound with several acres of land under cultivation. A few yards from the entrance are enclosures of turkeys and Rhode Island red hens, a cowshed and some vermicompost units.
As one approaches the turkey enclosure, 40 pairs of red eyes crowd around. They are ruffled at the approach of a stranger but, unlike the hens, they do not panic or flap about. They walk up to the entrance with an unwavering stare. Ghosh says, "The Beltsville small white is best suited for Bengal's climate. It is hardy and can stand the hot and humid weather."
One bird, about two-foot high, stands in the sun. It looks like an old man with a wrinkled throat. It stands still, but its pink snood and thin longish neck with spiky white hair start to change colour. From a purple-pink to scarlet. "He is excited. But whether he is angry or will get aggressive no one knows," says Ghosh. After a couple of minutes, the turkey turns and goes away, apparently unimpressed.
Kobita Mondal, Suparna Deb Sharma, Madhumita Mondal, Tapasi Naru and Priyanka Pramanik have been trained by SSKVK; all of them have decided to rear the "bodo murgi" instead of the broilers; after all, they bring in more money. "Those birds like to be left alone," says Kobita, who has reared 34 turkeys. She continues, "They are voracious eaters. From the time they wake up in the morning, they keep listening for footsteps approaching their enclosure. They know I will give them khichuri to eat." That apart, they also gobble down vegetables and poultry feed referred to as mash. Adds Ghosh, "When a turkey is at home, it will eat up everything — from vegetable peels to chowmein. But they like azolla fern best."
That is not to say that a turkey is a useless food gatherer. At SSKVK, Ghosh has seen how they fly into the hen enclosure through a gap at the top, eat the mash there and fly back to their cage. "The roosters shriek but the turkeys do not pay any heed," he says with a laugh.
The turkey is native to North America. It grows up to four feet and is supposed to be aggressive in nature. "But our birds are docile," says Kobita and adds, "They behave like children. If there is food in my hand, they will peck at it. The other day as I bent down to place food in the bowl, one of them climbed onto my shoulder."
SSKVK has tied up with the West Bengal Livestock Development Corporation Limited to market these birds. Ghosh says, "These birds are crossbred among their own species. Scientists have tried to come up with varieties that can grow quickly and have tender meat at the same time." SSKVK has also collaborated with the Indian Veterinary Research Institute — Eastern Regional Station, to diagnose diseases such as pox and Newcastle disease that might strike these birds and even vaccinate the birds against these. "But typically, these birds do not fall ill. They might catch a cold and when that happens, farmers give them home remedies — more turmeric, garlic and onion in food — and they are fine," he says.
In Niyati Mondal's village, Joykrishnapur in Sonarpur subdivision, there is a women's self-help group comprising 30 members. "In 2016, when I started, we were just five women." From 40 birds, Niyati had made a profit of Rs 25,000-plus in about five months. "I had spent Rs 19,000." Each bird can be sold at Rs 1,500-2,000. "The Bengal government sells turkey meat at Rs 290 per kilo here. During Christmas [turkey is a Thanksgiving bird in the US], they can fetch Rs 400-500 a kilo," she adds.
Between them of a feather, the birds can be quite aggressive. Niyati continues, "The male birds bite the female birds sometimes until they start to bleed. I have to intervene and pat them on the head to cool them down."