The naked truth
Naked cakes, without layers of icing, are the hottest new trend both in India and abroad, says Arundhati Basu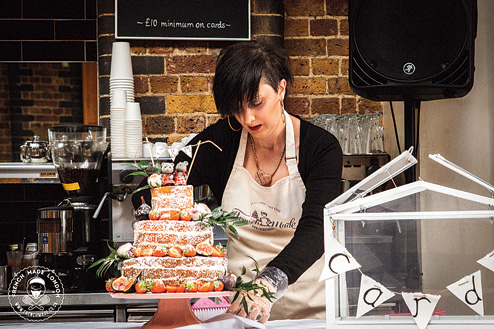 ---
Published 15.11.15, 12:00 AM
|
---
It's a historical controversy that has never been entirely resolved. Was it Marie Antoinette who uttered the immortal words "Let them eat cake"? Or was it Marie-Thérèse, the wife of France's Sun King Louis XIV who said it a hundred years earlier? One way or another, what would Marie-Thérèse or Marie Antoinette have made of the newest trend coming out of upmarket bakeries: naked cakes?

No, wipe that horrified look off your face. Naked cakes aren't phallic-shaped and they've nothing to do with people taking their clothes off. A naked cake is exactly what its name suggests. It's a very fancy cake but without the icing.

At the head of the naked cake movement is Christina Tosi, New York's master baker, who runs the cutting-edge bakery Momofuku Milk Bar. Tosi kicked off the trend with creations like her 'exposed crumb cakes' with a three-tiered funfetti birthday cake, layered with vanilla frosting and on the outside dotted with funfetti.
Says Tosi: "I asked myself why was I hiding the colourful, textural parts of being in the kitchen behind a wall of décor?" Don't forget that cakes have been slathered with icing since around 1760.
The Milk Bar opened in 2008 with a promise of American treats like crack pies and compost cookies. "I'm an old-school American baker-meets-junk foodie-meets-fancily-trained-pastry-chef who wanted to redefine cake," adds Tosi. The author of two books, she's been slated by reviewers as the "talented new voice you want whispering in your ear as you bake".

Cut to Mumbai's smarter bakeries where the word is out about these cakes with their vintage-style appeal. At PaagalKhana Kitchen, head chef Rachita Doctor-Shah gives her eggless twist to what are called cutting chai cakes. If the name sounds mysterious, don't be too mystified — it's a cake named after Mumbai's cutting chai. Doctor-Shah layers the cake in a glass with ganache and minimal or no frosting on its sides. Also on the menu are naked cakes shaped like idlis and served with cream cheese chutney. "We fiddle with cream cheese-honey coconut glaze topped with fresh figs and Indian rose and almond flavours," says Doctor-Shah, who started her outfit with her husband three-and-a-half years ago.

Yes, flavours make or break a naked cake. At Icing On Top, a bakery in Mumbai's Kemp's Corner, owner and head baker Ayushi Shah specialises in light and moist sponges with an emphasis on flavours. "Combinations like lemon, lavender and poppy-seed cakes, green tea-almond cakes are my forte. But the masala chai and almond cakes are hotsellers," says Shah.
Across the world, naked cakes are making their appearance in fancy forms. In Hertfordshire, England, Cynthia Stroud rustles up naked cakes at her bakery, Pretty Gorgeous Cake Co. It's been one of the first few to introduce naked cakes in England.

While the Marseille-born proprietor of an English dessert company French Made, Lauren Delpech, makes sure that her pared-down cakes expose layers of sumptuous sponge but are not dull on the eye or the taste-buds.

"I can adorn the cakes with French biscuits, make them sit atop a tower of cupcakes," says Delpech who started her bakery in Essex, England, in 2010. Her motto: The quirkier the better. She does exotica — try coconut and lime cake or a coffee flavoured cake with fresh cream, caramel frosting and toasted flaked almonds. Decorations range from citrus fruits and summer berries for spring-summer to richer flavours during autumn-winter with black grapes and figs.

Assembling multiple layers of naked cake requires the precision of a surgeon. Stroud takes two hours to assemble a four-tier naked cake and Delpech sets them up at party venues.
Authentic American recipes are hot favourites at The Hummingbird Bakery, which opened first in the chic Notting Hill quarter of London. "For home bakers, the naked cake is less forgiving. The key is to take time and ensure that the frosting is spread evenly with a palette knife," advises Tarek Maklouf, managing director, The Hummingbird Bakery.

Now, there are semi-naked cakes too — picture a thin scraping of buttercream or frosting around the sides — making the rounds. Stroud wryly declares it be the "halfway to hell" and Delpech finds the slightly frosted look irresistible when made with white buttercream for an elegant, wintery touch or funky with a coloured look.

But when it comes to passing the acid test, Tosi who kicked it all off, has a checklist. "Texture, visual appeal, ability to execute consistently — it has to pass every test. But flavour remains the first line of defence. Most importantly, you have got to innovate. Time spent in the kitchen should always be done with a sense of adventure."