The mood and making of a lockdown wedding
'That we pulled off a lockdown wedding, we'll tell our generations to come'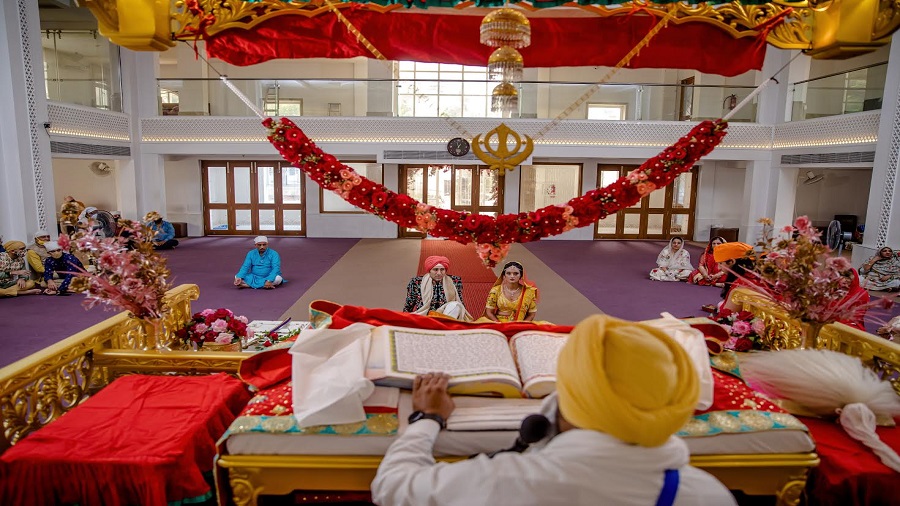 ---
---
He had "never seen such a full-speed wedding". She was happy that everything wrapped up in two weeks. Pandemic bride and groom Sudhir Ahuja and Renuka Govindwani.
When we had connected with Sudhir, the owner of Bakstage and Motor Works & Brewing Company, prior to his June 28 wedding, he had just come back from Sood on Park Street, who finally stitched his wedding sherwani. "I don't feel anything!" he had laughed. A week into his wedding, he was definitely feeling like a "husband", not so much "newly-married". "That feeling, no one knows when it came and how it's gone," he laughed, with Renuka by his side. For her, it was a "blessing in disguise". "Whatever we had planned amongst ourselves was enough for us. We got so much time with each other, the families, at home," said the Pune girl who studied law and cyber law and then quit it all to pursue adventure travelling and now a bit of leisure travelling too.
Sudhir and Renuka's wedding was initially slated for May 2 in Pune. Then Covid-19 and the resultant lockdown left us crippled. Pune as a wedding venue was ruled out because of the virus peak in Maharashtra. "Everything became very uncertain. The next available dates were in November. The idea was to get over with the wedding. The celebrations can always happen later," said Sudhir. This uncertainty was a little "troublesome" for Renuka too. "But I am the kind of person who doesn't stress. So, I was like, bring it on. We have made the most of it in these months. Time flew and then there was a date thrown upon us. Everything fell in place," she laughed.
With just a couple of weeks to prep, the easiest bit was that there was nothing much to do. "People had to be informed that we were getting married and that the wedding happened. It was not a wedding wedding. There was nothing we had to sit and plan," said Sudhir.
Renuka's family, eight in all, stayed at The Park. "There was the challenge of late nights because of the 9pm deadline then. None of the places are allowed to serve alcohol. The only place available were hotel rooms. The accommodation had to be close to our house. The only option we had was The Park which is walking distance from where I stay on Middleton Row. Sindhi-Punjabi (Sudhir and Renuka are both Sindhis) weddings are always with alcohol and non-vegetarian food, late nights with music. So even if we could not do an elaborate affair, we wanted the family to celebrate elaborately," said Sudhir. A small sangeet was planned at The Park on June 27. "We had booked a couple of suites and opposite there was a lounge. The bar was set up in the suites and the food arrangement was in the lounge. We had pre-recorded music. DJ Sunny, the entertainment head at Bakstage, gave me music on a pen drive. We had initially planned on getting the dhol players... but then it was not possible to arrange that inside the suite because of the risk factor," said Sudhir.
In times of #newnormal, "the only difference for the moment will be the size of the event and the new set of norms keeping the present pandemic guidelines in mind," felt Pramode Bhandari, area general manager, The Park.
Sunday noon saw Sudhir and Renuka become man and wife at Gurdwara Sant Kutiya, Bhowanipore. "This was also the first time l wore a pagri. The wedding lasted for about 45 minutes. Then there were blessings and exchange of sweets. We had a photo session. At the prasad section, we did the varmala exchange because that typical feeling of a wedding would not happen without a varmala and sindoor. We also had the ring exchange on the wedding day. That took another 20-30 minutes," recalled Sudhir. Renuka remembered fixing the common Zoom link which was accessed by their near and dear ones to be a part of the ceremony and the proceedings. "We connected it to an iPad. The camera was facing us directly.
Even when I sat down for the pheras, that's what I was doing....," she laughed.
Twenty three people attended the wedding including 13 from Sudhir's family and two photographers. "We allow 25 people as per government restrictions. We have installed sanitiser machines too in the gurdwara. We have to adhere by the social distance rules and try to wrap up as fast as we can. Bahut kam hai (weddings). Pehle jaise hota tha, gurdwara pura bhar jata tha. Now the times are such, sabhi mil ke joojh rahe hai," said Gyani Ram Singh, head Granthi, Gurdwara Sant Kutiya, Bhowanipore, who conducted the ceremony.
Renuka sorely missed her close-knit group of friends and family the most and the "carefreeness" that comes with a wedding. "People we really wanted to attend our wedding, attended it (virtually), but at the end, we couldn't hug anyone. The proper bidaai didn't happen," she said.  
The two, however, looked the perfect couple, Sudhir in a navy blue Sood sherwani with ethnic handwork and modern colours and Renuka in a vibrant lehnga. "Ratul (Sood) is a stylish guy... so I had that confidence in him. He was also the closest to our house (on Middleton Row). I went with my brothers to meet Ratul and there was this blue piece hanging. That piece seemed custom-made for me. My wedding outfit was frozen in 20 minutes," smiled Sudhir. For the other occasion, he went casual in denims and white shirt.
"There has been a steady flow for the weddings. Non-wedding clothing demand is very weak. For the other functions apart from wedding, they are just going for waistcoat sets... Nehru jackets, shirts and trousers. They are saying that let's do new clothing, but something reasonable and functional which we can wear 10 times after. For the weddings, they are generous in their spending. The quantity has come down, not the quality," said Ratul.
Renuka's lehnga was delivered in the nick of time. "I was here in March for my wedding shopping. We wanted to coordinate outfits. We had also planned a three-day affair. So, we had a lot of stuff ordered, but because of the lockdown, everything was on pause. When the dates were decided, Sudhir's chachi started persuading the people we had ordered the clothes with. The designer barely had stuff because of the lockdown. He dropped off my lehnga just in time. Jewellery and make-up we managed before there was another lockdown in Pune. So, I think they opened only for me!" said Renuka.
The gurdwara wedding was followed by lunch at Bakstage. "I had told my team to prepare a nice lunch. They were very excited. They got the entire place done up and a few rooms ready. There was a lavish buffet. Mocktails, fancy desserts, vegetarian food.... Hookah and alcohol weren't allowed. So majority were disappointed! For a Punjabi-Sindhi wedding, they don't even attend if they get to know there is no alcohol. Cocktail mein chale jayenge, shaadi chhor denge," laughed Sudhir.
Renuka's dad, Rajkumar Govindwani, was one happy man though, when we called him in Pune. "We felt completely at ease over there because Calcutta people are so nice. The experience was good. The service was also great. Both families had limited people, so kaam bhi jaldi khatam ho gaya," he said. A sentiment echoed by Sudhir's parents, Gul and Karuna Ahuja too. "This was a very different kind of a wedding. But then I would appreciate these kinds of weddings. Too much of extravagant things were not really exhibited. It was a complete family affair which was very adorable, I would say. This was a very personal experience, a personal moment," said Ahuja senior.
And, as they say, all's well that ends well. "That we pulled off a lockdown wedding, we'll tell our generations to come," signed off Renuka, all set to make Calcutta her home.