At the beginning of this month, Bengal chief minister Mamata Banerjee declared the day after Christmas a state holiday. In July this year, she had declared an 11-day holiday for Bengal. Why? To celebrate the Unesco heritage tag for Calcutta's Durga Puja. And with that, the count of October's "no work days" went up from eight to 14. This figure did not include Sundays.
No work day is officialese for holidays — state as well as those declared by the Centre — and any related announcement impacts those who work in the public sector, schools and colleges, government and private alike. In the last 10 years, the number of state holidays has increased in Bengal. In 2022, there were 29 state holidays as compared to 17 in 2012.
While some of the state holidays are specific to a certain geography in the state, others are specific to a community. For example, among the recently included holidays is February 14, which is the birth date of Rajbanshi leader Panchanan Barma and the holiday is applicable to Coochbehar only. February 16 is a holiday for the followers of Sikh sant Guru Ravidas. In Thakurnagar in the North 24-Parganas, March 30 is a holiday to commemorate the birth anniversary of Hari Chand Thakur, the founder of the Matua sect. April 16 is Easter Saturday and is a restricted holiday meant for the Christian community; June 30 is Hul Diwas for Adivasis; July 1 was declared National Doctors' Day as it is the birthday of Bidhan Chandra Roy, himself a doctor and also the first chief minister of West Bengal. Rath Yatra was included in the list of holidays in 2021. August 11 was declared a holiday on the occasion of Raksha Bandhan, September 6 was Karam Puja for the Santhals, November 15 is tribal leader Birsa Munda's birthday. A halfday holiday was announced on February 7 when Lata Mangeshkar died — the only other state to declare as much other than the singer's home state of Maharashtra. And when Trinamul minister Sadhan Pandey died in 2022, the next day — February 21 — was declared a half-day holiday.
The Trinamul government has also made it the norm to announce holidays on dates before and after the actual festival day and named these additional holidays. This applies to the day before Chhath Puja, the day after Saraswati Puja, Id, Kali Puja and Christmas. So, the overall holiday tally for Bengal looks like this: 104 Saturdays and Sundays and 45 public holidays.
The question that needs asking is: can a government function optimally when it is on leave for nearly half the year?
Many of the people this correspondent approached refused to comment, some did but off the record. The Telegraph tried to contact the West Bengal Industrial Development Corporation under whose aegis come the state's industrial bodies, but there was no response. Economist Avirup Sarkar says, "There is no denying the economy of the state will suffer to an extent. It will not come to a halt, but it will function less efficiently."
ficiently when things are closed down," says Kaushik Maitra of Sulekha Ink, who revived his business in Calcutta during the lockdown. He continues, "The holidays affect us in many ways. They disrupt the chain of business. For example, I manufacture and sell ink. If schools and offices are closed for such long periods, sales suffer."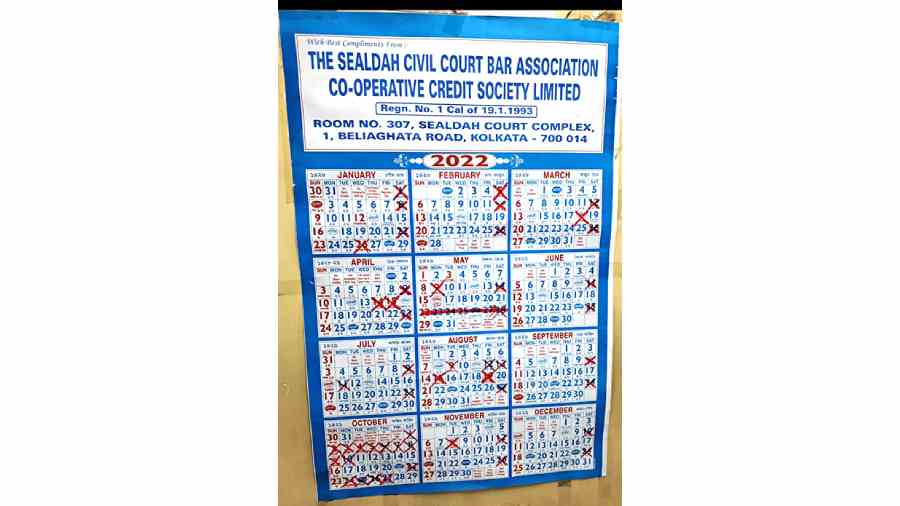 The overall holiday tally for Bengal looks like this — 104 Saturdays and Sundays and 45 public holidays
Mitra's business comes under the category of micro, small and medium enterprises. Most of the big players of industry either closed down or moved out of Bengal in the 1980s and early 1990s; only the IT sector flourished. Do these holidays affect those in IT?
"Not really," says Raja Neogi, who works in one of the multinational companies in Salt Lake's Sector V. But there are dependencies. People in the IT industry have to travel abroad frequently; new joinees need passports. Says Neogi, "For this, the passport office has a desk within the company precincts. Whenever there is a holiday, the desk remains closed and Tatkal services are expensive."
During the no work days, regular services of the government are unavailable. You cannot register a birth, cannot get a death certificate, mutation, land registration or pay goods and services tax, etc. Fair price shops too are closed and even the Trinamul initiative for the common man — Duare Sarkar — remains suspended.
Public transport is affected. State government buses don't run. "Even local train services are disrupted," says Sumitra Pathak, who herself is an employee of the railways. Some trains are cancelled. "So there is a lot of crowding in the trains that run that day," adds Pathak. Because of reduced footfall, smaller businesses experience collateral damage.
Prime Minister Narendra Modi said in what is now a widely quoted interview — "If a person selling pakodas earns Rs 200 at the end of the day, will it be considered employment or not?" For all their differences, Mamata Banerjee endorses this idea of the rival party. She too had said something about "chop shilpa" or fritters industry.
But when holidays are declared out of nowhere, this is what happens to the chop or pakoda sellers. Nimai Halder has a food stall on Bentinck Street in central Calcutta. He says, "Earlier, I would do business right through the week. But now, government officers have so many days off. My income has gone down."
An official of the Bengal Chamber of Commerce refused to engage with this issue. He said, "Our office follows the National Instrument Act, 1881, rules when it comes to holidays. The holidays that the state government announces in the middle of a calendar year are only for government offices. Private bodies are not under any obligation to remain closed.
But private bodies cannot function without the government machinery. Tapan Nandi, who runs a Rs 50-crore leather goods business, says, "On holidays files do not move. If we submit a quote in reference to a government tender call, it remains unacknowledged. It affects us economically. We cannot dump sewage without the government's nod."
A doctor who works in a government hospital says on conditions of anonymity, "On a state holiday, senior doctors are on leave and junior doctors and interns are left to manage the patients."
Eleven-year-old Arpita Sarkar was suffering from blood cancer. During Durga Puja this year, she needed blood transfusion. The donors were ready but the phlebotomists were on leave. "The little girl died a day after Dashami. Blood transfusion could not be done," says her angry neighbour. And so it goes.
No sooner did Argentina lift the 2022 Qatar World Cup than the Bengal memes went viral. The gist of them: Didi, another occasion to celebrate. Please declare yet another holiday. "Neel shadar dibbi... In the name of all that is white and blue."
The West Bengal CM had said not long ago that the state would become the No. 1 job creator in India in four to five years. But what use will those be, if the holiday list also grows exponentially?