The jewellery giants
Gold and diamonds are taking the country's top jewellers into the mega-rich, billionaire league, says Aarti Dua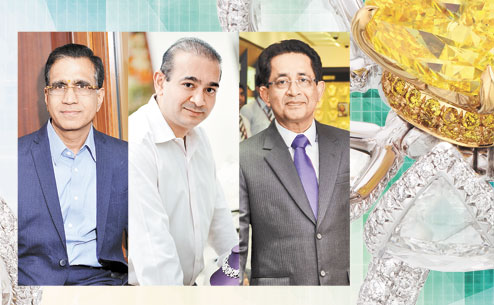 ---
Published 27.04.13, 06:30 PM
|
---
(From left) T.S. Kalyanaraman, Nirav Modi and Joy Alukkas
The gleaming white multi-storeyed corporate office rears high over the mostly low-lying homes on drab Sitaram Mill Road in the dusty city of Thrissur, Kerala. It may seem like the unlikely seat of glittering ambitions. But here, from a glitzy second-floor corner office, T.S. Kalyanaraman is busy thinking up his next golden move.
Last month, his around-Rs 10,000-crore, 48-store Kalyan Jewellers, said to be the country's largest privately-owned organised jewellery chain, made a splashy foray into Mumbai. He and his sons Rajesh and Ramesh, who head finance and marketing respectively, opened three huge 15,000-sqft stores on a single day with brand ambassadors Aishwarya Rai Bachchan and Amitabh Bachchan on hand to do the honours. And now, Kalyanaraman's set to open another 20 stores in 2013-14 with an investment of a cool Rs 1,300 crore. 'We've got the blessings of god and the people's acceptance so we'll climb as high as possible,' he says.
Once upon a time jewellery was dominated by mom-and-pop-style stores that never looked beyond the horizons of their own city. Now giant jewellers like Kalyanaraman are moving into an entirely new league. This year, three jewellers — Kalyanaraman, Kerala-based Joy Alukkas and Mumbai-based Nirav Modi have zoomed so high they've made it to the international list of billionaires compiled by Forbes magazine.
Mumbai-based diamantaire Nirav Modi is becoming a name to reckon with in the international world of luxury jewellery. Pic by Donald Woodrow.
Barely two hours from Thrissur on Kochi's Marine Drive, more shiny ambitions are being carved out in another glittering office tower. Here, Joy Alukkas, the unassuming owner of the high-profile 85-store, Rs 8,500-crore Joyalukkas jewellery chain has set out a massive three-year expansion plan.
But adding a mindboggling 60 jewellery stores over three years is just one part of his plans. The 56-year-old Alukkas — he doesn't wear any jewellery or carry a smartphone — is also looking at sparkling diversifications into foreign exchange, textiles, malls, real estate and charter aircraft. 'I'm already in the basketball court. So I'm just netting the balls as they come to me,' says Alukkas, who's now largely based in Kochi and Thrissur while his son John Paul Joy heads international operations from Dubai.
Both Alukkas and Kalyanaraman belong to Thrissur. After revolutionising jewellery retailing and becoming household names in the south, both now want to capture the jewellery market across India. They're betting on the Indian middle-class' rising spending power and insatiable appetite for gold.
But in Mumbai, diamantaire Nirav Modi has set his eyepiece on quite the other end of the spectrum. With his one-of-a-kind pieces made with rare diamonds and precious stones and with his manufacturing innovations, Modi's carved out a name for himself in the international world of luxury jewellery.
His jewellery appears frequently in international auctions — his 88.88-carat Riviere necklace, for instance, sold for a huge $5.1million at a Sotheby's auction in October. And he wants his Nirav Modi line to be counted with the Harry Winstons of the world even as he woos India's super-rich. 'I want to make timeless jewels with rare diamonds and exquisite craftsmanship,' he says.
Thrissur-based T.S. Kalyanaraman has taken his Kalyan Jewellers to splashy heights with his large-format stores and popular range of jewellery that includes chunky gold necklaces in traditional designs like this one below

Pic by Gajanan Dudhalkar
You could argue that, for all three, their entry in the global rich rankings has been helped by the huge increase in the value of gold and diamonds. After all, till it began falling this month, gold had ridden a 12-year bull run. And diamond prices have climbed in leaps and bounds since their 2008 lows.
Yet, the fact is that all three represent the stuff that entrepreneurial dreams are made of. Ask Alukkas the secret of his success, and he promptly says: 'Opportunity'. It's this ability to spot opportunity that saw Modi quietly amass a cache of rare diamonds during the 2008 economic meltdown. He then patiently crafted them into unusual pieces like the Rs 16.29-crore Golconda Lotus necklace, which propelled him into the international spotlight.
Of course, Modi's eyeing different opportunities from Alukkas and Kalyanaraman. So, in Modi's jewellery salon in Mumbai, the mood is discreet. The accent is on rare stones and timeless elegance. Modi often takes years to collect the stones — and then more years to craft the right design for them. His cheapest piece is his Rs 10-lakh diamond and gold elastic bangle — he was inspired by his daughter's plastic bangle but then innovated madly to replicate its elasticity. 'It's the most complicated piece we've made,' he says. Or there's the stunning Sunburst collection too.
On the other hand, step into Kalyan Jewellers' two-level Vashi store and you're struck by the glittering gold on display. This is jewellery for the mass market. So don't expect fine aesthetics or craftsmanship. Chunky gold sets in traditional styles like the temple designs of Tamil Nadu predominate. There's a wide lightweight range and a separate diamond section upstairs too.
Similarly, in Joyalukkas's Palace Road showroom in Thrissur, the jewellery is aimed at the local taste for shiny gold. There are many takers for the glitzy bangles and traditional sets. And it's not uncommon for customers to select a trayful of pieces and stump up, say, Rs 15 lakh, without hesitation. But margins in gold jewellery have shrunk. So, Alukkas has just opened a swank all-diamond boutique at Kochi's Lulu mall.
Mehul Choksi, chairman, Gitanjali Gems, who first brought branding into Indian jewellery, says that players like Kalyan and Joyalukkas are 'expanding as gold brands'. 'We've had branding in diamonds so far but not so much in gold. Also, customers are preferring brands over traditional mom-and-pop stores,' he says. Yet these players' high-volume, low-margin growth strategy also means that profits are low, he adds.
For Alukkas, opportunity first came when he visited Abu Dhabi in 1986. There was a huge difference in gold prices in India and the Gulf then. 'Every Malayali there wanted to purchase gold. Yet all the gold shop owners were Gujaratis. So I thought it's a good market,' says Alukkas, who began working in his father's jewellery shop in Thrissur at 14.
He opened his first shop in Abu Dhabi in 1987. But till 1999, Alukkas, who is the fourth of five brothers and 10 sisters, grew gradually. Then the family business split in 1999. 'Before partition, I had only three outlets as my brothers stopped me from expanding. But after partition, I kept adding 10-12 showrooms each year,' he says. By 2002, when he turned to India, he had 30 stores in the Gulf. 'Most Indian jewellers had only one-two outlets then. But I opened five showrooms in 2002-03, and brought in promotions and bank finance. Today, they're all following me,' he says.
Kerala-based Joy Alukkas not only has glittering expansion plans for his 85-store Joyalukkas jewellery chain but he's also diversifying into other businesses
Kalyanaraman too began by changing the game's rules. His mantra is: 'If you provide the best quality at a low margin, turnover will follow'. He inherited this from his grandfather, who started a textile mill in Thrissur in the early 1900s. Later, his father set up a textile shop and he learnt the ropes from age 10 there.
'My father taught me how to collect money and treat each customer alike. Of course, my mind was on the masala dosa that he'd treat me to each evening. But gradually, I also started thinking only of business,' he says.
In the 1980s, after a family division, he got his own textile shop and soon started doubling his turnover. In 1993, however, he decided to diversify into jewellery and set up his first shop. And he changed the rules, by not only opening a large 4,000-sqft shop but also focusing on purity. 'We were the first to introduce 100 per cent BIS gold,' he says. Later, he introduced a rate tag, stating the making charge upfront.
Yet, it was only in 2000, after his sons joined him that he decided to open one shop for his elder son and a second in Palghat for the younger one. By March 2005, he had four shops, which grew to 17 by March 2010. But the pace has accelerated since then.
Now, both Alukkas and Kalyanaraman are moving at mind-boggling speed. Both will soon become neighbours too in Sobha City, Thrissur, where Alukkas is building a massive villa that's next to Kalyanaraman's three smaller villas.
Take a look at Alukkas's plans. This year, he'll open at least 14 jewellery stores with an investment of Rs 400 crore in cities like Calcutta and Vadodara. 'I want to take Joyalukkas to every district headquarters,' he says. Besides, over the next three years, he will expand his forex chain to 100 stores, open 10 Jolly Silks stores and open six mid-sized wedding malls called Mall of Joy, too. Then, there's his air charter service, which he began in 2011 when he acquired a $4.5-million Embraer jet for his personal use. Now, he's ordered two bigger jets. Plus, he's begun four apartment projects in Kochi and Thrissur.
Like Alukkas, Kalyanaraman too is betting on volumes. And he's aggressively expanding beyond the south. 'We'll have 40 stores in the north in two years,' says his son Ramesh. This year alone, he'll add 20 stores in India and also enter the UAE.
He's diversifying into real estate too. So, he's launched two projects in Thrissur. Also, coming up are projects in Bangalore and Coimbatore. And yes, he got himself a private jet too last year.
Modi's known for his use of rare stones and his timeless designs as seen in his popular Sunburst collection
Meanwhile Modi, who grew up in Belgium — his father and grandfather were diamond dealers — and who started his own company Firestar in 1999, has ambitious if steady growth plans. Apart from his Nirav Modi line, his biggest business is dealing in rare diamonds — he has units in Armenia and Russia, which have given him access to the finest diamonds. Then, he's got a manufacturing unit in Surat and jewellery retailing in the US too.
Of course, the spotlight is on the Nirav Modi line. He's planning to open retail outlets in Delhi and Mumbai this year. And he will look at a store overseas in 2014 as well.
Yes, there are challenges ahead. For Kalyan and Joyalukkas, this will include managing their expansions. Besides, with gold prices falling, analysts expect gold sales in grammage terms to increase but turnovers to slip. Any high-cost gold inventories could also impact bottomline. Nevertheless, the players are confident that the glitter isn't going to dim anytime soon.