The Ikai Asai Lila collection is poetry soaked in the magic of the handcrafted
Imbued with the earthy-cool, the collection has a certain serenity and can fit into any room across the globe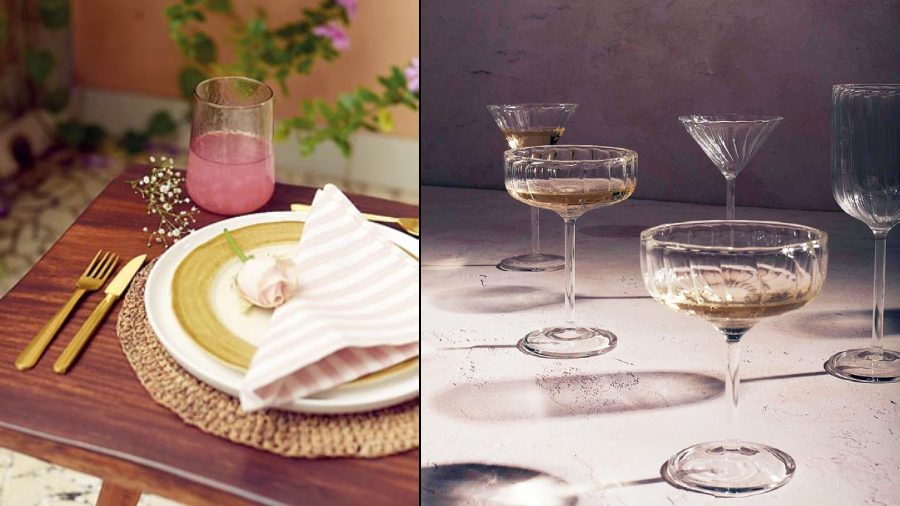 ---
Published 28.07.22, 03:14 AM
|
---
Ikai Asai, 'a table of inspiration created in collaboration with artisans, artists and designers from India' has collaborated with Mumbai-based interior designer Ravi Vazirani for a beautiful Ikai Asai Lila collection. The line comprises earthen vases, tableware and glassware made of ceramic, brass and glass, with natural fibre table linen. Imbued with the earthy-cool, the collection has a certain serenity and can fit into any room across the globe. We chatted with Ananya Birla, founder, Ikai Asai, and Ravi Vazirani, to know more about the range. 
Lila looks like poetry. How did this collaboration come about?
Ananya: In our first collection of 2022, Ikai Asai collaborated with artist Ravi Vazirani, seeking an answer to what truly makes a house, a home. Ravi is a trailblazer in his field, he is constantly innovating to add functionality in his aspect of design. When we presented the concept of Lila to him, he promptly added his own element to the earthy, nomadic mood of Lila — to be one with land, culture and its people.
This led us to Puducherry, a southern coastal city with vibrant bougainvillea paths, welcoming doorways, sunlit glistening beaches, and a shared history of its people. Puducherry is where the serenity of taste, flavour, sight and senses lie. It is here we found our 'Anbukkudil', a place of love and affection.
Ananya, how would you describe Lila?
Lila as a mood is playful, nomadic and captures the romance and essence of this exotic town in its creative manifestations through an inspired selection of forms, colours and materials.
Ravi, what is Lila for you? Why the name?
I imagine Lila as a nomad, a world traveller who chose Pondicherry to be in for the moment. Fascinated by the beauty and culture and excited by the access to craft, this is where Lila is currently. Making a life, building a home, enjoying the moment, simply being in that moment and adding layers to an already beautiful life.
Ravi, what's the genesis of the word 'Anbukkudil'?
'Anbukkudil' is the emotion of coming home. I imagined Lila as a person, creating and building her life in Pondicherry. As she found comfort in Pondicherry, I want you to find comfort in every piece from this collection. Ravi, can you take us through the pieces?
Every piece in this collection has been designed to work together as a set as well as independently, in pieces, to add into your home. I want to encourage you to layer through the banana fibre mats, the subtle colours of mustard and blues, the textured papier mache and the lines of our glassware. Every piece has been taken out of Lila's home and created to encourage you to play.
Ananya, what are your favourites?
My personal favourites from the collection are the ELAN glassware collections, especially the wine glasses and secondly the unique papier mache vases.
Are you both mostly home by choice now?
Ananya: I was always a homebody. Then the pandemic hit, hence not being able to step out didn't affect me much, which I'm grateful for.
Ravi: Yes, my home has been my base, both before and after the initial lockdowns. I find, create and keep layering my own peace, at home.
Ananya, how has the journey been with Ikai Asai?
Ikai Asai was launched in 2020 in Paris at the MasionetObjet. The concept was to bring relatively unknown Indian crafts, add to it a global design language befitting to contemporary sensibilities and present it to today's homemakers. The journey began with identifying ancient and local artisanal communities and marrying this with design, thereby creating an aesthetic language to celebrate creativity that resides at the heart of India. As a design house rooted in craft and loved by our community, Ikai Asai draws from the pursuit of excellence, tradition and contemporary design —creating a sangam of past and present, bringing together the craft maker and its appreciator.
Ravi, what are your favourite crafts from India?
At the moment, I've been exploring papier mache, sand cast aluminium and teak wood.
Pictures courtesy: Ikai Asai