The girl from the plains
The Telegraph tells a heartwarming tale from the hills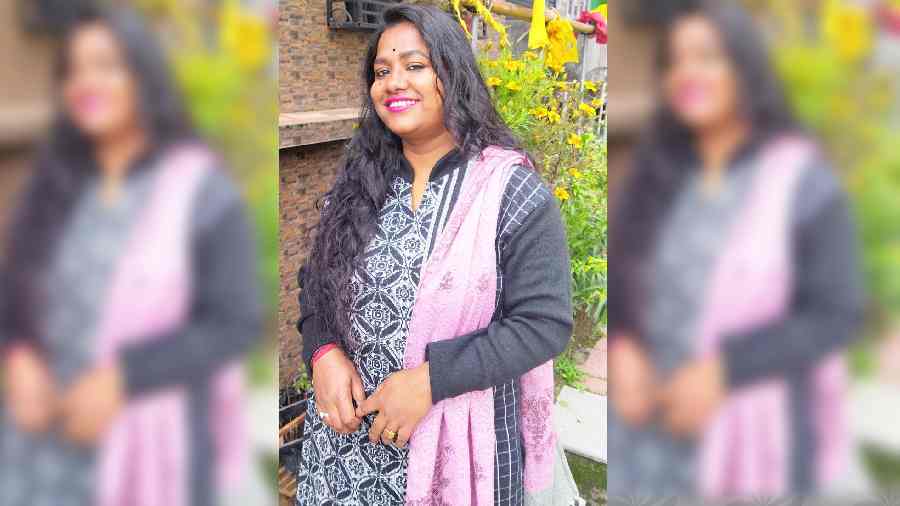 Ranjita Mondal
Kunal Pandit
---
Published 19.06.22, 03:19 AM
|
---
When Ranjita Mondal talks about her journey from a one-room tin shack in the slum bordering the canal in Birati, near Calcutta's Subhas Chandra Bose International Airport, to running a hotel in Ravangla in Sikkim, it sounds like a fairy tale. A series of serendipitous connections unfolded — events that led to a job in a homestay, the man now her husband, the idea of leasing a hotel in the hills and, finally, finding one that she both loved and could afford.
Ranjita, 28, doesn't really own the 10-room Skyview Hotel; she pays the Bhutanese couple who owns the six-storey building a fixed amount as rent every year for the privilege of running it. Anything she makes over is hers to keep. That's how the hotel, and sometimes the homestay, business is run in the hills. It is usually people from the plains who take these leases because they can't own land here.
Ranjita was born and grew up far away from the hills, in the suburbs of Calcutta. Her father was a rickshawpuller — still is — and her mother worked as an ayah. It was her mother Anita who insisted that both her daughters get an education, notwithstanding the opposition of the extended family. She put in long hours at work — as a door-to-door saleswoman and, thereafter, a 24-hour caregiver — to ensure this.
One time, when she was away at work, her in-laws almost married off her pretty elder daughter — the girl was all of 13 then. It was the 10-year-old Ranjita who raised the alarm and kicked up a fuss and stalled the marriage. Thereafter, forewarned, Anita packed off her daughters to a boarding school in Calcutta run by the Sarada Mission.
"Our neighbourhood wasn't a good place to bring up children. There was no atmosphere for studies and it was unsafe for my girls," says Anita, who now helps her daughter at Ravangla during peak season. She is not only present at every meal but also presses second servings on the guests just like mothers often do.
Ranjita, for all her propensity of talking nineteen to the dozen, is not used to talking about herself. It takes a lot of digging and many a nudge from her husband and business partner Kunal Pandit. But then the stories pour out.
How she had joined a Facebook group headed by an NRI who apparently wanted to help poor children in Purulia. "The people were nice and they were doing good work. I could not help monetarily but I could put in time," says Ranjita. And then she realised that she was used as a pawn.
How a woman she met in that group offered her a manager's post in a homestay in Tinchulay in Darjeeling. Although her postgraduation wasn't complete, Ranjita decided to take up the job during the summer holidays. But it turned out that the woman made her do hard labour as domestic help and paid her a pittance.
How she met Kunal there. "I noticed she had a knack for managing people," says Kunal, "I suggested she think about leasing a homestay." Ranjita returned to Birati to finish her studies but Kunal and his words did not leave her mind. Some months later,
Kunal too returned to Calcutta, and when the pandemic struck they got married. She says with a laugh that her extended family considers her unmarried because she refused to blow up money on a social wedding.
How her own family members discouraged her from starting a business, how acquaintances and associates advised her to start a travel agency instead, how she travelled to Pelling, to Gangtok and to Darjeeling looking for a homestay to lease but to no avail. "People were asking for obscene amounts of money. They thought I was stupid and could easily be fleeced," she says.
Basically, it is a story about how everyone expected her to fail and how each time she customised a triumphant beginning.
Then there are those other stories that will be familiar to any young woman starting a business — nearly being conned (this hotel too had a hit-or-miss aspect), being taken to see properties that were so bad it nearly made her cry, meetings with people who made her feel inadequate, and uncomfortable journeys. These incidents continue; the Skyview often, inexplicably, finds itself out of water when there is no water shortage in the area. It is usually the line feeding its tank that is found to be turned off. And Ranjita is expecting a bidding war when it is time to renew the lease.
How did she arrange money for the lease? "I pawned my jewellery," she explains, while her mother-in-law made up for the shortfall by pawning some of her jewellery too. "We managed to return the money to her within two months of starting the business. I have never been more proud," says Ranjita.
They say behind every successful man, there is a strong woman. Ranjita is lucky enough to have two — her mother and her mother-in-law. "And a man who supports me," she says pointing to her partner.