The Family Man
Rohit Shetty's niche is that despite all the cars he blows up, he makes films that entertain entire families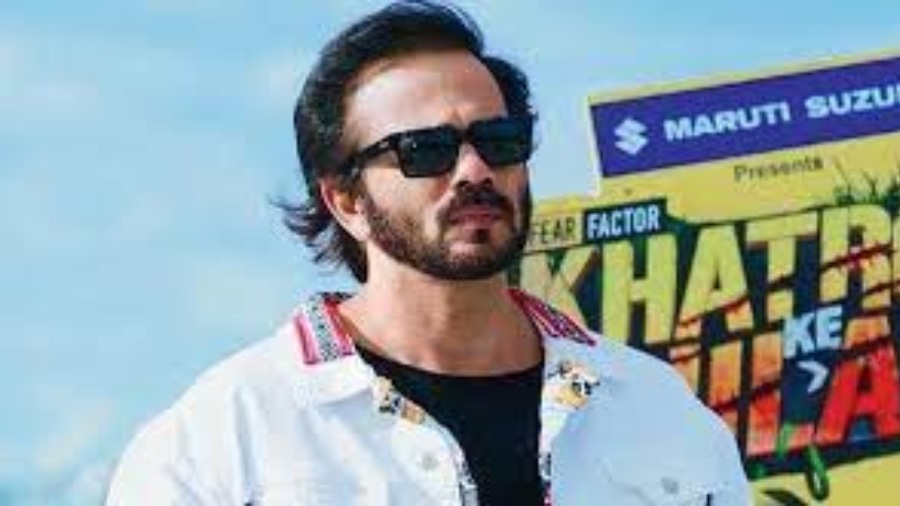 To be shot in Mumbai, Goa and Delhi, Rohitís cop world is Amazonís most expensive non-American show so far
File Picture
---
Published 24.04.22, 01:17 AM
|
---
There's a bit of self-cleansing going on at OTT offices. On a parallel track, the Hindi film industry, dazzled and dazed by the box-office figures of southern fare like Pushpa, RRR and KGF Chapter 2, acknowledges that Rohit Shetty is the only big-time contemporary director who makes similarly massy, masala movies.
Rohit's niche is that despite all the cars he blows up, he makes films that entertain entire families. "Otherwise, we've reached a stage where everybody watches abuses and sex on various platforms but quietly and privately in their little corners," he remarks. "They can't watch anything together as a family." That's where he steps in. And that's what Amazon has signed him up for.
Wanting a Money Heist kind of show that may be Spanish in origin but is watched universally, the platform went to Rohit four years ago to bring his cop universe to the digital world and offered him a bagful of money. "Much more than the budget of Sooryavanshi," he laughs.
Anil Kapoor used to go orgasmic over the way a studio in Los Angeles was taken over by the makers of Keifer Sutherland's 24, the international show in which he acted, not the one he brought to India and on which he lost a pile of money. Anil was impressed with the way the show was being shot on several sets all over the studio with designated rooms and lounges for writers, editors and other crew.
That era has come to India with Rohit 's Indian Police Force. An intense three-month shoot is going on at the old Golden Tobacco premises in Mumbai. A Delhi Swat tank parked outside, rooms assigned for editing and other departments, five massive sets where practically all the action will take place spelt a lavishly shot cops-and-terrorist action drama for the international audience. To be shot in Goa and Delhi too, his cop world is Amazon's most expensive non-American show so far.
"And the whole family can watch it," promises Rohit. "There will be no abuses and no sex."
It is interesting how all three of Karan Johar's proteges have flourished since he introduced Mahesh Bhatt's daughter Alia, David Dhawan's son Varun and complete outsider Sidharth Malhotra in Student Of The Year 10 years ago. While industry kids Alia and Varun took off speedily on, Sid seemed to flounder with more setbacks than successes. Until Shershaah, the biopic on Captain Vikram Batra came along and, for the first time in years, he was applauded for more than just his good looks.
With the SOTY trio finally finding its feet in the entertainment circus, someone wrapped it up well: "Karan is an excellent curator of talent."
"It's interesting how each of us have our own different journeys," nodded Sid, who is Rohit's cop-hero in the show for Amazon. A huge leap for the actor who was almost dismissed as just a handsome face until an OTT release did more for him than most of the theatrical releases.   
A cinematic piece he was so personally involved with that at one stage he'd even wanted to produce it himself, the popularity of the Batra biopic has brought the swag back into Sid's stride. Was he demoralised in the intervening years?
"In this industry, you experience it all," he accepted. Super highs, super lows, ecstasy, excitement, nervousness. When you step into the glamour world, you sign up for the whole gamut of emotions.
Becoming a part of Rohit's universe is one of the super highs Sid is experiencing for an extra special reason — the Delhi boy gets to play a cop on home territory.
It's a "high time" for someone else too. The blockbuster collections of the Hindi version of KGF 2 calls for a double round of champagne at Raveena Tandon's house. It's not just that she's done well as PM Ramika Sen and has made an assured return to the arena. KGF 2 has also been distributed by her husband Anil Thadani's company. The collections of the Hindi version alone are Rs 255 crore and counting.
Bharathi S. Pradhan is a senior journalist and author