The crown or the case?
The nude shot of Ranjeet went with his image of a villain and others followed suit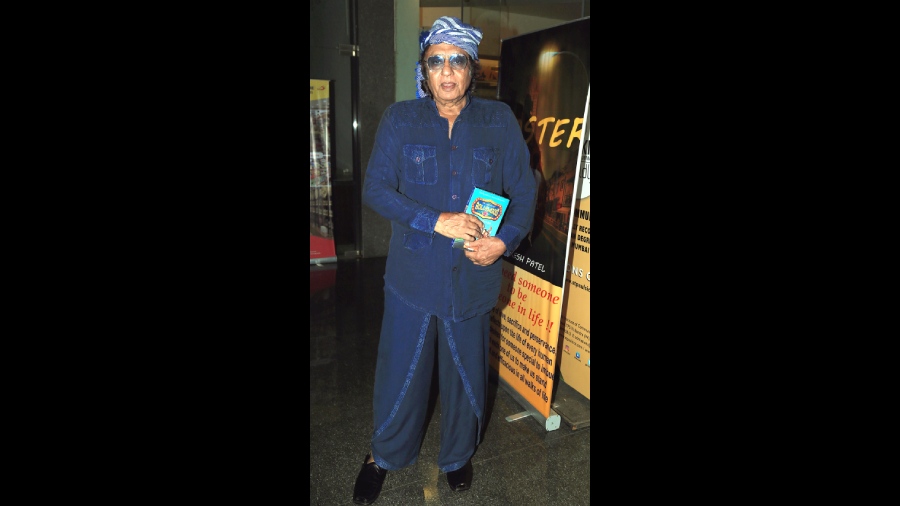 ---
Published 31.07.22, 04:36 AM
|
---
Ranjeet, the 80-year-old villain, suddenly found himself in the news again. He was in Delhi on a private visit when friends started sending him WhatsApp forwards that were a flashback to his naughty young days. One was a collage of Ranveer Singh, Anil Kapoor, Jackie Shroff, Ranjeet and Aditya Pancholi, all in birthday suits, with the caption "And the trophy goes to Ranjeet".
The villain was tickled that he'd won the crown. "It was a casual shoot I'd done in my den in my Juhu bungalow for a magazine," he chuckled. Ranjeet had sunk his bare body into a bean bag bought in Beirut with his swimming trunks lying away from him.
Around this time, he had also done a full monty for a horror film called Aadamkhor. "I'd shot that scene in public, on the beach," he remembered. Those were not the days of mobile phones and Ranjeet had a clause in his contract that his nude shot from the film would not be released anywhere. The still photographer of Aadamkhor was veteran actor A.K. Hangal's son, who ethically kept the photos private.
"While the 'naughtypan' was there in the picture I shot for the magazine, it was not vulgar," Ranjeet pointed out. "All these other guys made it obvious by holding something in front of their private parts. Mine was a very cool shoot." That nude shot of Ranjeet went with his image of a villain and others followed suit.
"I was a big fan of Ranjeet's. I was an upcoming villain, so I said, main bhi karta hoon," guffawed another bad man, Shakti Kapoor. Last week, Shakti was shooting with Ranbir Kapoor for the film Animal at Pataudi Palace, approximately 80 kilometres from Delhi, when the picture of yore with a cloth placed strategically went viral along with Ranveer's.
"Today, when our kids are grown up, you feel a little shy about it," commented Shakti, "but at that time, more than 30 years ago, Ranjeet, Danny and a lot of other actors had done similar shoots."
When Shakti saw Ranveer's nude photographs, he didn't look at the backdrop or at the camera angles or lighting.
"My focus was only on Ranveer's body, what an amazing body," he remarked and added in his support, "When so many girls pose like that, there's no problem. But when Ranveer does a shoot, there's an uproar. Leave him alone, let him have fun."
It wasn't only the villains of yesteryear. When Ranveer's bare pictures became the topic of debate, pictures of Anil Kapoor, Jackie Shroff and Aditya Pancholi, all in the buff, also surfaced.
"My picture was referenced from some Hollywood magazine," said Aditya, who had coyly stepped out in the raw from behind a structure, his hand placed above his thigh to stop short of baring it all, shot aesthetically by the legendary Gautam Rajadhyaksha. Aditya jocularly challenged Ranveer, "Ask Ranveer to compare his picture with mine and see whose picture is classier."
"But it had created quite a stir," admitted Aditya (real name Nirmal). "I'd just got married and Zarina's older sister in the US had freaked out and asked her, 'Who have you gone and married?'"
"Nirmal had his underwear on during that shoot," Zarina pitched in during the conversation. Yeah, he also had his wristwatch on.
One of the first nudes was shot by Girish Shukla when starlet Komilla Wirk's cover picture had skyrocketed the sales of Star & Style. "It was Komilla's idea and I shot it in such a way that it gave the effect of total nudity without placing anything in front of her to camouflage anything."
But it was Mamta Kulkarni's bare top cover picture that had the copies of Stardust flying off shelves and selling in black. So controversial was it that an obscenity case was slapped on the magazine, on photographer Jayesh Sheth and on Mamta Kulkarni. "It went on for 10 years. But ultimately we won when the court ruled that it wasn't obscene," gloated Jayesh.
Ranveer will win too. 
As for his career, he could star in the Emperor's New Clothes with panache.
Bharathi S. Pradhan is a senior journalist and author