The cool quotient
You don't have to go off meat and fish during the height of summer if you cook them the right way, says Rahul Verma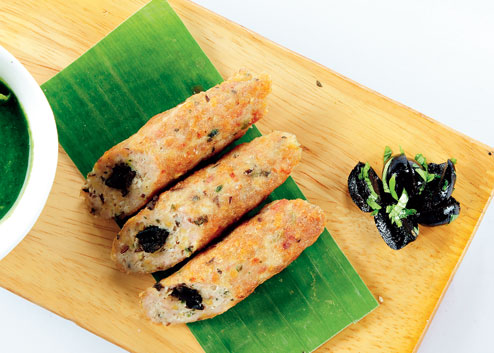 ---
Published 15.05.16, 12:00 AM
|
---
Growing up in a region often rudely called the cow belt, I often heard the word taseer in food conversations. Don't eat this in winter, somebody would say — this is thandi taseer, food meant for the summer. When the mercury dips, you need garam taseer to warm the body, the elderly aunts would tell us.
It's not a word that can easily be translated into English. Essentially, it is a belief about the effects of certain kinds of food. Thandi or cold taseer, for instance, leads to a cooling effect in food. It doesn't mean the food is cold — but the effect is.
The word came back to me after a long time. I was lunching with chef Sharad Dewan of The Park Kolkata. The weather outside was so hot that Shakira paled in comparison. But chef Dewan had planned out a menu that promised to battle the heat. He called the menu Thandey Taseer Khana.
When it's hot, many of us tend to go off meat and fish. But chefs stress that when cooked in the right way — and with the right ingredients — these dishes can actually cool the system. Many fruits and vegetables — for instance guava and bottle gourd — have a cooling effect. And when these are used for a meat or a fish dish, they counter the warmth of the non-vegetarian ingredient.
"Guavas are very high in water content and comparatively low in proteins, carbohydrates and fats. So they are good for summer months," says chef Dewan. "Lauki or bottle gourd is cooling, calming, a good diuretic and anti-bilious."
So he marinates prawns in pink guavas and cooks them in a tandoor for his gulabi amrood ke jhingey. And he takes bottle gourd and chicken, stuffs them with olives, and turns them into kebabs.
Curd, as one would guess, is a good example of thandi taseer. Not surprisingly, chefs use a lot of curd for their summer, non-veg dishes. Chef Dewan's kundey ka dahi gosht is a lamb preparation, where the meat is cooked with curd so light that it's almost like buttermilk. "It is a natural coolant and counters the warm effect of lamb, making it easier to digest," he explains.
Chef Ravi Saxena of Dhaba by Claridges in Delhi prepares a butter chicken called chitta butter chicken by replacing all the heavy and rich ingredients with curd. That's why the dish is called chitta — Punjabi for white.
Curd also figures in chef Mayank Kulshreshtha's mutton and chicken dishes in this season. Tamarind leaves, the executive chef of ITC Sonar in Calcutta, adds, are also cooling, and he uses these for chicken and meat dishes. "Green mangos also work well," chef Kulshreshtha says.
Fish is often cooked with curd for dishes such as doi maach, but chef Dewan steams a fillet with the pulp of drumsticks for his sojne mahi ki paturi.
"Drumsticks have a cooling effect on the stomach," he says. But the pulp, in particular, is soothing and is a natural antiseptic. "It is also greatly hydrating," chef Dewan adds.
I enjoyed it — for the flavour of the drumstick as well as the light use of spices. Chef Saxena points out that most spices are heat producing and are considered garam taseer. But herbs and spices such as mint, fennel and coriander have a cooling effect.
"In any dish, if 80 per cent of the ingredients are of thandi taseer, you'll end up with a dish that is cooling in this season," he says.
Our aunts knew what they were talking about. Thandey taseer ka khana, they told us, was what the season demanded. And how cool was that?
Photographs by: Subhendu Chaki;
Location Courtesy: The Park Kolkata