The capital of cool
Berlin, the fast-moving German capital, is now one of Europe's most hip and happening cities, says Arundhati Basu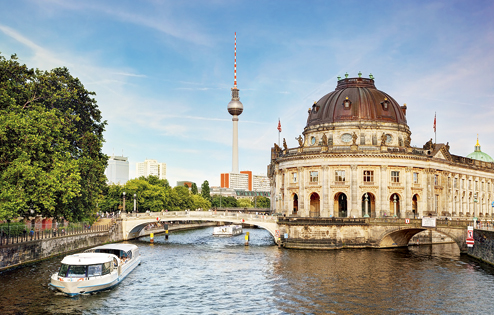 ---
Published 22.11.15, 12:00 AM
|
---
On a Thursday night, I was in a gas-tronomic fix. In the hipster district of Kreuzberg in Berlin, otherwise known for its annual May Day riots, tucked into the alleys is a massive hall called Markthalle Neun. This is where the movers and shakers of Berlin's burgeoning pop-up restaurant and supper club scene come together. I had clearly stumbled across the underworld of Berlin cuisine.
Orbs of fried octopus, koshary (Egyptian street food), Berlin meat balls, Peruvian ceviche (raw fish with lime juice), allgäuer kässpatzen (German-style macaroni and cheese) and Korean bao buns vied for my attention. Local beers and ales flew off the shelves of the bars at lightning speed. I was in a dilemma that no food lover could complain about — I was caught in a hubbub of music, people and street food in a 19th-century market hall, the windows of which were once painted black and its business brought to a standstill because of World War II.
In Berlin, nightlife begins only around midnight and these food markets cater to nocturnal revellers and gastronomes alike. As I left that district which is home to immigrants, progressive youth and expats such as my husband's Canadian friend of Chinese origin who took us into its hipster heart, the feeling that I was in a freewheeling city clung to me.
Beer bikes are another aspect of the lotus-eating culture of Berlin. A rolling bar pedal-powered by groups of beer chuggers is legal and a cheerful sight. The reward? How does 10 litres of beer per hour sound?
Everything goes in Berlin. A bohemian thought process is reflected almost everywhere. That includes its famous 520-acre Tiergarten public park, that once used to be the hunting grounds of kings till one worthy Frederick II decided to transform it into a lustgarten. Loosely translated, it means a 'pleasure garden'. Walking along its lush green paths, I wondered what Frederick would have made of the nudists who sunned themselves in the buff in one quarter of the park.
My initial reaction to Berlin had been hedged with dismay. Modern facades seemed to take away from the history of a city which in just the 20th century had seen all. It been headquarter to the Nazis, had staged a revolution in 1918, been bombed to oblivion, sundered into two and been reunited again.
It probably started on the Kurfürstendamm, one of the most famous boulevards in Berlin that gets its name from the former Kurfürsten (prince-electors) of Brandenburg, where my hotel was strategically located. Every day as I stepped out I could see the ruined spire of the Kaiser-Wilhelm-Gedächtniskirche (Kaiser Wilhelm Memorial Church), a Protestant church built in the 1890s that was badly destroyed in bombing raids in 1943.
History is everywhere in this city, but the modern world has caught up in the form of glitzy shops, hotels, restaurants and Bikini Berlin, the city's new 'concept mall' — it's name comes from the fact that it's divided horizontally by an open floor into two parts like a two-piece swimsuit.
But then I spent time at the Mitte, the city borough that has most of its historic monuments. In long walks to the Mitte along the leafy trails of the Tiergarten Park, I made disconcerting disco-veries. One was a blue wall which turned out to be a memorial to Aktion 4 on Tiergartenstrasse, a programme of forced euthanasia in Nazi Germany that was carried out on psychiatric hospital patients deemed unworthy to live. The methods employed at Aktion 4 were later replicated at extermination camps and mobile death vans.
Memorials are an intricate part of Berlin's landscape. There are more than 30 memorials that mark its warped history. There are memorials to the Soviet Soldier, the Holocaust and the murder of the Sinti and Roma gypsies under the National Socialist rule. But perhaps the most poignant of all is the plaque for Peter Fechter, an 18-year-old bricklayer, who became a Cold War symbol.
Fechter was shot by GDR border guards in 1962 as he and a co-worker attempted to climb over the Wall to Kreuzberg in West Berlin. The co-wor-ker made it but Fechter bled to death after an hour with guards and witnesses watching.
The testimonial I looked high and low for was the Rosenstrasse Memorial. It recalls the non-Jewish women's uprising of 1943 when their husbands, 2,000 Jewish citizens of Berlin were detained in February 1943 at Rosenstrasse 2-4 as part of the deportations by the Gestapo and the SS. In March 1943, the prisoners were released.
One place that's easy to find is Checkpoint Charlie. The crossing between the erstwhile East Berlin and West Berlin nowadays resembles the first guardhouse erected in 1961 with sandbags. Once Checkpoint Charlie was almost like a border crossing. Instead, I came upon actors dressed up rather shabbily as Allied military policemen and charging enthusiastic tourists for token photographs.
Parts of the Berlin Wall, peppered with graffiti and street art, are scattered around the city, and the bit that stands out remarkably is in the heart of Berlin's commercial nerve centre, Potsdamer Platz. During The Cold War, this had been no-man's land as it fell between the American and British and the Russian sectors and it's today a vibrant square guarded only by the futuristic Sony Centre and Deutsche Bahn's corporate headquarters.
In between queueing up for a visit to the Reichstag for hours and coming across free but excellently archived museums such as the Willy Brandt Haus on Unter den Linden (Under the Linden/Lime Trees'), I fell for a few quarters in the city. The grand Parisier Platz at the end of the Unter den Linden with the neo-classical Brandenburger Tor (Brandenburg Gate) marking one end of it and the Reichstag just around the corner grabbed my attention. And down the Unter den Linden is Museumsinsel (Museum Island), the hub of five museums, which is dominated by a gorgeous structure called the Berliner Dom that sits on the River Spree. The jewel in the crown is surely the Pergamon Museum which has collections of objects from antiquity started by the Kurfürsten of Brandenburg.
My designated 'happy' corner in the vicinity was the Gendarmenmarkt, named after the Gens d'Armes, an elite Prussian mounted regiment that was quartered there from 1736 to 1773. With its three landmark buildings of
the Französischer Dom (French Cathedral), Deutscher Dom (German cathedral) and the Konzerthaus (concert hall), the Gendarmenmarkt is impressive.
On a grey windy day in the middle of a hot summer, I climbed the 254 steps up the Französischer Dom and was rewarded by a beautiful view of my surroundings. From up above which I could still hear the rantings of a strange, pony-tailed man who had been stomping up and down the square with a strolley for some time, screaming himself hoarse about some kind of conspiracy. The amusing evening was brightened up by a dose of premium chocolates at Fassbender und Rausch Chocolatiers. It is the first chocolate restaurant in Europe which spices things up with cocoa. Be it fish and meat or salad and soup, you can expect chocolate in it.
I was warned about the temptation that awaits the unwary at Berlin's famous flea markets. On a steamy Sunday, I stepped into the Straße des 17 Juni Flea Market to keep in step with my antiquing soul. In a market that has been tagged Berlin's oldest flea market tag since 1973, along with the hordes I braved the sultriness to rummage through vintage metal tin signs, antiques, paintings, cutlery and crystal to my heart's content and the thought ran through my mind that no day in Berlin can be orthodox.
READY RECKONER
How to get there: You can fly from Calcutta to Berlin on airlines like Etihad Airways, KLM and Air France with stops at New Delhi and Abu Dhabi, Amsterdam and Paris.
Where to stay: Propeller Island City Lodge (www.propeller-island.com) is a zany option with floating beds, upside down rooms, prison cell rooms and coffin-in-crypt rooms. Hotel de Rome (www.roccofortehotels.com) is a regular place.
How to get around: The Berlin Welcome Card is good for using public transport and getting lots of discount deals. For museums, the three-day Museum Pass is a must.