The bookworms' bid to resuscitate their paradise, the boipara
'The sight of floating books made our team resolve to help the booksellers and publishers of College Street and Gol Park'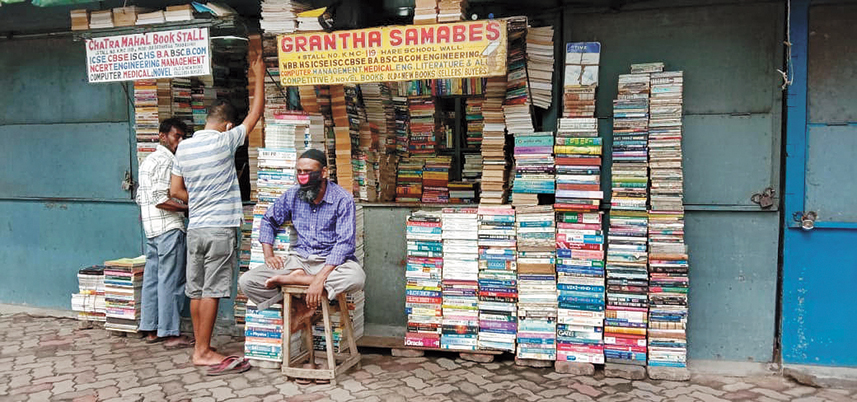 College Street on Thursday morning
Pabitra Das
---
Published 19.06.20, 08:45 PM
|
---
He has missed coming to Calcutta with his Kolkata Knight Riders contingent, but has his fingers crossed on a season full of innovations. Venky Mysore, CEO — Kolkata Knight Riders (KKR) & Red Chillies Entertainment, chatted with The Telegraph on Wednesday on contributing for Tata Steel Kolkata Literary Meet for Kolkata's Literary Street, in association with Mitra and Ghosh publishers on the Milaap fundraising platform.
Have you had the chance to visit College Street ever?
I have to admit that I have been guilty of not spending enough time that it deserves. During the season, we come in there and we are on the run, all the time....
College Street is unique. What do you make of the spirit?
It's amazing and only in a city like Calcutta... that's the uniqueness of the city, it's own tradition and rich history, of culture and of people who got that habit of reading. It's fascinating to hear about it and at the same time, painful to hear about the damage inflicted upon it because of the cyclone. Once again, as human beings, we are all very resilient. There is a certain commitment and spirit that comes out, particularly during adverse situations.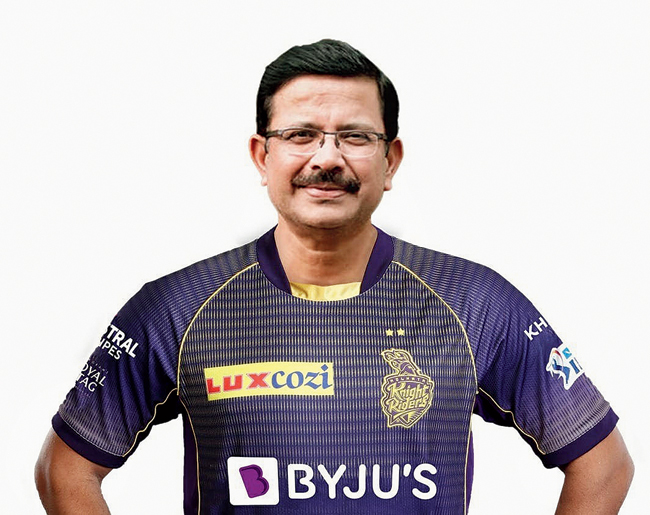 When they reached out to us, Malavika was doing what she is doing. We said, listen, whatever we can do to help, we should step up, inspite of the fact that there are so many things to take care of. During Covid, we did a lot of things.... One of our office buildings ... owned by Shah Rukh and Gauri (Khan), we gave it to the municipal corporation to be converted into a quarantine facility....
We don't like to talk about amounts... it is more important in terms of our gesture. Juhi (Chawla, KKR co-owner) is a big champion of environmental initiatives... planting trees has been an ongoing thing in Calcutta during IPL. When we heard that almost 5,000 trees have fallen, Juhi was like... we should do something... if that is the estimate, we will plant 5,000 trees... over a period of time....
Winning tournaments is fantastic; these are the type of things that give us a lot of satisfaction... the kind of relationship we have built with the city and the state.... Now when they keep showing some of these replays (of KKR matches at Eden Gardens), I am myself like... wow.
Moving on to IPL... you must have missed coming to Eden Gardens as much as we have missed seeing the team in action...
Of course, it is a very unusual experience. I have now been associated with KKR for 10 years and every year it is like a pilgrimage. April and May... the IPL season is on and then you go to the hallowed Eden Gardens, come to the beautiful City of Joy... it is such a wonderful experience. Now this year, unusually, we are sitting here and trying to make sure that we are able to deal with this unknown and invisible enemy... it is very strange. My colleague Jovita... she enters all the games and everything on my calendar and there were days when I would wake up, during April and May and would say: 'Oh! Today we were supposed to be playing Sunrisers (Hyderabad) and today we were supposed to be playing Mumbai Indians'.... Having said that this is for the safety of people and it has affected worldwide, which is the most important thing... everything else becomes insignificant in that regard... let's see, fingers crossed right now.
You've been in touch with the players...
Yes, yes... all of them. Luckily, we have a wonderful support staff, our head coach Brendon McCullum and our entire support staff... the strength and conditioning coaches, assistant coaches... thanks to technology, we have all tried to remain productive. KKR is always like a family... all our players love staying in touch. We had a virtual birthday celebration for Dinesh Karthik... asked his wife (squash champ Dipika Pallikal) to smash some cake on his face. We are doing everything that we would do normally. In that sense staying in touch with the players and making sure that we are aware of their well-being and how they are preparing in terms of their fitness and cricket practice and all that... wherever it is allowed....
What about Shah Rukh Khan?
Of course. He doesn't mind doing Zoom calls and we are on video calls and periodically we are talking about various things. See, this is an interesting time... there are two ways of looking at this... one is to feel really bad, saying... 'Oh we are stuck here, and what do we do'... on the other hand, I tell people that this is the first time in almost 30 years of my working life that I feel that there is actual time to think without the pressures of trying to do this in this time and trying to do that in that time. So we have been doing a lot of thinking, a lot of conversations are happening with SRK... with my team. Mainly what we are trying to do is to say... okay, this has actually happened.
Change is inevitable and it has become very rapid and it has come to our doorstep. So we have to reimagine our businesses, both on the sports and entertainment side. So, what does that mean? I tell my team that we have all been homebound, in lockdown mode and when we come out there, we should not be surprised that the world has changed. And, the world is not changing, it has already changed. So, what does that world look like and what should we do to adapt? And, what is that new world in which we are going to operate? These are the type of things that we are spending a lot of time thinking about and it is very exciting because when people start applying their minds in a relaxed and calm and composed manner, you tend to come up with some very interesting ideas... a lot of innovative ideas as well, which will change the way we will do business and the way we have done business in the past and I think in many ways, it might be for the better. That's why I am quite optimistic about the future.
Were finances at the top of your mind or you didn't even think about it, given the circumstances?
Fortunately, what we have done is, over the years, we have been very professional and meticulous about our finances. Therefore the business has been, thank god, knock on wood, in good shape. Our principle objective was to make sure that we don't inconvenience our people in any shape or form. By the same token, I think everybody understands that this is a very unusual time and also a time when there will be a lot of stress on revenue and all businesses are going through this.
We have not left any stone unturned in terms of how we can become more efficient in our expense management... without affecting people. So we are fortunate that the team has taken a very positive outlook on this and we have managed to do some things very creatively....
The lockdown must have given you a lot of time to read. What have you been reading?
I have a variety of interests, ranging from sports to life to management. There some books that I am rereading. There is a book called Good To Great and this is about best practices in businesses. This was written a while back and was one of the bestsellers and then you start looking at it in the context in which I had read it several years ago to the context we are currently faced with... you start realising that not much has changed. You have to think right and keep innovating with your businesses in terms of practices one works through.
I am reading some books on golf because that is also one of my passions. There is a very interesting translation of Bhagvad Gita by Christopher Isherwood. He is an English author who has done a literal translation.
Otherwise do you get the time to read?
It's tough, but I am a more Kindle type of a person. What I tend to do is keep building my library. Whenever I hear of a good book, I buy it. The Kindle travels with me.
But, I must admit it is very difficult to find the time. Once again, now we are so connected from the technology standpoint.... These days on many international flights there is Wi-Fi. I don't think that's a very good thing, if you ask me. In earlier days, when I used to fly, I used to feel quite relaxed. Either I used to catch up on my sleep or I used to read. Now suddenly I find myself working.
This phase has been good. I think I have read more in this phase than in the last year probably.
Not on your Kindle, for sure...
Whether it's good or bad, I read from my Kindle. I find it convenient, obviously and I find it is easy for me to sometimes switch different types of books that I am reading.
We can't wait to go back to Eden Gardens, but do you think something will change forever?
I do think certain things will change. These will be long-term and permanent changes. We don't know what they are yet... also, I see them as positive changes. In the short run, since the risk of the virus is still out there, until such time that the vaccine is not only available, but freely available... that is for people to get over the concern and fear. In the meanwhile, what happens to sports... what we have discovered is that live entertainment is always going to be in great demand... whether it is people wanting to see it in person or television or streaming platforms. God willing, if the season happens and people are talking about it, you'll see a lot of interesting innovations... which will enhance two things... the fan experience itself... how can they (those watching on TV) enjoy the game more.... May be a 3D movie show, where you will feel that you are actually in the stadium. This pandemic has forced people to innovate... we knew all these changes were coming, but what this pandemic has done is, it has put these changes on steroids. Our ability to imagine what that is, reimagine our business and adapt to that is going to determine who's going to be ahead in the game.
So survival of the fittest, as they say in sports...
Sports has the unique effect on us... whether you play it or consume it, but it all boils down to your attitude. If you maintain a positive attitude and a sense of calm, you are able to see things a little more clearly and orient yourself to look for innovations. Malavika Banerjee, Tata Steel Kolkata Literary Meet director, on the hows and whys of the initiative...
When did you think of the boipara initiative? What is the plan?
The sight of floating books made team Tata Steel Kalam resolve to help the booksellers and publishers of College Street and also those off Gol Park. We announced our plans during our Zoom session with Amitav Ghosh.
Subsequently, Shashi Tharoor, Ruskin Bond and Yann Martel all made a pitch for funds.
Mr Bond has promised to do a session on College Street next time he's here!
What has the experience been like?
The post-Amphan experience has been an intense one personally. Between the devastation wrought on weavers and craft communities working with Byloom in the state's southern districts and the boipara deluge, it was hard for me to just post on social media and move on.
When images of College Street went around the world, the army of support that closed ranks to protect this unique locality showed that people want to help and often simply don't know how to. Seeing students pay Rs 500 or 10 dollars from their limited kitty was really quite moving. If you go to the fundraising site, the messages, the goodwill and the positivity from young donors made me feel optimistic about the next generation and their priorities —- there's hope amid this Covid gloom.
KKR coming on board is a huge plus...
Kolkata Knight Riders is now a Calcutta fixture! They were very prompt in reaching out after Amphan to the government as well as fundraisers like ours. SRK loves this city and Venky, being a reader, was so happy to be part of this endeavour.
Our target has almost been achieved, and now we hope to work on more projects that will help this area become a unique one-of-a-kind locality. KKR will be remembered for their contribution in a special way when that happens.
How much funds have you managed to raise?
We have raised almost Rs 23 lakhs. And this is pretty adequate for the mandate. Both Kalam and our partners Mitra and Ghosh Publishers have agreed to help approx 200 publishers and bookstore owners.
We are now looking at creating phase two for more permanent support for people who work out of that area. College Street has a strong emotional connection with Calcuttans and indeed book lovers across the globe.
What more will go into making the initiative a success?
Sustaining the momentum. Amphan was a dark moment for the city and College Street in particular. Amitav Ghosh said that a storm is an opportunity of regeneration. We are looking at a welfare society that has Kunal Basu at the helm to sustain a more long-term engagement with the boipara.