The boats that sank in time and tide
The paukiya, Jhumjhumir chhot, merhli, khorokisti and bauliya are nearly extinct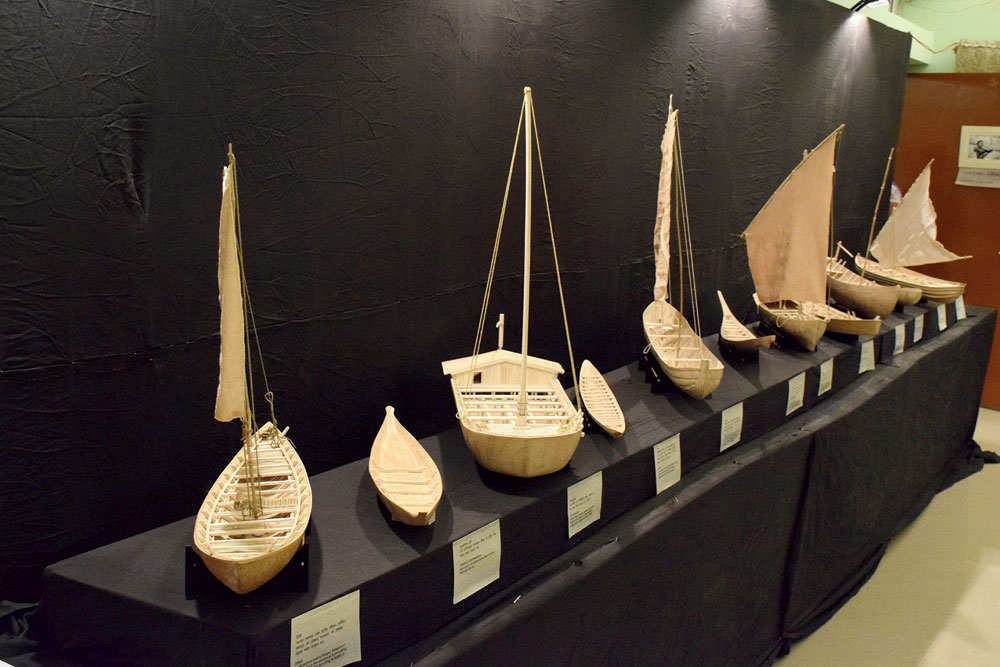 TURNING TIDE: A maritime exhibition
Sourced by Uddalak Mukherjee
---
Published 27.10.18, 04:02 PM
|
--- This ongoing extinction can be attributed to a number of factors. There is, of course, the change in the maritime landscape. The transformation of beaches on account of the placement of boulders as guard walls, Bhattacharyya reveals, sounded the death knell for some boats like the patia. The mechanisation of naval transportation is another factor. At other times, engineering marvels have spelt doom. For instance, the merhli, which was rowed over the Ganges in Bengal and Bihar, became redundant with the construction of the Farakka Barrage, which had made it easier to ferry heavy loads by land. The rising cost of wood and the government's apathy towards exploring ways to decongest land routes by opening up inland waterways — a criminal oversight given that Bengal is virtually a water world — have played their parts as well. Even the famed boat factory in Balagarh has seen better days.
But Bhattacharyya has one more cause up his sleeve — elitism. The world of boats, much like that of humans, seems to be stratified with a distinct hierarchy. Certain vessels — saptadinga madhukar, aswamukhi or mayurpankhi, the last has been the staple of lore — had captured the imagination of Bengal's landed gentry. They were codes of affluence and exclusivity. Unlike the humble dinghy or the shalti, these magnificent creations continue to dominate the public discourse on boats. Their prominence, ironically, renders the demise of, say, the paukiya, invisible.
Ironically, the nobility's accommodation and celebration of subaltern traditions like the bhatiyali can also be an act of omission. What the genteel Bengali discerns from the bhatiyali is, usually, melody; what he or she misses is a fervent, often spiritual, plea to survive the treacherous waters.
Some waters, like boats, are more precious than others. A riverine ecosystem such as Bengal's is distinctly layered. Rivers — Hooghly, Bhagirathi, Teesta, to name a few — have been accorded a pride of place. But the creeks (khaals) — even though they are central to the sustenance of a riverine system — and the boats that were integral to local ecologies, and the imminent annihilation of both have eluded the public consciousness. "This can be explained by the lack of collective respect for little traditions of the riverine system," explains Bhattacharyya.
Recently, Bhattacharyya embarked on a journey to mobilise public opinion against the disappearance of these smaller, seemingly dispensable, water channels that are crucial to the survival of not just rivers but also urban ecosystems. He participated in a shalti jatra, an initiative to conserve the Rajapur khaal in Howrah, in a bid to sensitise citizens about the role of this canal in supporting agriculture and its function as a source of sustenance for fishermen and their boats as well as a site for recreational activities. (Although Bhattacharyya insists that the boats are not shaltis but dinghies.) Would this kind of intervention make a difference to the dying waterway? Bhattacharyya is not ready to give up hope, not yet.
"The challenge for ecologists is to set ecological conservation to the correct scale. Smaller, localised initiatives, such as the one to revive the Rajapur creek, could be useful because they help communities understand the links between local populations and their immediate environment." It is not as if efforts to chart local ecologies are without precedent. Mohit Roy's book, Kolikata Pukur Kotha: Poribesh, Itihash, Shomaaj, is an illuminating account of the erosion of a city's complex but distinctive ecology at the hands of a predatory development fostered by policy and politicians.
A storm had sunk the boat in Tagore's Noukadubi. In real life, human agency, not nature, has blood on its hands. Rapacity, manifest in the collective disregard for ecosystems, are sinking Bhattacharyya's beloved boats.
Styx. In Greek mythology, this is the river that forms the boundary between life and afterlife. The souls of newly deceased Grecians are ferried across it by boatman Charon. Bengalis, thankfully, do not have to wait for a visit from the Grim Reaper to be able to sail on a boat across a river. Most of them cross a river or two in the course of their lives. After all, Bengal is a riverine country.
Rivers have nourished not only Bengal's verdant landscape but also the Bengali mind. That perhaps explains the presence of rivers, boats — the metaphorical bridge over these waters — and boatmen — the minders of the bridge — in Bengali literature. Bankim Chandra Chattopadhyay's Devi Choudhurani describes the heroine's bajras plying on the Trisrota. The collapse of the metaphorical bridge that is the boat has led to confusion and heartbreak in fiction. Noukadubi, Rabindranath Tagore's novel of 1906, which explores a chain of events that wrecks but also builds lives, begins with a boat wreck. Rivers have also caused turmoil on land. In Hansuli Banker Upakatha and Padma Nadir Majhi, Tarashankar Bandopadhyay and Manik Bandopadhyay, respectively, chronicle the river's mirroring of a time of turmoil and transition in the lives of communities dependent on the benefaction of these waters.
The echoes of turmoil have not receded. Swarup Bhattacharyya, the curator of Maulana Azad Museum in Calcutta and a trained anthropologist, can hear them still. Bhattacharyya, who has a blog on boats, is, in a manner of speaking, a curator of absences: for he is interested in examining the reasons behind the disappearance of some kinds of boats and waterways. Their disappearance is indicative of a turmoil in Bengal's riverine ecosystem that is seldom noticed.
"My introduction to boats and the history of their disappearance was brought about by a chance encounter when I was invited to be a part of a data collection-cum-ethnographic project," said Bhattacharyya. "Gradually, I began to immerse myself in a holistic analysis of boat-building, the relationship between boat-building and the riverine ecology, the oral traditions centred on the transmission of these indigenous technologies as well as the attendant guru-shishya tradition."
Boats and rivers are integral to Bengali fiction, art (Gaganendranath Tagore and Nandalal Bose have created enchanting paintings featuring these two elements) and music — bhatiyali, the song of the river, is sung by the boatmen of Bangladesh and West Bengal.
But Bhattacharyya points out that not many Bengalis have shown an interest in ethnographic studies of boats and the maritime ecology. "An ethnography of boats by a Bengali is a rarity," said Bhattacharyya, a hint of disappointment creeping into his voice. Some of the pioneering contributions in this field have, expectedly, come from Europeans. Water Transport: Origin and Early Evolution, written by James Hornell, a British zoologist and seafaring ethnographer, remains one of the most comprehensive accounts of maritime transportation and waterways. Balthazar Solvyns's Boats of Bengal: Eighteenth Century Portraits is another remarkable work, presenting a series of etchings capturing slices of life on land and water.
Bhattacharyya's blog, Noukoghar, is a register of news concerning boats. A cursory glance through the contents of the blog would reveal knowledgeable articles as well as trivia; a BBC interview in which Bhattacharyya talks about his passion; an article on Calcutta's boat museum in Kankurgachi, which is the result of the vision of Upendranath Biswas who was assisted by Bhattacharyya in the project; some uninspiring photographs of model boats and so on. But what of the disappearance of specific categories of boats that Bhattacharyya is concerned about? For that, one has to listen to this boat-blogger as he digs into his mental archive of fieldwork.
"The paukiya was once common in such areas as Egra and Moyna. They were mainly used for coastal fishing and as a means of traversing inland waterways. Then there is the chhot; more specifically, the Jhumjhumir chhot, which, too, was used for coastal fishing in Shyampur in the Bagnan area. They are hardly spotted these days. Another variety of boats that seems to have edged towards extinction is the merhli. In the past, they used to be sighted frequently in Malda's Manikchowk and were primarily used to transport heavy goods. They, too, are a rare sight today," said Bhattacharyya. As rare as the khorokisti, the sultani, the patia and the bauliya — the last was akin to a water taxi which plied between Calcutta and Varanasi.