The ban-did brigade
The #BoycottAamirKhan mob may please note that it's not the ban, it's the film itself with its inherent flaws, that has doomed the film Laal Singh Chaddha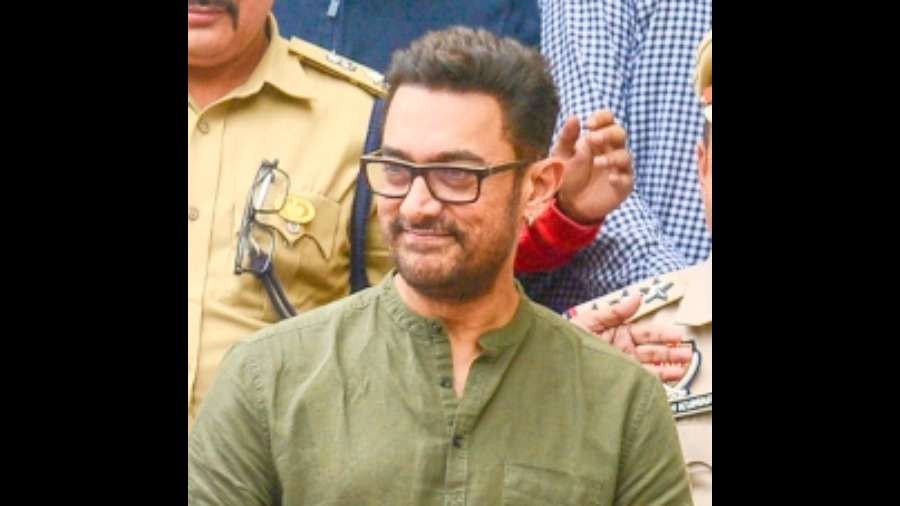 ---
Published 14.08.22, 03:45 AM
|
---
I don't support bans and boycotts. If you've been around for as long as I have, you'd have also seen a ban or two from up close. But today's a good time to recall some of them. It's tough to picture this in a world where magazines have lost their relevance but five decades ago, Amitabh Bachchan, Jaya Bhaduri and Rekha used to be the most ardent supporters of Stardust, a monthly magazine. Shobhaa De (then sporting the surname Kilachand) was one of its first editors. Many actors, like Vinod Mehra who detested the snarky editorial comments that the desk would insert into brackets, had problems with the magazine. "Instead of putting them into brackets, why don't they make those comments in front of me and let me answer them?" he'd question. Others like Shatrughan Sinha were miffed that the gossipy monthly "scooped" a story on his then-girlfriend Reena Roy's absentee father.
Similarly, Rishi Kapoor chose not to fraternise with Star & Style after the fortnightly carried a cover story titled "Khandaan Pandaan" comparing Krishna Kapoor with Neetu's mother Raji Singh.
Every individual has the right to decide who he wishes to patronise. It's collective bullying that's troubling.
It began with Dilip Kumar and Amitabh Bachchan waking up one fine day to join forces and put an end to "yellow journalism". Dilip Kumar always fancied himself a cut above the rest while AB's reasons for finding the colour yellow in his favourite publications probably coincided with his dalliance with Rekha.
So the mighty twosome put out a fatwa that nobody in the industry would cooperate with the film journalists. One must remember that those were pre-satellite and pre-Internet days when we were hardly a handful who wrote about the film industry and we were more than welcome at studios, shoots, personal parties and star homes. The ban was embarrassing for most filmmakers and actors who continued to give us interviews. "If anybody asks you, you can always date the meeting to before the fatwa," the stars would say as they kept talking. AB was intelligent enough to accept that the ban wasn't working and it was soon back to business.
Then came the Emergency and V.C. Shukla's censorship. A senior star couple, much older than the Bachchans, was so close to the Gandhis that when the wife was rumoured to have been caught for shoplifting in London, VC's gang made sure the story stayed blue-pencilled.
My third tryst with a ban came after the Emergency was lifted and five furious editors got together to ban AB. I was too junior to have a say but once again, I vehemently disagreed with the unfair ban although this time around, it meant siding with the actor and not with my fraternity. AB was hurt as a person but nothing could hurt his stardom. In fact, my disdain for bans grew as I saw the meteoric rise of Amitabh Bachchan during the time the magazines boycotted him and also witnessed the editors later grovelling before him to bring him back to the fold.
The fourth was something I understood when AB hit back by not entertaining anybody from those five magazines. He answered the collective bullying of editors by standing up to them on his own, not seeking support from colleagues. But once Bofors happened, he too melted and everybody shook hands.
"Bans don't work, don't do it," said a wise AB when, in 1992, Anupam Kher, Amjad Khan and Sanjay Dutt spearheaded a new ban against "yellow journalism". It was unforgivable because they went like a frenzied mob to senior freedom-loving actors like Dev Anand and Pran, forcing them to boycott the press.
It was today's TMC MP Shatrughan Sinha who single-handedly faced the mob and roared, "Who are you to tell me who I should talk to and who I should boycott?" That roar ended the ban. 
The #BoycottAamirKhan mob may please note that it's not the ban, it's the film itself with its inherent flaws, that has doomed Laal Singh Chaddha.
Bharathi S. Pradhan is a senior journalist and author