The actor for all seasons
Irrfan Khan is still India's only cross-border star who's constantly juggling a mix of international and Indian films, says Sushmita Biswas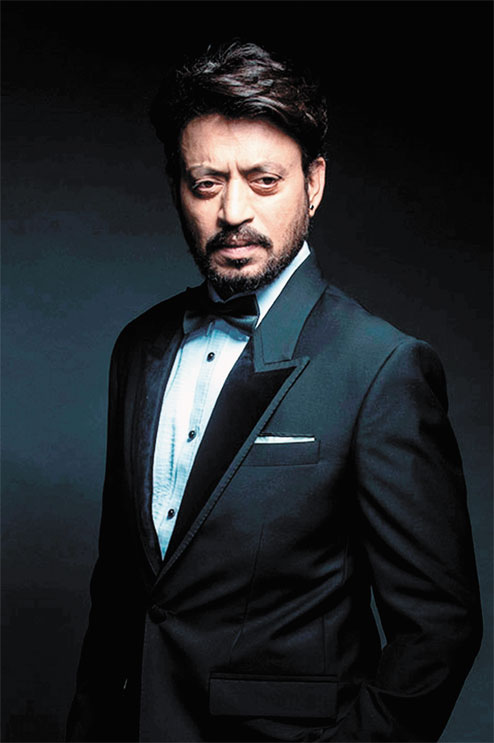 ---
Published 10.07.16, 12:00 AM
|
---
He's one of the movie industry's most restless souls and he absolutely hates being labelled. But, while his peers in the movie industry are forever number-crunching and keeping one eye on box-office figures, Irrfan Khan is on the lookout for determinedly unconventional roles. "I am all for entertainment that challenges your intelligence with emotions," he says firmly.
Gaze at Khan for a few moments and what strikes you immediately is his aura of inner calm, his brooding intensity and a confident erect posture. While onscreen he makes every character his own, off-screen he hates to face the camera, is media-shy and an introvert.
But there's also a lighter side to Khan and his wry humour often comes across in conversation. He laughs: "As a person I'm hugely drawn to humour and not this intense stuff which people associate with me." He rues the fact that he hasn't done too many out-and-out comedy films except for the occasional ones like Anurag Basu's Life In A Metro (2007) and Anil Sharma's Dil Kabaddi (2008).
Khan's restlessness also means that he hates sitting in one place for too long. And he's one actor who prefers to read his scripts on his mobile while he's travelling. He smiles: "I never like doing reading sessions. I hate workshops. Even if I have to, I want somebody else to read my character. I don't like the pressure of reading and performing."
The actor's currently on a promotional spree marketing his latest film Madaari directed by Nishikant Kamat and for which he's the co-producer. On a rain-washed afternoon in Mumbai, Khan, dressed in a casual olive-green shirt and track-pants, talked enthusiastically about his latest project. His passion for his craft is clear.
The film's based on the collapse of an under-construction Metro bridge in Mumbai in 2012. "A two-line idea drew me towards this film. Against the backdrop of the tragedy the film attempts to explore the relationship between a father and a son. I play a common man who loses his son and sets out to take revenge by kidnapping the home minister's son," says Khan as he finishes off a hurried homemade vegetarian lunch. Apart from Khan who plays the protagonist, the movie has Jimmy Shergill who plays the cop. The film is scheduled to release on July 15.
In Madaari, Khan's character is an intense personality (even though he's shown in the movie's posters as a caped crusader with a lathi in hand). It was a tough role says the actor whose eyes speak louder than his words. "For me it was the subject and not too much of the characterisation which was a tricky part," he says.
There was one particularly tough scene, says the actor who doesn't like doing many retakes. "There was one scene which I was dreading and was not comfortable doing. I was trying to postpone it as much as possible and the director insisted we should finish it off soon," he says adding: "While doing the scene I requested Nishikant to let the camera follow me wherever I go. He just gave me the starting position and allowed the camera to just follow me. It was spontaneous and I finished it off without a single retake."
Right now, Khan has his hands full with a mix of international and Indian films. Up next in October is Ron Howard's blockbuster adaptation of Dan Brown's Inferno. In the movie, Khan shares the screen-space with actor Tom Hanks. He says with a big smile: "Hanks is magnanimous and a wonderful human being."
Filmmaker Anup Singh who directed Khan in the powerful yet evocative Punjabi film Qissa: The Tale Of A Lonely Ghost where Khan played Umber Singh, a proud Sikh who lost everything during the partition is full of praise for the actor's malleability. "To me, after Balraj Sahni, he is the last of the virtuous actors, in every sense of the word. I chose him for the shadows in his eyes," says the director.
But if there's one thing that the actor wants to explore it's out-and-out romantic films. He has been considering the possibility of tapping this genre — especially after the success of Piku. So in August, Khan will start shooting with Pakistani actress Saba Qamar in a romantic film Hindi Medium, directed by Saket Chaudhary, which aims to offer a hilarious and heart-warming story.
Says Khan: "It's nice that people want to see me more in romantic films. In Piku, it was Shoojit Sircar's trust in me that he gave me a romantic lead. The romance in Piku was endearing and subtle. In one of the shots, Shoojit was floored by my expression when I was looking at Deepika Padukone who was seated at the back of the car."
Khan, who has also turned producer, is clear about the kind of films he wants to co-produce. Earlier, he was creative-producer for The Lunchbox directed by Ritesh Batra in which he played the ageing Saajan Fernandes. Next he'll act and co-produce Bangladeshi director Mostofa Sarwar Farooki's Bengali and English language film Doob (No Bed Of Roses). He says: "Farooki's multi- layered works appealed to me. Earlier, I had seen his Ant Story, which was very impressive." He is also co-producing Mira Nair's nephew Ishaan Nair's debut film Kaash.
But Khan is clear about the role he would like to play as a co-producer. "I would like to handle the creative side of things. I am not a businessman who wants to expand his production house and make it bigger. I cannot be a producer where I have to constantly think about how to save money."
Even Hollywood's best and brightest directors have spotted his talent. For instance, Ang Lee in Life of Pi termed him as "the most spontaneous actor" and Danny Boyle complimented his acting skills in Slumdog Millionaire.
But Khan who often has to balance his time between India and Hollywood has had to say no to many Hollywood films, including Christopher Nolan's Interstellar and Ridley Scott's Martian.
The fact is that Khan has had to make many hard choices with regard to big-ticket Hollywood films. He says: "It's wrong to say that I turned down these offers. Every actor has certain choices and a schedule where he can do certain things. Sometimes I have commitments here which make it difficult to take up work in Hollywood."
But what are his criteria for selecting a film? Khan has a perfectionist streak — even the act of rolling his cigarette is done delicately. He says: "For me every character starts from scratch and there's no set approach to a role. As an actor I should be able to bring my own perspective to enhance that story. If I see a role, which I want to do, but run the risk of being slotted, then I don't take it."
His ability to explore new characters comes from his years of training at the National School of Drama in Delhi. He says: "It is a combination of my training as an actor and my whole life experiences. It is what you go through and how you look at things and how you react to issues in life that will help you to understand a character. A role played by me and a role played by Shah Rukh Khan will be different because we look at a character from entirely different perspectives."
Khan has built up a credible body of work in Western films from playing the very Bengali Ashok Ganguly in Mira Nair's Namesake to the police inspector in the Oscar winner Slumdog Millionaire to the more recent Simon Masrani in Jurassic World. He says: "Hollywood is always on its toes. Their model of business is such that they have to grow and if they don't they will die. Our industry is more complacent so we need to pull up our socks and make engaging cinema. We cannot just make films for NRIs because that will limit our cinema."
Khan has no regrets at the unconventional choice of films he has made. He started his career on the small screen and dazzled in many roles like Lenin in a Doordarshan teleplay Laal Ghaas Par Neele Ghode and followed it up by playing a psycho killer in Darr on Star Bestsellers. Back in 1993, Khan steered his way through television by doing several serials like Chandrakanta, Sparsh and Kahkasan. He says reflectively: "I was desperate to get into films because the television medium had certain limitations."
From growing up in Tonk near Jaipur to a global Indian actor — Khan has come a long way. His father had a tyre business but Khan decided not to get into it. Instead, he pursued his passion by enrolling at the National School of Drama in Delhi. In 1987, just after his graduation, Mira Nair offered him a small role in Salaam Bombay but his role was chopped at the editing table. His biggest turning point came in 2001 in a historical film The Warrior directed by London-based filmmaker Asif Kapadia in which he played the protagonist.
Khan is married to Sutapa Sikdar, a writer, whom he met at the National School of Drama (now a co-producer of Madaari) and the couple has two sons — Babil and Aayan. He says, "My sons are too young and need to explore more. I want them to find their own passion." And when he's not shooting, he escapes to his farm in Nashik where he grows organic fruits and vegetables.
Though Khan has achieved fame and fortune in equal measure, he is still looking for "stories that draw my attention and push me as an actor". But he insists that after all these years as an actor his goals haven't changed. "I don't plan my life. I am as choosy as I was at the beginning of my career. But I am all for good stories with an emotional connect." And yes, audiences are waiting with bated breath for his next power-packed performance.