'In Bengal there is no backing for socio-political films'
National Award-winning director Subhrajit Mitra chats about his aborted film Aagunpakhi and how that made him take the road much travelled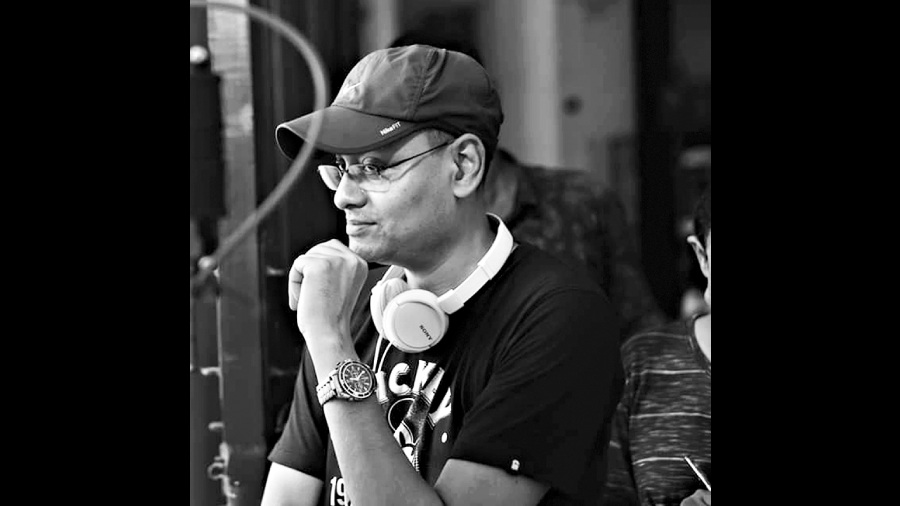 ---
Published 14.08.22, 03:14 AM
|
---
Nobody has the courage to produce movies that depict socio-political reality. In the Bengali film industry, you are not encouraged to do so." That is Subhrajit Mitra, who recently won the Best Bengali Film Award for Avijatrik at the 68th National Film Awards.
Current mainstream Bengali films, more often than not, tend to be adaptations and interpretations of literary classics — and the same ones too. Or they are inspired-by-Ray scripts.
By that logic, Mitra is as guilty as the rest. Avijatrik is based on Bibhutibhushan Bandyopadhyay's novel Aparajita. Satyajit Ray's famed Apu trilogy is based on Bandyopadhyay's Pather Panchali and Aparajita.
In any case, Mitra continues, "In 2009-10, I made Aagunpakhi (on Maoists). It cleared all hurdles, including the censor board, but it was not released. Nandan, the state governmentsponsored film and cultural centre, said 'the content is not suitable for theatrical release as of now'," he says. "Such incidents are disappointing; producers lose a lot of money. No, I shall never tread that path again."
The comment of the authorities at Nandan most likely had to do with the 2008 Salboni blast. Maoists had targeted the then West Bengal chief minister Buddhadeb Bhattacharjee's convoy.
This conversation is happening on a rainy evening in Mitra's south Calcutta residence. From time to time, my gaze strays to the artefacts in two glass showcases — the harvest of his travels. He says, "I travel a lot." He is familiar with South Asia, has been to Tibet, travelled through 60 per cent of the Himalayan foothills.
And just like that we are back to discussing films and reality. So who does he make films for? "I make films for the educated Bengali middle class — urban and rural." He stops to look at me, as if to pre-empt any objection I might raise. Then adds, "I don't believe the rural audience has a lesser understanding of classics or of films in general."
There is a break in the conversation. He gets up and returns with a tray. It's a cha break.
Mitra is an engineer by training. He says, "My mother still scolds me for not opting for a regular job like my other friends." He adds, "No number of awards can change that."
He grew up in Bowbazar in central Calcutta. No, no one in his family had anything to do with films. If family trees must be looked up, his granduncle on the paternal side was the freedom fighter Santosh Mitra. Surendranath Bandyopadhyay, the co-founder of the Indian National Congress, is his mother's great-great-grandfather.
"My father would take me to Lighthouse and New Empire theatres quite often. And that is how I got hooked to films," he says.
Mitra says he enjoys the research that precedes the making of a film. He chanelises it into details small and big, right through his films. "In Avijatrik, I have used monochromatic frames to recreate the 1940s. In one frame there is a poster of Gone with the Wind, which was released in Bengal at the time. That was the time of the Bengal famine. The Howrah Bridge was only half done. Political rallies. Sloganeering… Margaret Mitchell's novel was set against the American Civil War. India of the 1940s was fighting the British. The poster is meant to work like a commentary on the political context."
The director often finds himself sucked into different periods of history, but his first love is literary classics. He says, "I want to bring my audience to the classics which they might not read otherwise."
Back to the award-winning film. Is he not worried that Avijatrik will be compared to Ray's Apur Sansar? Mitra shrugs. "I had no intention of redoing anything and I didn't either. Avijatrik is based on the last 150 pages of the novel Aparajita and has to do with Apu's relationship with his young son Kajal. I have picked up from where Ray had finished."
The 46-year-old says his film is a sequel to Film No. 3 of Ray's Apu trilogy "in the truest sense". If that is so, it must have been a challenge deciding who would play Apu? After all, the comparison with Soumitra Chatterjee — in the audience's mind — is unavoidable.
Mitra, who cast Arjun Chakraborty in the lead, says, "I did not follow or copy Ray. Not even in the selection of the actors. I just followed BibhutibhushanBandyopadhyay's description of the character." But then, by his own admission, Mitra spent more effort and time finding the little boy Kajal. He rejected 82 children before he selected the fiveyear-old Ayushman Mukherjee.
After the National Award, what? Mitra is tight-lipped about future film ventures. What about Aagunpakhi, will he release it again now that the wind has changed? He knits his brows and replies, "Nah. It has lost its relevance."
Tete vitae
1976: Mitra is born in Calcutta to Dilip and Sankari Mitra. His father is a businessman
1996: Starts career as a documentary film director for Doordarshan; two years later completes his postgraduate diploma in computer science and engineering
2005: Makes a documentary on the fabled journey of Christ to India titled The Unknown Stories of the Messiah starring Soumitra Chatterjee and Aparna Sen. Wins the Best International Docu-Fiction Award at the Rome International Film Festival
2008: Feature film Mon Amour: Shesher Kobita Revisited releases in the theatres unlike Aagunpakhi
Some of his other films are Flickering Angels (2012); Chorabali (2016); The Men Who Saved Killapara (2017), documentary on Bangladesh's liberation war 2022: Avijatrik (The Wanderlust of Apu) wins the Best Bengali Film Award at the 68th National Film Festival.