Love or arranged, please adjust
The Telegraph chats with Sima Taparia, professional matchmaker-turned-OTT phenomenon-turned-society buzzmaker about marriage in the time of algorithm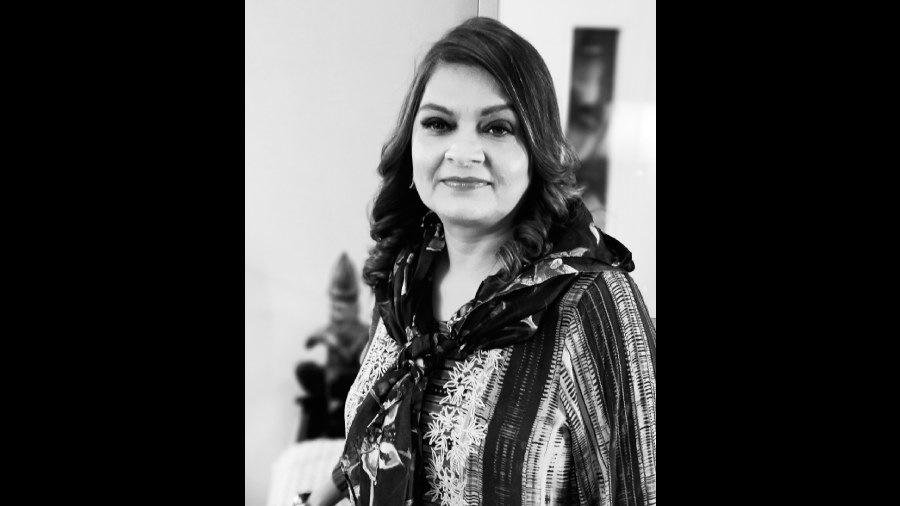 ---
Published 13.11.22, 03:56 AM
|
---
Apps have turned all the world into a frenetic hunting ground for love and marriage. Accessibility is tempting, and confusing. Those looking for love find themselves in a wedding knot, those who are married and want a peep in end up finding something like love. The apps would have you believe it is all at your fingertip. Just swipe. Just match. Just find. Just make the move. At such a time, trumping all algorithm, a matchmaker bursts into celebrityhood.
Sima Taparia is a matchmaker from Mumbai, as she never tires of repeating on her Netflix show Indian Matchmaking. Built on the reality show model, both seasons show straight men and women in India and Indian-origin Americans in the US consulting Taparia for purposes of marriage.
At the time of this interview, Taparia is neither in India nor in the US but in Dubai. "I have many meetings and one of the matches materialised. That wedding is happening. I am also chief guest at many functions here," she tells The Telegraph over phone.
She is effusive and familiar, even on a telephone line, in a way a certain generation knows how to be and it feels like she is ushering you into her parlour and the chai and laddoos will follow. You get the impression she is saying lots, actually, she tells you very little. It is her parlour and she is in charge.
Her Instagram page is more eloquent. It gives you an idea of her success. Taparia participating in the 2022 Milken Institute Asia Summit in Singapore. Endorsing a zero-sugar soft drink. Promoting a mutual fund app. At Trafalgar Square, at Sacramento, at Amer Fort, at Tirupati. In a promotional video of Rajkummar Rao and Kriti Sanon's Hum Do Hamare Do. 
Read these posts against the black-and-white photographs of Taparia as a kohl-eyed baby in a frock with a pattern of falling leaves, or a grinning girl in her favourite dress, or as a young woman captioned "when someone else was playing matchmaking for me".
When she started out in 2005, Taparia offered her services to the Marwari community only. She adds, "And later Agarwals, Jains and Gujaratis. After the show, Sindhis and Punjabis also." So what changes has she noticed in people's mindsets in the last 17 years?
All questions have a way of turning into responses about the show. Taparia says, "Everybody wants everything, they give a big list. But after the show, I have grilled into everybody's minds you will get 60-70 per cent. By staying together you will achieve 100 per cent."
If you have seen "the show", you might remember how she ticked off a woman dating a younger man. Taparia said something about Priyanka Chopra-Nick Jonas matches not being quite the ideal and earned much flak.
And that's the other thing about her, platitudes such as "the world needs me" or "people love me" notwithstanding, Taparia comes across as someone who is very sure of what she believes in. It is evident in the other Netflix show, Fabulous Lives of Bollywood Wives, wherein she makes an appearance. Taparia says, "Everybody is happy with the episode. Tumne jo sahi sahi hai woh bata diya hai Seema Khan ko."
In that episode, producer Karan Johar has Maheep Kapoor invite Taparia to Seema Sajdeh's place — she used to be married to Sohail Khan — to help find her namesake a match.
In those few minutes, it becomes obvious to the viewer that the Bollywood wives and the matchmaker are on different orbits. Is it some sort of insider Bollywood joke by KJo? (It cannot be he is making fun of middle-class convictions.) Or is it plain old great business sense at work, a cross-promotional thing to reel in a larger audience?
Says Taparia, "People loved me. They said, 'Sima aunty, you are humble and you are grounded'." But much was also said about how the Bollywood wife had managed to "horrify" the fabulous matchmaker when she suggested she might "prefer women".
The show has also turned the spotlight on arranged marriages. Taparia talks about how in Canada she met Ugandans who said they followed her show. But foreign media has written about the "regressive" and "cringeworthy" show and practice — as if they are entirely interchangeable. Others say the show/Taparia enforces caste distinctions, and does not offer hope for those who could do with celebrity help to break social templates. Taparia says, "Clients come with their criteria. I am only working for them."
Is she aware that the arranged marriage model is made fun of ? Taparia replies, "Whether love or arranged, what is required of you in marriage remains the same, adjustment, compromise, understanding, chaahe fun udao…"
PS: Some years ago, a French philosopher was walking down the streets of Paris when he noticed the advertisement of online dating site Meetic. Alain Badiou wrote thereafter, "Their idea is you calculate who has the same tastes, the same fantasies... Meetic tries to go back to organised marriages — not by parents but by the lovers themselves." The book containing these lines is titled In Praise Of Love. You could praise the arranged. Just saying.
Tetevitae
1963: Taparia is born in Gulbarga, now Kalaburagi
1983: Is married to Anup Taparia, a businessman based in Mumbai
2005: Starts matchmaking professionally
2017: The documentary A Suitable Girl, which was directed by Sarita Khurana and Smriti Mundhra and featured Taparia, gets the Tribeca Film Award
2020: Mundhra's Indian Matchmaking Season 1 drops on Netflix and a year later is nominated for the Emmys. In August 2022, Season 2 of the show is out