'Taylor Swift's lyrics tend to speak at a personal level'
Songs like Fearless, Love Story and You Belong With Me, the original three biggest hits of the album, force us to feel that grand innocence of being in love in a way that is pure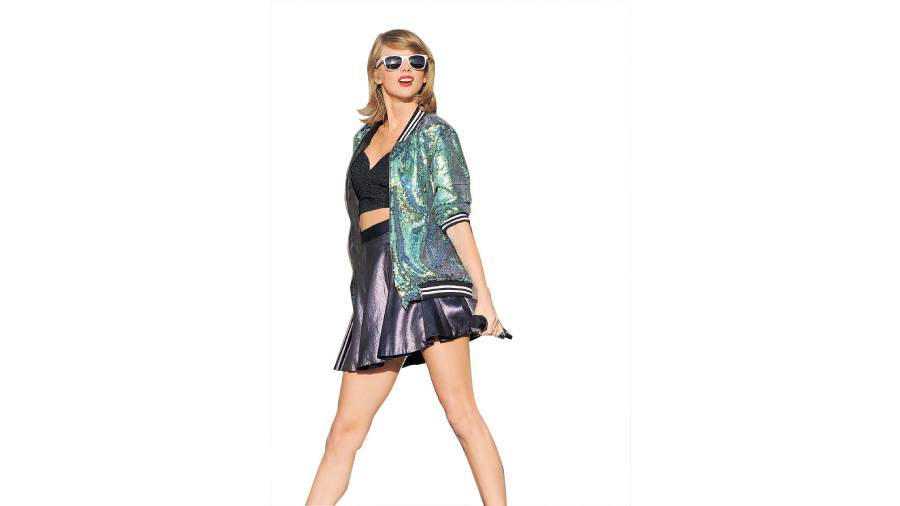 Taylor Swift
Getty Images
---
Published 26.05.21, 04:58 AM
|
---
Fearless is the very first album of any artiste that I personally went and bought a CD of. I still have it and it's a personal treasure. They say that the 'Kop at Anfield' are the most loyal of all football fans. I'd say 'Swifties' might very well be one of the most loyal fans of an artiste or band. How else does the re-recording of an album released merely 13 years back reach the top of the charts as if it was released only to belong there? Taylor Swift's second studio album Fearless was originally released in 2008. In order to legally own and have total creative control over her own music she decided to re-record and release Fearless (Taylor's Version) in 2021. Needless to say, it drove all her existing fans crazy with nostalgia, myself included, but it has also earned her a lot of new fans, especially people who never deigned to take her too seriously back in the day. There's a reason why Taylor's fans are so very dedicated to her and why she can count on them. She is the only artiste to release two consecutive albums in a year in which we all desperately needed some music. A year where she couldn't hope to go on any tours and yet she decided to write and release Folklore and Evermore. Fearless (Taylor's Version) too, has some additional beautifully wrapped presents for us. Six unreleased songs from her Vault; songs which she had written for the original album but had never ended up releasing. They are titled You All Over Me, Mr. Perfectly Fine, We Were Happy, That's When, Don't You and Bye Bye Baby.
Most of Taylor's lyrics tend to speak to me at a very personal level, so I tend to choose my current favourite according to the one I'm relating to the most at that point in time. Therefore, currently, out of these six hidden gems, my favourite is Mr. Perfectly Fine. I love the quirky style of writing with all of the personifications. It's a song about heartbreak that doesn't make you sad while also throwing buckets of sass. I mean, "Mr. 'Insincere apology so he doesn't look like the bad guy'", ouch, that's going to need some ice. But then again in Don't You she says things like, "Sometimes I really wish I could hate you, I've tried but that's just something I can't do", and there goes my heart again.
She collaborated with Keith Urban on the song That's When and it is an extremely sweet and romantic country duet. You All Over Me, featuring Maren Morris, was the first song From The Vault that she released and honestly at the time I was the opposite of fearless. I was terrified of what other dangerous missiles Pandora might be hiding in her vault to launch directly at my heart. In my opinion, the second verse is absolutely stunning in terms of a beautifully painted memory.
An ode to Happy memories
We Were Happy is just what it promises with its title. A fond trip down memory lane. We have all had happy relationships which didn't work out for whatever reason but they hold a soft corner in our hearts still. The memories still remain somewhat untainted, and this song is an ode to those. Finally, there's a sense of a resolute goodbye in Bye Bye Baby. It sounds like a lover who has finally chosen a different battle to fight, one where she doesn't serve as a mere sacrifice. It brings the album to a near-perfect close.
The Story of two Taylors
When it was first announced that Taylor Swift will be re-recording Fearless, I was, needless to say, very excited. In anticipation of it, I went back and heard the original album in order to trigger all of my tween-angst. The marketing genius that she is, the first re-recorded track that she released was Love Story. This is possibly the song that she is most remembered for, and of course this re-recording with its mature, smooth-as-butter vocals, sense of nostalgia, that unexpected magical burst of the fiddle and general better production, inevitably topped the charts. These two albums present two Taylors, 13 years apart, seemingly having a conversation. The contrast is subtle yet striking. Her voice has developed a strength, a deep huskiness, which showcases her growth and maturity as a person and as an artiste.
There are little tweaks in terms of inflections and also some altered emotions are expressed through subtle changes in her delivery. They only serve to make the songs more nuanced. It's hard to really tell whether this translucent melancholy curtain that lingers across the new version of the album is due to some minute sonic changes or due to the way she performs them. Perhaps it is simply the abstract effect of the knowledge and experience of a 31-year-old possessing, reimagining and interacting with her teenage self.
Overall, there is a certain acceptance from having lived through it all and having come out stronger on the other side. This strength is somehow emblazoned throughout Taylor's version of the album.
Fifteen at 31
It is particularly interesting to listen to a 31-year-old Taylor sing Fifteen, which finally reaches its potential in terms of complexity as opposed to the high drama of an 18-year-old reflecting on the struggles of her freshman year.
Change is another song that Taylor sings with a firmer, more knowing tone, without that foolish hope that somehow, magically, it might continue to stay the same. Back in 2008, there was a certain blatant vulnerability, an anger which was raw but also desperate, there was a frustrated tremble in the vocals as she sang You're Not Sorry. Thirteen years later, that anger is colder, the vocals smoother, stronger and cleaner, the emotion leaning more towards a seasoned disgust.
Taylor, in some interviews, had spoken about how she pored over all of her earlier performances of these songs to try and accurately capture the intonations and emotion before beginning the process of recreating. She, however, does not try to mimic her younger self. I will not deny that it is impossible to not miss the irreplaceable teenage angst and the specific idiosyncrasies of the Taylor we knew back in the day. Having said that, this new version, Taylor's Version, with its glorious 27 tracks, new and old, has definitely been successful in developing a character of its own, one you may enjoy with a glass of well-aged wine.
Fearless has always been an iconic album. Songs like Fearless, Love Story and You Belong With Me, the original three biggest hits of the album, force us to feel that grand innocence of being in love in a way that is pure, wholesome and larger than life.
This album is a beautiful, tangled mess of hope and loss. It taught an entire generation the very ropes of falling in love and getting one's heart broken. But, most importantly, it helped us believe that it is possible to break out of toxic relationships where we're not treated right. I'll even shamelessly confess to listening to White Horse and You're Not Sorry on loop while getting over a break up or two. This is an album that holds your hand through both falling in and out of love, especially Taylor's Version. Anusha Viswanathan is an actor and music aficionado