This is one of the easiest and most difficult things to moderate," said Saugata Banerji before introducing the panel who were present at the Tata Steel Kolkata Literary Meet 2020 in association with The Telegraph and Victoria Memorial Hall, to discuss 'Dylan to Beatles — Bards for a Generation'. Ajoy Bose, the author of Across the Universe: The Beatles in India, veteran musician Susmit Bose, Vietnamese American writer Vu Tran and makers of the documentary Bob Dylan — If Not For You, Jaimin Rajani and Vineet Arora, made up the panel on the evening of January 25 at Victoria Memorial. Excerpts:
Making of Bob Dylan
— If Not For You
Vineet Arora: Jaimin and I met at a street music festival. We just got talking and he told me he was a big Bob Dylan fan and I initially didn't take him seriously, because who isn't? (chuckles). We realised that we were going to stay in touch and see if we could collaborate at some level. Later on, Dylan's birthday was around the corner, on May 24, and at that point in time I had travelled to Shillong the year before, which is where Lou Majaw does a Dylan tribute every year. By that time I had started believing that Jaimin was a Dylanphile and touched base with him to ask if he wanted to collaborate on a film about Dylan. He immediately wrote back to me saying that you have all my time and attention. He likes to say that he's spent all his adulthood researching Dylan, so he's on board.
So it started from a spark and we started to work at it and see how we could channelise the interviews and it took us about three months to make. What you saw is a basic result of a cottage industry, we put it all together ourselves. I handled the camera and the sound and Jaimin wrote the film and did the extensive research, which included reaching out to the different celebrities you saw in the film. The toughest person to get to was Purna Das Baul as he hasn't been appearing on TV channels or interviews. We were looking for a voice for the film and I happened to know Dhritiman Chatterji remotely so I wrote to him not even expecting to hear from him but as they say, "I got lucky" and he wrote back immediately and said it's a lovely idea. He said you have to come to Mumbai and you could do the recording there.
Jaimin Rajani: The idea was to show Calcutta's affinity for Dylan. All the notable musicians from Calcutta who are even remotely associated with the city and how they were at some point of time inspired by Dylan.
More to The Beatles
Ajoy Bose: This book (Across the Universe: The Beatles in India) has been quite a revelation to me. I'm known mainly as a political commentator on television, columns, newspapers... but a couple of years ago my publishers, Penguin Random House, came to me with the novel idea of writing the 50th anniversary book on The Beatles coming to India. When I started researching I realised that I was on to something very special because I have been a big fan. The Beatles in India bring to us that amazing time in the 60s when there was a bridge built between the east and the west by the fab four and this journey that ended in Rishikesh and which was continued further by George Harrison because he kept coming back to India and the two navigators of the journey being Ravi Shankar and Maharishi Mahesh Yogi along with other characters.
There was so much more to The Beatles than just their music. They and their journey to India coincided with them reinventing themselves from the world's most famous and successful pop group to serious musicians and India played a major role in this. It's not just about their music but also about this great cultural auspice, which happened between the east and the west. It's quite an amazing paradox as we of The Beatles generation in the 60s growing up in Calcutta, saw The Beatles as a symbol of modernity. We turned our back on our culture and looked at them as icons of a modern culture and at the same time they were coming to India for ancient wisdom. I am also doing a documentary based on my book but I'm adding George Harrison's journey in it.
Shaping our thoughts
Susmit Bose: I grew up in the 60s and I was a hippie for a long, long time and a radical one. So after the Vietnam War, the 16 or 17 of us were making a statement because that was what was required in the young crowd. So there was Bob Dylan's influence and soon discovered The Beatles coming on to this psychedelia/esoteric kind of lyrics. So from Where Have You Been My Blue Eyes Son to Must is a War, you were talking about Lucy In The Sky With Diamonds, which had fantastic psychedelic imagery. Once I was introduced to Dylan and heard him, then I started to write my own songs and forgot what was Dylan all about till later I got back to it and listened to what I missed out.
I thought we were going to talk about the evolution of songwriting because we have come a long way. From the beginning, western songs were about cotton-picking, slaves and what not, then we went on to "Put on your red shoes baby cause we going out tonight". Then after the Vietnam War, it started to get more mature and people started writing about Teach Your Children, Sound of Silence... so it was a transgression that was happening. Dylan and Beatles were good friends and discussed a lot.
The us view
Vu Tran: So the reason I am on this panel is because The Dylan papers (The Bob Dylan Archive) are at my alma mater in the University of Tulsa where I went to school. The great artistes give other artistes permission to do things they otherwise wouldn't think to do, to break the rules and that's what Dylan did. The songwriter as poet, storyteller, activist, the flawed voice that is actually better than a flawless voice... these kinds of rule-breaking are compounded by the fact that it's pop music. It's bridging high art with pop music and bringing it to another level. For someone like me, from a conservative culture, people like Dylan and The Beatles gave us the permission to at least think about breaking the rules.
The 60s
Susmit: Lyrically so much was happening because in the first time possibly that in the 60s people were freely expressing themselves. And Simon and Garfunkel had these wonderful straight, direct poetry which they combined with an acoustic guitar and sang it the way the lyrics needed it. I've been influenced by the Guthrie family of Dylan and Pete Seeger where a guitar is not decorated and you just play the three-chord format. So when people tell me, "You don't play the guitar like the guitar should be played", I tell them I play the chhoytara.
Ajoy: What is fascinating with the range of singers in the 60s and the ideas they grappled with, starting with more love songs and ballads and going on to issues of social protest of great complexity. These small group of people talking about these issues had become a mass movement. And that's what Dylan does when he moves from his protest music to more complex emotions and music because it changes. The ability to innovate, adapt, move forward and constantly reinvent is amazing and for George Harrison to get into the deep spiritual stuff is quite amazing.
The Beatles-Dylan Relationship
Ajoy: It was a very strange relationship between The Beatles, Dylan and The Rolling Stones's Mick Jagger. They were really fond of each other and respected each other's music. But they were very fierce competitors and artistes compete more fiercely than businessmen. That's why Lennon would constantly change his opinion about Dylan. As far as Dylan was concerned, he was happy The Beatles would crowd his hotel room and learnt to smoke but at the same time he rubbished them. Paint It, Black by Mick Jagger came out shortly after Norwegian Wood where he used the sitar. This was the second pop song that used the sitar, so they were constantly mocking each other and yet copying each other.
Jaimin: But then again in the end Dylan did write Roll on John for John Lennon in 2012.
Ajoy: Oh absolutely! And Dylan did a big thing for George Harrison in the Bangladesh concert as well. George put it together on very short notice under Ravi Shankar's request. And Bob Dylan stayed and sang and it was an incredible performance.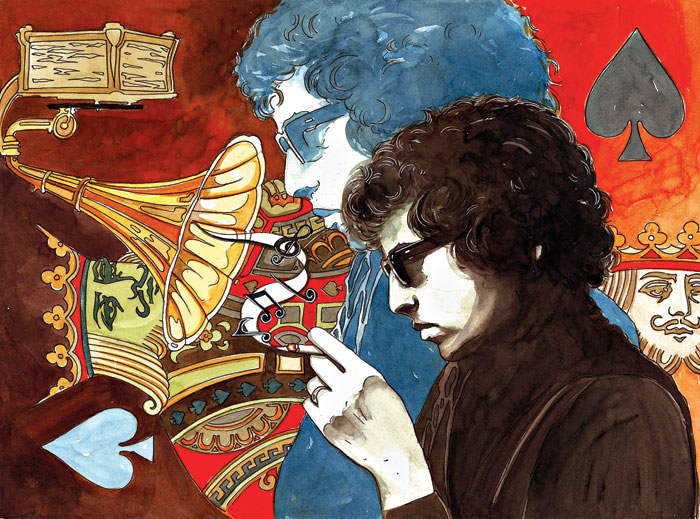 A Bob Dylan painting by Bibek Das that was used as a poster for the documentary Chanchal Ghosh
Bob Dylan — If Not For You, a connection between the city and Dylan
Kindly speak like silence" is how the documentary made by Jaimin and Vineet Arora starts, picking up the line from Bob Dylan's Love Minus Zero. As a gift to their idol, the two Dylanphiles put together a 28-minute documentary for Bob Dylan's 78th birth anniversary, that captures how the city has been influenced by Dylan and his music, along with interviews of different notable musicians like Anjan Dutt, Usha Uthup, Purna Das Baul, Susmit Bose, Miti Adhikari, Nondon Bagchi, Arko Mukhaerjee and Rahul Guha Roy, who have expressed how they have been inspired by Dylan.
"I wasn't prepared with any questions. My friend was just filming and the rest was on me because I was the subject master expert who knew Dylan's music. I had to ask questions according to who I was talking to. There will be some people who know Dylan's albums inside out, for some Dylan is just a musician they admire. It was more of a free-giving conversation about first experiences and how they were introduced. The different interviewees didn't need to have anything in common because they have been exposed to Dylan in different ways. For example, I can ask Purna Das Baul about his friendship with Dylan. He doesn't have much knowledge about his music but Dylan was enamoured by him," said Jaimin.
Shot in approximately three months, collecting footage, researching and the hardest of all getting appointments with different artistes, you can see the effort that has been put in the making of the documentary. But does Dylan know about his story put together by the two Dylanphiles? "We managed to get in touch with Jeff Rosen, who is Dylan's manager and lawyer. We wanted him to be aware of this non-commercial project we worked on, just to keep him informed. And he did write back to us but Dylan is a hard person to get in touch with. He doesn't talk to a lot of people and detaches himself. But we did request Rosen to show him our documentary if he could," Jaimin said.