t2 takes a bite of the oriental fare at the revamped Mainland China in South City mall
Mainland China Where: South City Mall, 4th floor Timings: Lunch buffet 12.30pm-3pm on all days; dinner buffet 7pm-11pm Friday-Sunday; Hi-Tea buffet 4pm-6pm on Saturday and Sunday Pocket pinch: Lunch buffet Rs 866 on weekdays, Rs 996 on weekends; dinner buffet Rs 996, Hi-Tea buffet Rs 362 (all inclusive)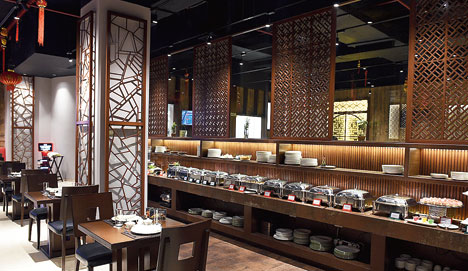 ---
Published 23.03.18, 12:00 AM
|
---
What: Mainland China
Where: South City Mall, 4th floor
Timings: Lunch buffet 12.30pm-3pm on all days; dinner buffet 7pm-11pm Friday-Sunday; Hi-Tea buffet 4pm-6pm on Saturday and Sunday
Pocket pinch: Lunch buffet Rs 866 on weekdays, Rs 996 on weekends; dinner buffet Rs 996, Hi-Tea buffet Rs 362 (all inclusive)
If you've been a regular at Mainland China in South City Mall, then you are in for a big surprise when you drop in next time. For post a one-year renovation break, the Oriental dine den from the Speciality Restaurants stable is back in a completely new avatar. The look and feel and even the menu have all gone through a sea change.
"When the mall closed down for renovation, we took this opportunity to totally change the decor of Mainland China. Not that the mall asked us to, but we thought why not?! When the mall is running, you don't get the chance to close down the restaurant for renovation work, so this was the perfect opportunity," said Anjan Chatterjee, chairman and managing direction of Speciality Restaurants, before taking t2 on a walk-through of the restaurant.
The 164-cover eatery is divided into two separate sections with wooden dividers, with the smaller 50-seater section doubling as a private party area with a separate entry so as to keep it secluded from the main seating area. The decor is all-out Oriental, with touches of red brightening up the otherwise raw wooden walls and furniture, and Chinese lanterns hanging from the ceiling. Huge prayer wheels line the entrance. A sushi counter, a bar counter and a buffet section, with a lot of leg room between tables, are the highlights.
The menu has moved beyond Chinese to include all things Oriental. Think Japanese, Korean, Thai, Indonesian. "So much is happening in the world of food... people's tastes are changing. If you don't reinvent the wheel, if you don't ideate with the chefs and come up with new things, after a point of time you stagnate. So the idea is to go beyond Chinese and include a lot many flavours in the menu," said Chatterjee.
"In Chinese, it's limited to soya sauce, chilli paste, kikoman soya, white garlic sauce… so there's a trap… how do we get out of it? So we introduced things like truffle oil, smoked chilli sauce… new things like sushis, lemongrass prawn dim sums, then fried duck roll, which is an innovation on the traditional duck roll, then we have introduced lotus stem… without new things there's no reason for people to come back again and again," he added.
While the popular Mainland China lunch and dinner buffet continues, a new addition is a Hi-Tea buffet on weekends. The private party area coupled with the Hi-Tea menu from 4pm to 6pm makes an ideal combo for kids' birthday parties.
FROM THE NEW MENU
Smita Roy Chowdhury
Pictures: B. Halder