Soumitra Chatterjee: Renaissance man's solace
'He was one of the last cultural icons of Bengal, who exhibited his intrinsic humanism through his writings, his paintings, his theatre and of course his film performances'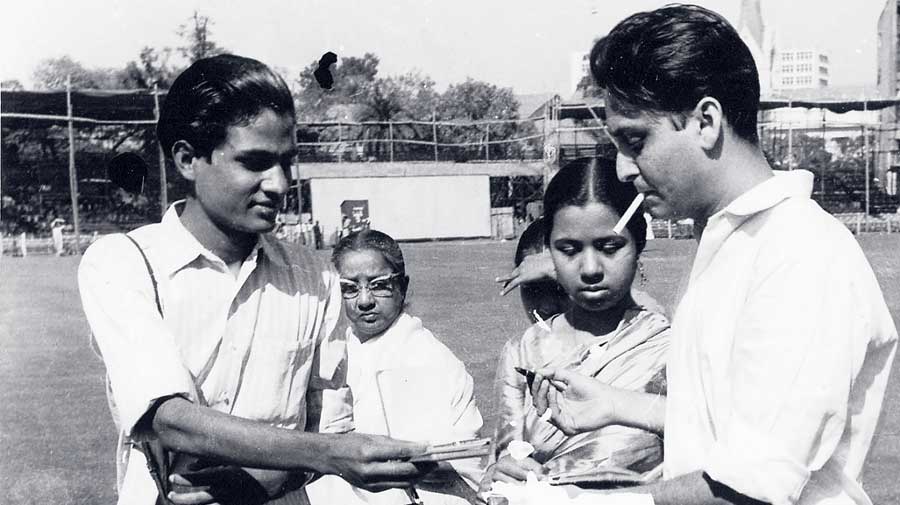 A young Soumitra Chatterjee signs autographs for his fans at the Eden Gardens. The actor had completely changed his handwriting for Charulata. Director Satyajit Ray, a master calligrapher too, had pointed out to the actor that since Rabindranath Tagore had written Charulata, it would have to be understood that the time he was depicting was the pre-Tagore era. Ray had asked Chatterjee to master the pre-Tagore longhand. Chatterjee practised day and night for six-seven months and altered his handwriting.
Sourced by The Telegraph
---
Published 16.11.20, 12:57 AM
|
---
Renaissance man, an ideal that developed in Renaissance Italy, refers to a man who can do all things if he will. The ideal embodied the basic tenets of Renaissance humanism, which considered man the centre of the universe, limitless in his capacities for development, and led to the notion that men should try to embrace all knowledge and develop their own capacitates as fully as possible.
In the context of the great Bengalis, this term has been used for such specific qualities in men who lived during the Bengal renaissance. The use of the term specifically for "men" is surely suspect but I mean it in terms of the idea of the qualities mentioned. From recent times, one thinks of people like Satyajit Ray, Amartya Sen, Soumitra Chatterjee and Aparna Sen who exhibit such qualities.
I was indeed fortunate to be closely associated with Soumitra Kaku in five of my films and then subsequently as my friend, philosopher and guide. Though he is renowned as an internationally acclaimed film actor, I think that is too narrow a space to relegate him to. He was one of the last cultural icons of Bengal, who exhibited his intrinsic humanism through his writings, his paintings, his theatre and of course his film performances. That encapsulates the true Soumitra Chatterjee.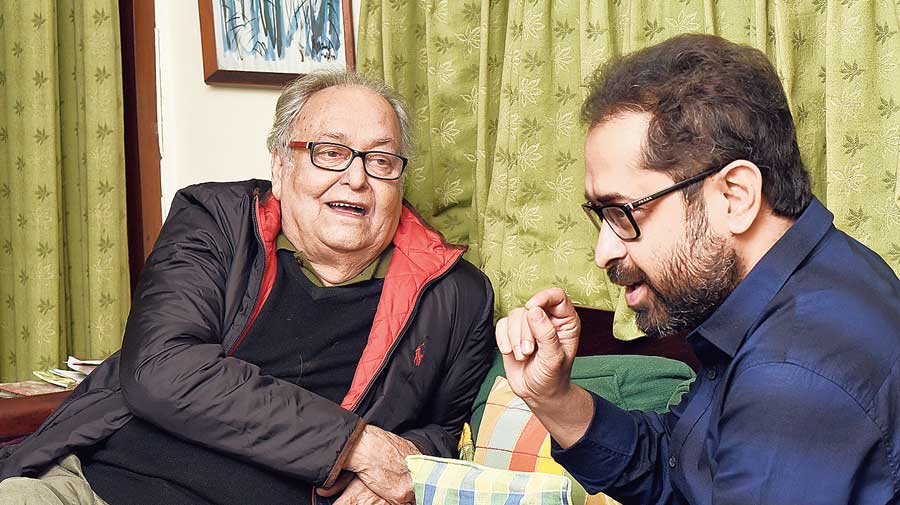 I first met Soumitra Kaku during the shoot of one of his films, Dekha, which was directed by Goutam Ghose. I still vividly remember my first impression of the great man at Aurora Studio in north Calcutta.
This was in 2000, when I was a PhD student in the US and was contemplating an alternate career as a filmmaker. I could not believe my eyes — the person in front of me was the same person who had enamoured countless fans in such seminal films as Apur Sansar, Charulata, the Feluda films, Jhinder Bondi, Wheelchair and many more. I remember that for many days I could not muster the courage to go up to him and introduce myself. So, that was when I first met him in person.
Five years later, when I decided to make my first film, Podokkhep, with him in the lead along with Nandita Das, I approached him again. To my utter joy he loved the script and agreed to be a part of my film. Podokkhep went on to win two national awards including the Best Actor for Soumitra Chatterjee. Thus started my journey with him and later I often laughed with him about the fact that I had built my career on his shoulders.
Since then, apart from the shoot days, there were countless long addas with him — the topics ranging from literature, history, cricket and Satyajit Ray to the Maasai tribes of Africa. He was like a walking encyclopaedia.
What struck me the most was his immense curiosity and desire to learn new things. He was perhaps the most restless mind I have encountered, keen on learning about apparently trivial things in detail.
Hence his love of books. He was my book buddy. Each time I came to Calcutta I brought with me books for Soumitra Kaku. Likewise, he would refer many books to me, which I diligently read. The literary exchange would end in countless hours of discussion.
Over the course of many years, his zest for work was distinctive, even under extremely trying times. I particularly remember two instances when I was stunned to see his composure.
After his grandson Rono was involved in an almost fatal accident a few years ago, I could not fathom how Soumitra Kaku would deal with it. When I went to his house after the incident, I did not know how to face him.
When I entered his room, I saw him engrossed in a different world altogether. He was translating an Irish play that he wanted to direct. Work was his solace.
Again, when he was admitted to hospital with a major illness last year, I was in Mumbai. When I went to Calcutta, I was apprehensive about what condition I would find him in.
When I entered his bungalow, the security guard told me that he was in the outhouse. I quietly went there and found him splashing paint on a canvas — again engrossed in his own world. Creating art from the depths of despair was his way out of despondency.
Today I want to confess a constant fear that I have had for the past few years. Whenever I went to his house during the last couple of years, after our adda he used to come outside to see me off. Even though I repeatedly asked him not to come outside he would insist and always say: "O kichhu hobena (Nothing will happen)."
When I got into my car and turned back, I would see him waving at me as my car drove away from him. That image touched me each time. The fear was of not having him like a parent, always there for me.
I feel the same today — that I'm driving away from him in my journey of life while he keeps waving at me, slowly fading away. I know he is there, still waving.