'Songs of love are conversations to a beloved'
A chat on romance and the grand success celebration of Ishq, with t2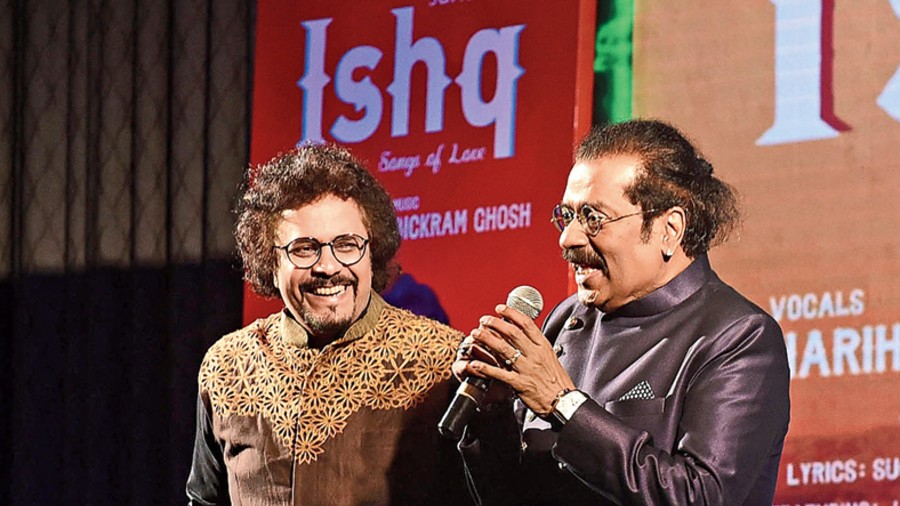 Bickram Ghosh and Hariharan
---
Published 05.05.21, 04:00 AM
|
---
Bickram Ghosh and Hariharan's romantic album Ishq shines a light on the many hues of love. The six songs that speak about the different ethos of love have six videos — featuring Jaya Seal Ghosh, Karan Hariharan, Priyanka Sarkar, Sauraseni Maitra, Romit Raj, Ishaa Saha, Tuhina Das and Bibriti Chatterjee — that are directed by film-maker Arindam Sil. The lyrics of the songs have been written by Sugata Guha, Rajiv Pandey and Sanjeev Tiwary. Following the release of the album, the two musicians and director Arindam Sil got together for a grand success celebration of Ishq, an album by Hariharan and Bickram Ghosh, in association with t2 on April 15 at JW Marriott Kolkata. Friends and family dropped by to experience a magical, power-packed performance where Hariharan and Bickram performed songs from the album Ishq. It was followed by a starry fashion show where the actors sported outfits by Jyotee Khaitan, Abhishek Dutta and Sandip Jaiswal.
Hariharan
What is your favourite part about this project?
My favourite part about the album was when Bickram was composing and I was singing and we went on to mix the song. Then we did the videos which was lots of fun... and when it got released it started getting millions of views. That was my favourite part (laughs).
What is your idea of romance that has been projected on to this album?
Well, love or songs of love are conversations to a beloved. That is what love songs are. You speak to your mehbuba. These are geets about different kinds of love, some are happy, some sentimental, there's pain in some. When the song is made it takes me to sing it in a way that defines it.
If you had to select a favourite song, which one would it be?
It's so difficult to say. Baton baton mein is good, Radha is good, each one is good in its own way.
What are your thoughts on Bickram Ghosh's music?
He is a workaholic. Which I like because I am also a workaholic. If we don't get it right we don't leave it. God has been so kind to give us such popularity and love from the people... what we do is going to stay, so we better do it well.
How was your experience shooting the videos....
It was very hectic and Arindamji made me work hard, it was amazing. We did one song each day and by the end of the day I was exhausted. So we did three songs and then I went back to Mumbai and after a month I came back and did the other songs. You can see the result, we worked very hard.
During the shooting of the video you got to visit different parts of Calcutta. Was there any place you enjoyed the most?
Hatibagan! It was quaint and it felt like we were in a different age. It looked very old and amazing.
Bickram Ghosh
Which are the videos that really stand out for you?
Each video is a slice of life and we're talking about love in different forms. There's love of the city in Dil hawayi hain where Priyanka Sarkar is playing the metaphor of Calcutta, she is Calcutta. We don't see her but she sees us. Each video has a theme. My wife Jaya's video is like a dream sequence. She's in the audience and Hariji and I are doing a performance.
How are people responding to the album?
When we launched the album in Mumbai it got a lot of appreciation. There was immense appreciation from people of the industry. We showcased the videos and songs and they loved them... in the last two months we have been releasing the videos, people have showered so much love.
Tell us about the sound of the album?
It's very melodic, we have gone back to the melodic space of Indian music. People are still listening to Kishore Kumar and R.D. Burman. So our thought was to go back to melody with interesting arrangements.
You mentioned the album is very melodic and listeners really enjoy melodious tunes. Did that have an impression on the album?
See my work has always been melodic. My work is very melodic with an Indian sound, with my own heritage. Of course, I have used electronic and live instruments in some of my works. So that's my space. There is this quality in live music that I like to use. Instruments like the sitar don't go out of fashion, they are forever. With Ishq, Hariji and I represent separate schools of music with melody. How many times do you hear that an entire album has videos, each song has a video? All have been lavishly shot by Arindam (Sil).
Was shooting in Calcutta the original plan?
Hariji and I decided that we were going to do the project in Calcutta, when we finished the album. We figured to do it here for a bunch of reasons because the aesthetics that we brought on with this project is very nuanced... we didn't want ostentatious videos. We wanted something real. I live in Calcutta, I have always been here inspite of working a lot over the last 30 years now, around the world. But I always retained Calcutta as my base. The idea is to give Calcutta a tribute as well, a fillip to what comes out of Calcutta. So we shot in and around the city, all thematic with storylines, funky, earthy... like they used to be in the 1990s. That is the gharana we wanted to show.
Arindam Sil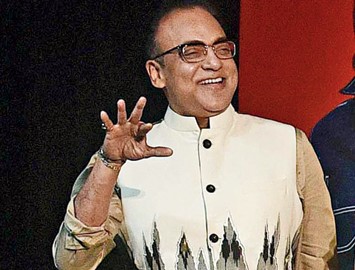 When you heard the album, what was your vision for each of the videos?
The songs are so visually strong. First, the lyrics. Second, the composition and, of course, above everything, the gayiki of Hariji. Hariji can create images when he sings. That's the greatest part. That's what actually makes him the Amitabh Bachchan of his work. You have to accept that... everything that he's done, his contribution to Indian music has been incredible. Here we have an album and it is about love. The first time I heard the album I wanted to treat it with the various ethos of love. That's how the images came to me. So if you see the first one (song), which is about abhiman, Baton baton mein, or the one about falling in love with Calcutta. 'In love' is not just about the boy or a girl, there are various aspects of love. I wanted to tell stories. To create the stories, what was important were the visuals that I was seeing. I just followed my heart.
Do you have any fond memories on set?
Oh wonderful memories. This man is awesome. I have spent a lot of time with his family at his home in Mumbai, at his farmhouse. We are a lot like family right now. The incredibleness of this man is that he's so down to earth. Bickram is my childhood friend. He's been an immensely-talented musician, composer.
The visuals must be really heart-warming too....
We dealt with very heart-warming nuances. The little things of life that we're losing out on. And I have tried to bring glimpses of it. I didn't want my visuals to be more powerful than the song itself. I wanted my visuals to compliment.
How did you choose the different locations for the videos?
I wanted to bring out aspects of Calcutta. I wanted to bring in visuals which would appeal to people all across. People in Mumbai, they went gaga over the visuals. They said it was so soul-touching. My purpose was served. That's exactly what I wanted.
Pictures: Pabitra Das