To catch a singing bird
Some villages in Darjeeling which have always depended on tourism are now diversifying into a rather specialised interest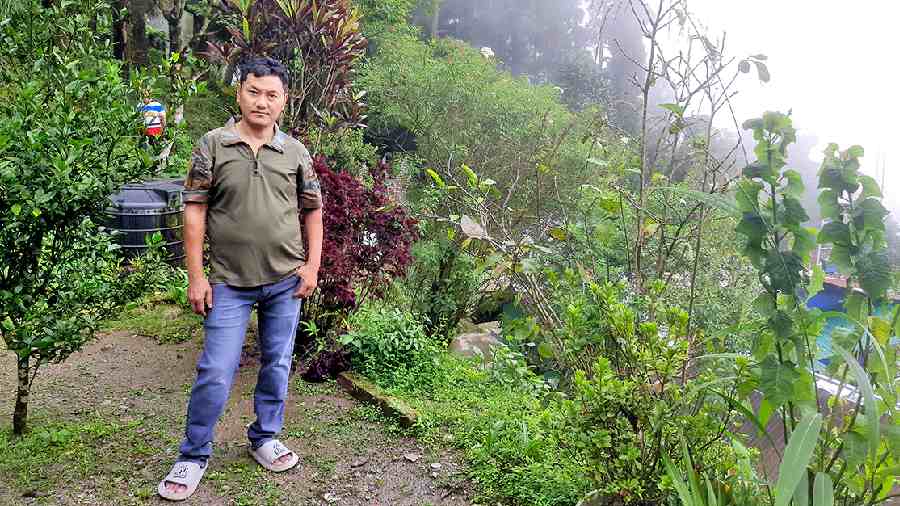 WINGMEN: Bird guide Sanjay Rai
---
Published 05.02.23, 03:37 AM
|
---
Perched on top of a pine tree, a verditer flycatcher is singing to attract its mate. A scarlet minivet is peeping from the crack in a boulder. Sanjay Rai is standing a little away on a leafy slope. The setting is Latpanchar village in Darjeeling district. The village is at a height; one can see small clouds floating below. "Don't move," whispers Rai; a primary condition of birdwatching is to remain as quiet as possible.
Nestled in the Kurseong hills and 45 kilometres away from New Jalpaiguri, Latpanchar is a village in Sitong III panchayat. It forms the upper portion of the Mahananda Wildlife Sanctuary. Until about 10-12 years ago, tourists visited these parts to catch a glimpse of the Kanchenjungha, and enjoy a bonfire, chicken momos and cottages from the days of the Raj. The people of Latpanchar worked in cinchona and orange plantations. In fact, the orange festival here has always been a big draw.
But this geography is also blessed with rare kinds of birds, some on the verge of extinction. And when birdwatchers got wind of this and started trickling in just to see the red-headed trogon and the long-tailed broadbill, sniffing potential business, many locals did the homework and started offering guided bird tours of the area.
That is how Latpanchar and Lamahata — another village — came to develop homestays and eateries that also double as guiding outfits for birdwatchers. Guides start out from Latpanchar, move to Rongtong, from there to the Senchal Wildlife Sanctuary and finally New Jalpaiguri via Gajoldoba. Rai guides birdwatchers on a part-time basis. Earlier, he used to take tourists from Bagdogra to Gangtok in his car. In 2007, he met a group carrying "big cameras" with them. They introduced themselves as birdwatchers. "They asked me whether I knew the rare birds of the area. I told them I could distinguish one from another only by taste," says Rai with a laugh. "At that time, I was into bird-hunting," he adds.
The birdwatchers took some photographs and explained to him the beauty of birdwatching. Says Rai, "They also told me: 'There are lots of things to eat, why eat birds that sing so beautifully'."
A few years later, Rai came to Calcutta to meet those birdwatchers. He also bought Richard Grimmett's Birds of the Indian Subcontinent and another book by Salim Ali. When the group visited Sitong again, they got him another book on birds and a pair of binoculars. Says Rai, "By then, I was hooked to birdwatching." By 2012, he was conducting tours for bird enthusiasts. As a driver, he used to earn around Rs 12,000 a month, but now he earns nearly double.
It is hard to come by definitive numbers, but those in the know say there are over 240 species of birds in the Mahananda Wildlife Sanctuary. Latpanchar is home to the Himalayan bulbul, scaly thrush, great barbet, black bulbul, chestnut-tailed starling, blue-throated barbet and many others. Sabir Subba turned guide for birdwatchers' groups in 2015. He says he has spotted the rufous-necked hornbill, a rare bird, several times in the Latpanchar forest. "You may spot it in Arunachal Pradesh as well. But here, you can have a closer look — in fact, from a distance of 20 feet," he adds.
Subba drives tourists through the foggy dark, right up to a patch in the forest known as Latkhoti, thereafter trek on to a spot known as Queen Block, and there they lie in wait for the birds.
A full day's birdwatching tour lasts from sunrise to sunset. The guides will tell you to avoid bright clothing. "White is the colour that indicates danger to wildlife. It can scare away the birds you wish to watch," says Rai. Subba adds, "One should wear a cap to avoid eye contact with birds. It startles them."
Subba wants to send his eightyear-old son to study in a "good school" in Darjeeling or Siliguri. He believes bird tourism will give that extra fillip to his earnings and ambition.
Sandeep Ram, who is another full-time birdwatchers' guide, used to work as a data collector with the National Hydroelectric Power Corporation at Kalijhora for Rs 5,000 a month. His earnings, too, have gone up.
And all this when bird tourism in the area is still nascent. The hilly villages are leveraging their little-known jungle trails to develop local interest not only in birdwatching but also in nature conservation.
Ganesh Gurung, who is a Latpanchar resident, says, "Protecting wildlife and natural resources is the need of the hour. In view of the recent scenario in Joshimath, nature should be protected in the hills at all costs."
But that's another story for another time.
Pictures by Bitan Sikdar and Sanjay Rai