So, see you on the other side, eh?
A visit to Calcutta's Commonwealth War Graves cut short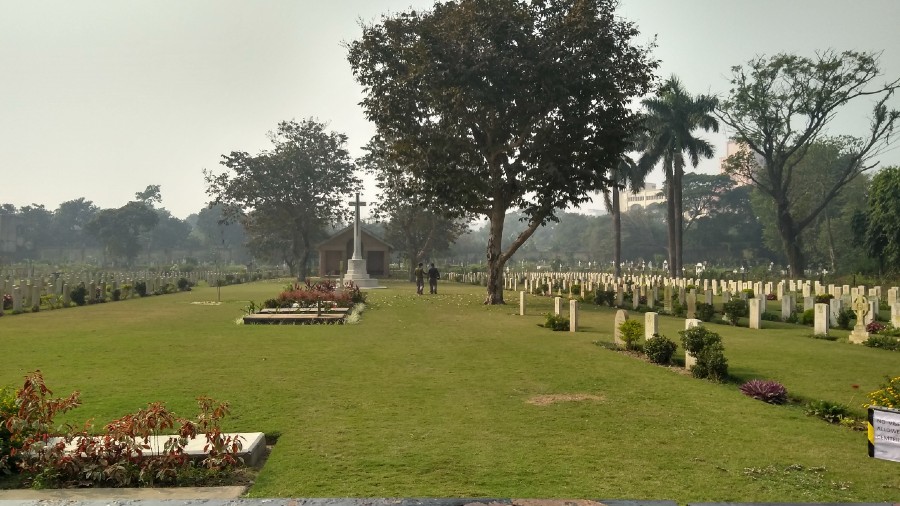 The Commonwealth War Graves in the Bhowanipore Cemetery
Swachchhasila Basu
---
Published 07.02.21, 12:49 AM
|
---
A cemetery is not a cheery place to be in, more so in these despairing times. But that is exactly where I landed up on a cold and windy December morning, a friend in tow.
The friend was excited; as a child, whenever he visited his maternal grandparents' place, the cemetery was his playground. As for me, well, I had an agenda.
Last year had been the 75th anniversary of the end of World War II, a war in which many soldiers from the Commonwealth had laid down their lives. Since Remembrance Sunday on November 8, my Twitter timeline had been flooded with tweets by the Commonwealth War Graves Commission or CWGC of picturesque locations of war cemeteries from across the world and notes on who lies buried where.
I learnt from a Google search that Calcutta too has three Commonwealth war cemeteries — the Bhowanipore Cemetery, the Entally Cemetery and the General Episcopal Cemetery, also known as the Lower Circular Road Cemetery. Between them they house a few hundred war graves apart from many more civilian ones.
Bhowanipore Cemetery has 713 identified graves from World War I & II, Entally has one and Lower Circular Road, two. And yet none seemed to figure in the CWGC's remembrances alongside the cemeteries in Cairo, Nigeria, Festubert. Were our graves not worth talking about, I wondered. My searches also revealed that Alexander Aubrey Bond, father of the much loved writer Ruskin Bond, rests in Bhowanipore.
He had served in the Royal Air Force during World War II, but he didn't die in the line of duty. His grave is one of the 200-plus non-war graves that the CWGC maintains there.
By now I was dying to step out, but the virus doesn't care for such fancies. Moreover, with an elderly parent at home, even the shortest of spins needs the preparation of a Viking expedition. It was six weeks before I could set out on my cemetery visit.
The war graves of Bhowanipore are located some 200 metres from the main gate, encircled by a four-foot-high woven wire and shrubbery. A concrete pathway running right through the civilian cemetery leads up to them. The manicured lawns with some graves down the middle flanked by symmetrical rows of well-maintained headstones can be seen from a distance.
According to my friend, when he would come here, there was no separate enclosure for the soldiers' graves. He said, "Most of the civilian tombs were made of marble and on summer days they felt cool. There were plenty of trees and flower beds too. We'd sit on the tombs and play ludo or hide behind them during a game of hide-and-seek."
Within minutes of stepping into the enclosure, we heard voices. In reflex, my friend, whose mask covered his chin, promptly pulled it up. We continued to meander in. The engravings on the tombstones were thus styled — 1230826 Flight Sergeant/A.R. Eaton/ Royal Air Force/4th May 1945. There is a Royal Air Force eagle above the lettering and a cross below. Beside Eaton lies D. Bedford. His epitaph runs into five rows: "Able Seaman RN PCIX 561532/ H.M.S. President III/3rd May 1945 Age 19/Memories are keepsakes/No one can steal." We walked past R251292 Flight Sergeant S.A. Doherty, wireless operator and ace gunner with the Royal Canadian Air Force. He died on May 2, 1945.
Before we could explore any further, the voices were upon us. They belonged to Rabi Singh and Rajinder Raj, both gardeners, both graduates. Raj has been working here for a decade, while Singh is fairly new to Calcutta. Prior to this, Singh has worked at the CWG cemeteries in Delhi, Chennai, Pune... He had said later in ambassadorial fashion, "The CWGC is ensuring that people do not forget history." But just then they were frantic and concerned to find us inside an area that was closed to visitors because of the pandemic. Was it the long departed who were at risk from visitors or visitors from visitors, we asked, but to no avail.
Finally, Singh called up the CWGC-appointed manager of the graves. When he couldn't get through, he gave me the number. After six failed attempts, a woman answered the call. The gist of the conversation was as follows. No, we couldn't see the graves. And yes, we would have to email ahead for permission, which would not take too long coming. And yes, we needed permission before we could have a chat with Raj and Singh. She said she would text me her email id. I waited agog for the next few minutes, holding my phone up to the sun to check for connectivity. I had a connection, I never got the text.
It has been several weeks since — the promised text or its sender are yet to make an appearance.