Shop where you stop
The pandemic may have put their lives out of joint, but not their art. The Telegraph catches up with a group of travelling artisans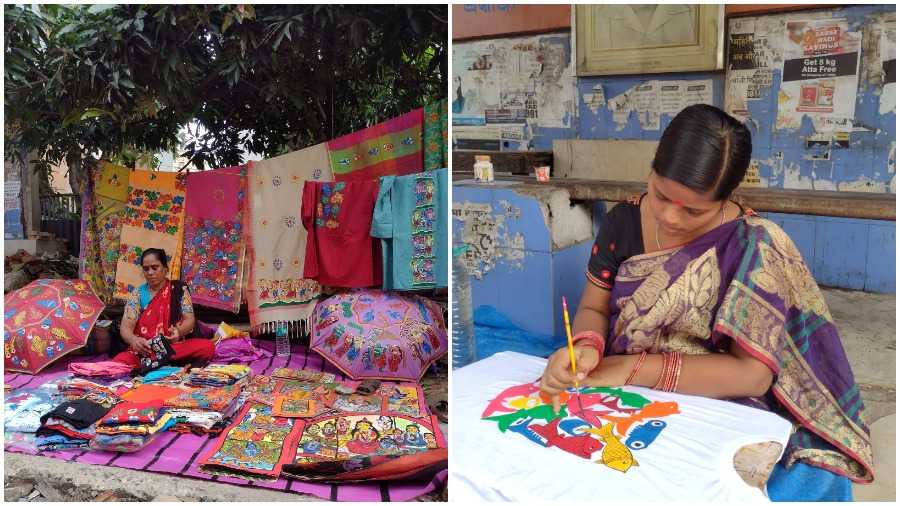 Art mart: (L-R) An artisan with her wares, Sonia Chitrakar paints a T-shirt at a bus stop on Dum Dum Road
Paromita Sen
---
Published 26.09.21, 12:09 AM
|
---
Pingla is a village of patachitra artists in East Midnapore. Traditionally, they were storytellers who sang tales of Radha-Krishna, of how the fish wed, of Ma Manasa and Devi Durga — fables they illustrated on colourfully painted scrolls of cloth-backed paper. These days, however, they mostly paint to order — saris, dupattas, T-shirts, kurtas, trays, bottles, lanterns, cups and kettles. In pre-pandemic times, the village would have a steady influx of tourists. But the lockdown has put paid to that. The other source of income for the artists, putting up stalls in various fairs across small and big cities, has also dried up.
"The last two years have been awful," says Sonia Chitrakar, "There was no work except in the fields." She adds, "And why will anyone want us there? We know nothing about farming." Sonia is one of 45 artisans from all across Bengal who put up makeshift stalls along a busy stretch of Dum Dum Road close to Nagerbazar, a couple of kilometres from Calcutta airport.
Apart from Sonia and a few other patachitra artists from West Midnapore, there were jewellery-makers, woodworkers, a buffalo horn artist, people with clothes they designed or embroidered, women with hats, bags and coasters they had woven out of jute, potters and ceramic-makers. The wares were mostly displayed on tables but some, like Sonia, had to set up shop on the pavement. With Durga Puja around the corner, they were hoping that Calcuttans would loosen their purse strings.
Sonia sits on the floor of the blue-and-white bus shelter drawing fine black lines on blobs of colour, turning them into frolicking fish on a white T-shirt. She doesn't seem perturbed by the clamour of traffic whizzing by just a few feet away. Art is in her blood, to use a cliché. Her paternal uncle Gurupada Chitrakar is a Rashtrapati Award-winning artisan; he succumbed to Covid-19 a few months ago. Last year, he had composed a song about the pandemic that Sonia — supported by her mother and sister — sang at awareness meetings. The scroll her uncle painted along with the song is now on display in a museum in Australia.
Sonia has a fine singing voice — she sings the Covid song — but it is her skills with the brush that has kept her family fed in these hard times. She paints on saris, caters to city boutiques. It takes about a week to paint a sari; four days if her husband pitches in. The pay is a laugh but Sonia is grateful, "They give me work regularly and pay on time."
Rajarshi Das, designer and social entrepreneur, has been running from pillar to post to help the artisans from districts such as Malda, Murshidabad, Birbhum, Nadia, Burdwan put up these stalls. "They will get a fair price for their products and customers will not have to pay inflated prices for these beautiful handicrafts. It's a win-win situation," he says.
"I had a little money saved up to buy land," says Anup Biswas, who makes cloth bags and hawks them in local trains on the Naihati-Sealdah route. "That helped me survive for a while. But I have hit rock bottom now. If it wasn't for this haat, I wouldn't even be able to organise the Vishwakarma Puja today," says the hassled man, quickly arranging his wares around him.
Biswas has been holding this puja every year since he bought a sewing machine in 2015 to make bags. He used to be an electrician before a short-circuit-sparked fire ruined his hands. He points out the newest bag he has designed, a small tote that turns into a fashionable potli. Another one of his creations is a largish kalamkari tote; he designed it for school teachers who take the local train with him.
Basanta Samanta from Kolaghat in Howrah is selling birds, animals, salt cellars, ashtrays and fine-toothed combs made of buffalo horn. He buys horn from Uluberia, then cuts and carves them. His family has practised this art for generations. There are machines now to help but the fine detailing has to be done by hand. He shows me an elaborate lobster "made out of the best horn" that costs Rs 1,500. The price reflects the cost of raw material, not the four days he spent carving it.
The price of the meenakari studs that Kanai Mukherjee of Domjur, Howrah, is selling is also because of the expensive alloy used, not because of the four hours put into crafting each pair. He sells bangles too. "We have to beat the glass-like bits (lac) of different colours to powder and carefully put them into the empty slots on the jewellery. Then we gently heat it to make the material melt and set. It takes a day to complete a single bangle," says Mukherjee nonchalantly.
Buying from artisans is a very different experience. It is less sale and more send-off. And should a customer bother to strike up a conversation, explain what he or she is looking for and why, there is that assiduous effort to find the best fit. Biswas dissuaded a customer from buying the chosen bag when she said it was for her laptop. Samanta took away the spatula another customer had picked up. "You want something for daily use. That one is made of neem. It might leave a bitter taste in the curry," he explained.
The artisan's innate honesty, like his craft, still survives.