She
For Aloka Mitra, The telegraph she award winner in social development, it's about women holding hands and working together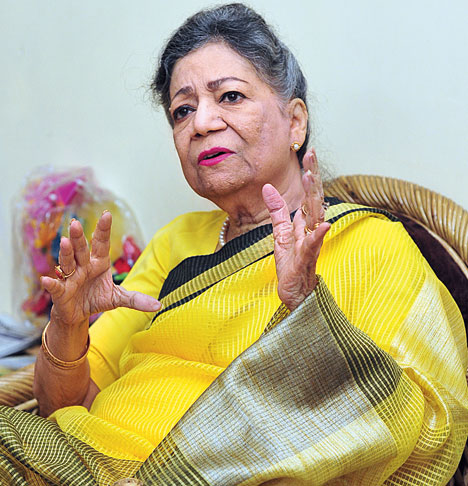 ---
---
Aloka Mitra was born in Calcutta. Women's equality was a given in her family. Her mother sang in public in 1914 when it was almost unheard of. They played cricket with the boys. And all the women in her family went to college. After her father passed away, her mother brought her up. When she was 20, Mitra went to England to the Chartered Institute of Secretaries because she wanted to work in the corporate world, and not as a private secretary or a receptionist, because that was what most women did. Her husband, Jayanta, whom she met in England, was a non-conformist like her and encouraged her to follow her dreams. Her studies were cut short after her mother took ill and she never got into the corporate world she aspired to, but Mitra, the founder-chairperson of Women's Interlink Foundation, found her calling in social development.
How did you get into the social development sector?

My foray into social work happened by chance around 1965. My in-laws' house was in Alipore and there were slums nearby from where children would come and scale the walls of our gardens and ruin my flowers. I spoke to them and realised that they didn't go to school. I sent my gardener to speak to the parents of these children and ask why they didn't send them to school. I met the mothers who said that they were too busy working as domestic helps to go through the process, so I initiated a movement to get the mothers to send their children to school. I bought the kids footballs so they could occupy themselves with playing. I found that I was a natural at communicating with children and with other people that I hadn't tested before.

Our street children project, Nabadisha, where we work with children in the areas under 15 police stations, was born out of these kinds of interactions. In fact, in my subsequent work, all these little experiences led me to doing management perspective projects in the social development sector.

I went into full-time social work in 1970 with the All Bengal Women's Union (ABWU), which I am still associated with. ABWU was having a sale of products and I went there to shop. I found out that the president was my mother's friend Romola Sinha and they were looking for volunteers. In those days social work functioned very differently. It was no take — all give. She asked me if I was willing to spend money to come here and work. I said yes, and she took me under her wing.

But I didn't start out confident about whether I was suited for social work because I didn't know if the 300 girls who were part of ABWU would accept me. You have to be accepted by the people you intend to work with. It is never 'I am going to do something for them' but whether they were going to accept you doing something for them, otherwise don't force yourself there.

I met them and sat with them and started thinking about what I could do to reach out to them and I realised that music could be something that bridged the gap. I taught them Rabindrasangeet and overnight I became quite a favourite. In ABWU I met these fantastic women leaders who gave me full authority to do my best.

One of the first cases I dealt with was that of a 16-year-old rape survivor. The guy promised to marry her and she would be forced to marry her own rapist. She was two months pregnant by then. I asked her what she wanted and she said she wanted to be free of this whole thing, didn't want to have the child and definitely didn't want to marry the man. In the early '70s abortion was hardly accepted but it never bothered me that I was doing something not accepted. I just knew that I would have to help the girl be free and start a new life.

I became a secretary in ABWU and began to focus on applying the management perspective to my work there. I realised it wasn't enough to just give someone training; they needed to have a certificate and a certain status.
What came next?

Well, a lot of it actually happened simultaneously. I joined Women's Coordinating Council, where I became a secretary, and founder secretary of Navonir old age home in Tollygunge. I was already with ABWU, so I started going to both places every day. It was madness, but I wouldn't have had it any other way.

I got into rural development in 1978 and it was a plunge into the dark. In 1978 there were huge floods in 12 districts of Bengal and I worked in six of them. I would come home at two in the morning and find my father-in-law and husband waiting for me. I will not forget climbing into a lorry piled with food that we took to Bagnan. That's where I learnt about emergency relief and how to run a milk distribution centre. We formed some permanent centres, some of them are still there.

I remember for my first meetings, only men would turn up and I told them that it wasn't them that I wanted to meet. After a few days they told me that the women were busy cooking in the mornings, and I should come after 2pm. I had to learn how to adjust my lifestyle to suit theirs. If we really want to help them we will have to make the changes for them, not force them to make changes to suit us.


Legal aid is another aspect of your work. How did you get involved in that?

I was always looking at what women were deprived of. Why can't they access the laws and schemes that were there? I saw battery and bride-burning; the term horrified me because it was murder and they were not labelling it a heinous crime. So I thought legal aid for women was the next step and Renuka Ray was my supporter and motivator through all of this. So from 1980 to 1990, I was very involved with social justice for women.

I was working intensively with Presidency Jail from 1978 and I had a room done up there for the lost and abandoned children for safe custody. At that time I was in ABWU. I was asked if I could provide a safe space for 2,000 children and I realised that I couldn't and needed to do something about it, so I set up a childcare home in 1982 in Salt Lake. And this was without the backing of any organisation or committee.
How did Women's Interlink Foundation come into existence?

A lot of the projects that I did were not approved by the committees that I was a member of. I had no desire to make yet another organisation but it was necessary. Firstly, I wanted to work directly in red-light areas. I opened three centres for the children of women in prostitution in Kalighat, Chetla and Tollygunge in 1990, and later on in Sonagachhi. I started with a health project because after a three-month management training course in Washington DC in 1988, I realised that HIV and AIDS could spread like wildfire in a country like ours. I made it clear that I was not there to interfere with their business, because that was what they were most wary about. I told them I was interested in helping their children, help them with schooling and keep them engaged.

In 2004 we built the first Nijoloy Home and there are so many girl children of women in prostitution there. Till then I was helpless because I could accommodate a few in the childcare homes but we didn't have the money.

Women's Interlink Foundation really grew out of my daughter's (Nilima) and my research in Delhi when we were asked to evaluate the World Bank's sanitation project, which was another of my passions. People by then started asking what exactly my specialisation was. My reply was always that I do everything that concerns women and it is an integrated package. The organisation started with the red-light area work and the work with the street children and was registered in 1992.

What kind of hurdles did you face?

Just because I worked in an NGO and knew what I was talking about in fields like sanitation and legal aid, I often had to face resistance because I was a woman. I had the joint secretary of the rural development department back then tell me that I shouldn't be sitting in front of him after World Bank recommended us to a study of their sanitation project in three states. That was the first time I went back home and cried. I was so angry. I have faced a lot of this over the years. I was very upset, but it made me more resolved, because I couldn't let people get away with treating me like that just because I was a woman.
Will you tell us about WIF's royal connection?

We've never tried to publicise our work or reach out to VIPs to create exposure for the work we did. But we've always been fortunate. I remember getting a call from the British deputy high commissioner Sanjay Wadhwani in 2012, who asked me if we would like to host the Duke of York for an hour. Prince Andrew came and spent an hour with us. When I met him at the evening function, he asked me what were the three things I worried about when I went to sleep at night. I told him I worried about not being able to provide the infrastructure for the skills that these women needed to keep producing top quality work, the designs that would be relevant and creating markets for their products. He turned to his secretary Amanda and asked her if they could help and Amanda already had a plan. He then put me on to Duchess Sarah, and I didn't even know who I was talking to over the phone! She and their daughter visited us too. Thanks to the royal connect, Top Shop decided to give us a project for a year; now we've been with them for five years.
What is your mantra?

We at WIF don't see the women or children we work with as burdens but as potential powerhouses and we are extremely proud of them and our success with them is what keeps pushing us. And we've worked with women of all ages, from before she is born right till old age.

I don't see myself as a pioneer. I believe that I am following in the footsteps of those who came before me and I am proud to do that. Also, for me this work is not about what I have done but what we, all of us who have worked together, have done as a team. When I wanted to name it Women's Interlink my other two trustees said, 'Aloka, there are so many lovely names we can think of', but I wanted this name because I believe that we cannot do anything alone, we have to do things together. Even our logo is of women holding hands.