Settings: Durga Puja is not for the god fearing
It is a celebration of the goddess's plenty and a fine kind of madness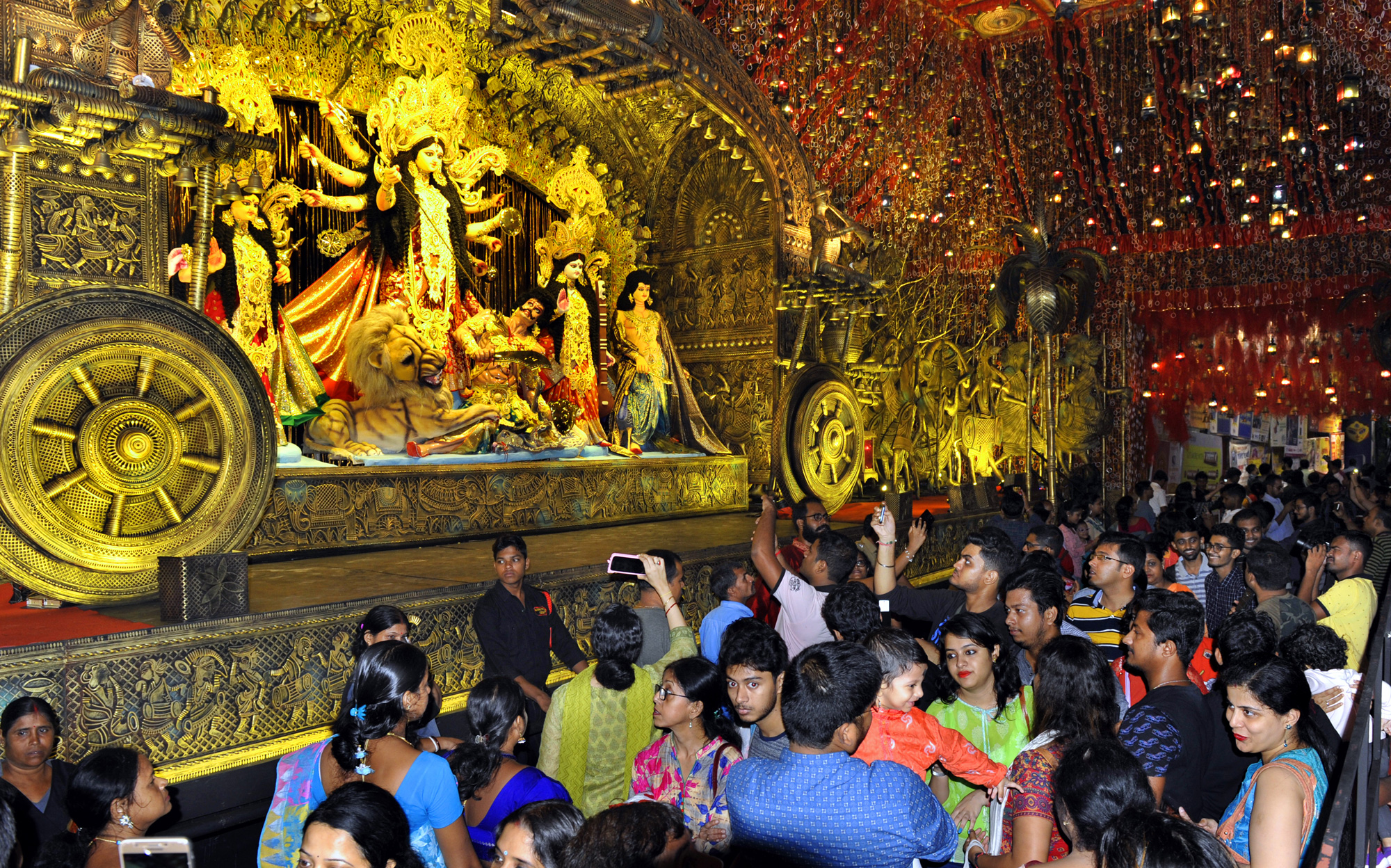 Puja was also about count. Of new clothes. Of visiting cousins. Of pratimas one had seen. Of crushes
File picture
---
Published 20.10.18, 07:07 PM
|
---
I am not quite sure if I heard her say it or if it was reported to me in such assiduous detail and so seething with judgement that it came to be burnt in my brain so. It was a conversation about Durga Puja and pandal-hopping (they call it that, though in Calcutta you are simply borne aloft the waves of humanity). She lifted her nose and said, "Pandal-hopping is sooo commercial", adjusted her cap and walked away to play a round of golf.
Now, any affront to the abiding magic of Puja should not go uncontested. So what if the defence comes two decades too late? Some views must marinate. (Sanghis stay away. I got this one. Besides you won't understand this, not any more than golf lady.)
Puja for me throughout childhood was all about the lead-in. The minute the year entered September I would wait for the sky to turn that special sort of golden. The kind that smiles back at you like Clark Gone-With-The-Wind Gable, sets aflutter in the pit of the stomach a million mutinous butterflies, makes you want to sing like Shyamal Mitra or Sandhya Mukhopadhyay, jive like Sidney Poitier or Soumitra Chatterjee (think Ke Tumi Nandini).
That first year at boarding school I was all trepidation. Would this strange sky know about Puja make-up? But there is shared sky intelligence. One day as I wrestled with Resnick Halliday (morbid Physics text), someone shook open a golden throwover. There was no dhaak, no pratima, no parents, not even the kid sister whom I had just taught to identify all the parts of the Periplaneta americana or the cockroach she was so scared of. But thus assisted by the heavens, I simulated Puja as I picked at my curd rice.
Puja was also about count. Of new clothes. Of visiting cousins. Of pratimas one had seen. Of crushes. Of mundane places covered in the vacation following. Of fantastical ones one had to conjure and add to list for the first-day-of-school-stories.
Madness, did you mutter? Indeed. There is something about Puja that is conducive to a very fine kind of madness. And it must come with insulation too, for how else do all those people survive Bengal's oppressive humidity in yards and yards of nylon and rayon and leather and zari work?
If, sitting in Atlanta or Johannesburg, you were imagining us folk wrapped in white-and-red saris and dhuti-panjabis, ululating, blowing conch, all fasting and contrite, you couldn't be more mistaken. Puja is not about the godfearing! It is about celebrating a goddess's plenty.
This year shoulders were in plenty. Cold shoulders (outfits with shoulders scooped out), off-shoulders, one-shoulders, all gallivanted merrily alongside lehengas and haughty heels, tussars with risque backs revealing I-love-Idris-Elba tattoos (don't ask) and the crackling tant. Men and boys wore their madness on their heads — spikes, colour. On Saptami evening a little nail art salon in south Calcutta (SoKo) was full of male clients. The shimmer and shine is not class specific. The beggar boy in front of a SoKo mall told me his mojak (mohawk) cost him Rs 20. His older friend had forsaken the regulation Puja clothes for purple spikes. Sheer madness.
There was madness in the Big Ben light construct winking at me from a pandal entrance. There was madness in the scale of pandals, the work that had gone into replicating a pyramid, a bhunga from Kutch, dokra work. There was madness in the roll of the drums, in the hands of the men from Jangal Mahal pounding the leather membrane. There was madness in the click-clicking of selfies with Ma Durga, to a point that cops controlling pandal traffic started to announce polite threats to confiscate phones. The mayhem around food was not new, but the object of salivat… er, salvation, was changed. Biryani ruled, but chow chow and roll were replaced by pizzas and dimsums. There was fish fry in plenty sold by garage-turned-shops with names like Bait and Tackle or Hook, Line and Thinker.
Every Puja is never the same for everyone, though it has something for all. The curtains of light hold for me the still surreal embrace of homecoming. For the lovers walking entwined, they are part of a setting that is hosting their romance only. The husband and wife bickering bitterly over the colour of the sky or some such, with snotty toddler in tow, will count their blessings yet. For those who have lost someone or more, now or whenever, the lights seem not bright enough in places. But for all, who have ever experienced it, always they shine on Pujas Past, full of laughter and youth, good health and togetherness, and looking ahead. Dhyam kura kur. Dhyam kura kur...