Questions of identity and belonging with Rahaab Allana's 'Look, Stranger!'
The Bauhaus aesthetic experience, circa 1919 Germany, is pivotal to the exhibition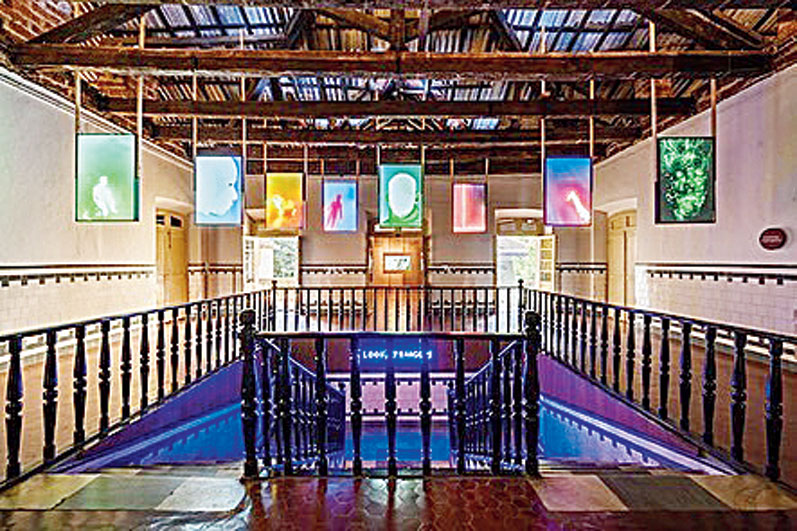 ---
Published 31.01.20, 02:27 PM
|
---
At a time when art is steadily and surely transcending norms to no longer remain contained in labelled boxes — or, in this case, sections of the art gallery — Rahaab Allana's transmedia exhibition titled 'Look, Stranger!' postulates interesting questions for the troubled times we live in. Housed in the Old Goa Institute of Management as a part of the multidisciplinary Serendipity Arts Festival, the exhibition served as a cornerstone of thoughts regarding identity, which happened to coincide with the scorching political issues plaguing our times outside the bubble of some of our privileged lives.
Rahaab Allana of the Alkazi Foundation for the Arts in Delhi draws on a 1936 poem by W.H. Auden for the nomenclature of this exhibition, which explores the notion of strangers — both to the identity related to borders and to the self. The Bauhaus aesthetic experience, circa 1919 Germany, is pivotal to the exhibition, leading to the exploration of emerging lens-based practices in the South Asian region.
What sort of research went into curating this?
There are two parts and the first part is the South Asia part as I have been working almost 10 years in the region with another initiative called PIX, which I started about 10 years ago. So it all began with research and theme-oriented discoveries of practitioners through studio visits and talks. That kind of set the stage for me doing a little more entrenched research, which I did in May, June and July of last year into discovering new artists or archives.
Tell us about the perspective of the medium used…
All of this came with a perspective driven by two things — one was the exhibition 'Film and Photo', which was 90 years ago that I cite and invoke as that Bauhaus experience and the reason why I do that is because this was one of the first times film and photography were brought together and also the first time that there was use of anti-narrative. The use of collage, montages and creative strategies in order to surmount more hegemonic structures of meaning-making. And if we look at the Film and Photo exhibition and the people who were involved with it, the list includes names that are iconic figures today. They all came together in the aftermath of the Russian Revolution and WWI in order to address what were the sort of pressing socio-economic concerns of their times. So on the one hand, they use aesthetic strategies of collage but on the other hand, they were very much rooted in what one would call a new vision, which was actually an aesthetic movement at the time. And that was juxtaposed with what was called the worker's photography movement, the rights of journalism and the individual in society. So all of this kind of tinge the things I picked up on while selecting South Asian artists today. If you call that a moment of heady modernism then because their concerns are very much part of our societal set-up at the moment — their concerns raised back then echo right now as we think about how to counter various autonomous political or social occurrences in our present. So I am suggesting that we use the still image and the moving image as ways to create a sort of alternative at this time. But the repeating arc of history is definitely evident and is in need of documenting. So that was my sort of interest, which is why I pretty much selected works that sort of bring together new material possibilities of lens-based practices. Let's just call it that.
So after my studio visits, I found four thematic strains that were kind of predominant in the artworks that were being generated that bring together questions of gender, location and it does that not along geographic timelines but through conceptual timelines. All of these things were then brought together under a thematic title — 'Look, Stranger!', which is a poem by Auden, also from the 1930s.
Coming to the nomenclature…
And the reason why I did that is because every exhibition and every installation is an act of building an awareness and what better example to take today than the question of who is a citizen, who is an alien, who is a stranger, who is resident, who is a refugee, who is a migrant. And the name also plays on the works of strangers and whose language that they don't necessarily know so one has to put in an effort to understand. This idea of estrangement could be quite productive rather than reductive.
What is the notion of borders and migration within the context of South Asia you are looking at through this project?
The question of affinity is very important. As much as the Myanmar artist such as Mayco Naing are talking about a generation whose voice has been quashed and she takes those images of people her age and current generation in water, which I have printed on acrylic and then you can see through and with them. This is very much the question of the border — you can see it in front of you but its is permeable and you can cross it too. Even the works of Basir Mahmud, which I have put in the corridor and you can walk through a thin passage with India and Pakistan on either side so you become the individual on the border as a consequence. So the curation explored inter-personal exploration with the artwork.