Second chance
Sometimes a career switch is just the thing you need but at other times it can leave you worse off, says Ishani Banerji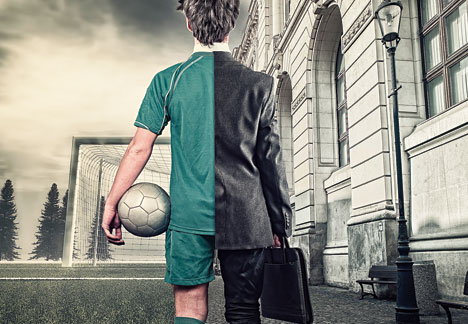 ---
Published 20.03.18, 12:00 AM
|
---
Some people call it heeding their inner calling, others a shift to greener pastures. Whichever way you look at it, a career switch costs you time, money and effort. After all, shifting to another field after having trained for quite another means that your degree is not of importance anymore and you have to start from scratch. Sometimes, it works out.
Soumyendro Chatterjee did his MBA from the Faculty of Management Studies in Delhi and got a job with ITC — a dream come true for many. Yet, when you learn that the man now working in the sales department of the multinational is actually a doctor, it is sure to startle.
Chatterjee was so thrilled to have cracked the medical entrance test, an exam that everybody else was dying to get through, that he never stopped to think whether the profession would really suit him. "In my third year, I decided that I was not enjoying medicine and resolved on a change. I am pretty happy with my current job," he says. He did, however, complete his degree and internship before moving on. His choice may surprise people but there is no doubt that in his current profession, too, he has financial stability and good growth prospects.
Passion play
Sometimes, it is your passion that makes you think of a career switch. Baking is the favourite pastime of Chaitali Banerjee, a research scholar at the Institute of Chemical Biology in Calcutta, currently working on her doctoral thesis. When she started a Facebook page called Ambrosial to take orders for custom-made cakes, she was inundated with requests.
"I have thought of opening a café in the near future. Every new order brings me a challenge, which I love," she says.
Testing the waters before you plunge into a new profession makes sense. Banerjee will also be able to figure out whether she still likes baking when it becomes an obligation.
Risky choice
This is Rajiv Dey's first season as a player with the second division Cricket Club of Dhakuria. He is older than most of his teammates. That is because he completed his master's degree in neuroscience from the University of Calcutta before he decided to become a cricketer.
"Playing cricket changed me as a person. It has taught me to become resilient and hard-working," says the young man whose favourite subject in school was biology.
While he earned peanuts as a fresher this year, he hopes to earn a reasonable amount next season (about Rs 40,000).
He hopes the year after next will see him as a first division cricketer; the Cricket Association of Bengal pays first class cricketers about Rs 56,000 per month. Dey dreams of playing for his country someday but, keeping in mind his late start, that might be difficult.
Even if he eventually gets to play for the state of West Bengal, his career switch may make sense. In the meantime, he is looking for a job with the Indian Railways, which employs a lot of sportspersons and is very supportive of them.
Bad business
Achin Sarkar's career switch is even riskier. After getting a BTech degree from the Neotia Institute of Technology, Management and Science, Calcutta, on his parents' insistence, he threw up the job — which paid him Rs 15,000 a month — he had got during placements to join a Bengali folk and fusion band, Paridhi, as a percussionist and drummer.
Naturally, his parents were not pleased but they reconciled themselves to his choice when they found that the band was playing regular gigs all over the country. Sarkar says he is making half of what he would in his job but he does not mind. And he expects that in time his earnings will improve. What if Paridhi never becomes very famous?
Both Dey and Sarkar made a choice that could backfire on them but the two young men claim that for now, the job satisfaction more than makes up for it.
Rupa Talukdar, chief executive and psychological counsellor at Mind's Eye, a mental wellness clinic in Calcutta, suggests that students find out everything about the alternative career — pay, job profile, work hours, growth prospects, chance of success — before they decide on the switch. A couple of internships, where applicable, would be a good idea. Often, a profession looks more attractive from the outside than within.
Timing is everything. "If you decide to change your work field in the first year of study, do it at once without wasting time. If, like Soumyendro Chatterjee, you think of a switch in your third year or later, it is better to complete the degree and then shift," she advises.
Think things out thoroughly before making a career switch; you don't want to regret it later.