Samit Basu's fantasy world
Fantasy, science fiction, graphic novels, children's books — t2 gets a peek into the world of author Samit Basu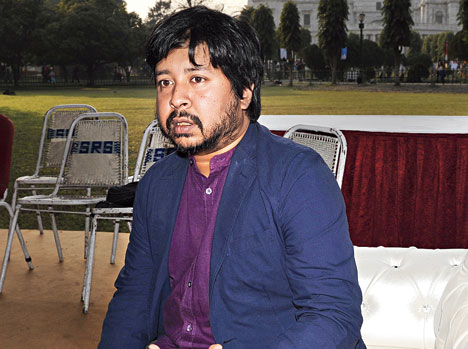 ---
Published 07.03.18, 12:00 AM
|
---
Writer Samit Basu resists the term 'graphic novelist'. He objects to it during his session at the Tata Steel Kolkata Literary Meet, co-hosted by Victoria Memorial Hall in association with The Telegraph, and he sets t2 right again as soon as we meet at the Author's Lounge, where we chat about The GameWorld Trilogy, the first book of which he wrote at 21 after dropping out of IIM Ahmedabad, his superhero series that starts with Turbulence and children's books about the misadventures of the hapless 12-year-old, Stoob.
Excerpts...
You have worked primarily in science fiction and fantasy. When did your interest in the genre first start and with what?
This is about 15-16 years ago.... The Internet had arrived, but broadband hadn't. I knew nothing about what sci-fi and fantasy was, in the sense that I was aware that these were kind of books and that they were things in themselves but I didn't know about the caste hierarchy of literature. In the sense that literary fiction is on top, SF/fantasy are a separate room; horror, crime are also rooms.
When I was growing up, stories weren't partitioned into different kinds of books. There were these bookstores and one guy knew what books were there, and you wandered around and picked out books and took them to him. Whether in College Street or in Dover Lane, which is where I grew up, there were places like that. I had a library at home as well. I grew up more or less in isolation, just reading.
I started writing in a fairly dramatic fashion. This was just after college, after dropping out of IIM Ahmedabad, which was again something that I wandered into without knowing anything about! (Laughs) So the decision to write this book (The Simoqin Prophecies) was based largely on the fact that I did not feel that my own life would be of any interest to anyone. So a semi-autobiographical literary novel from me... I thought, who cares? Whereas, I knew books very well. I knew types of characters and things that happened in stories. So for that kind of accumulation of what-ifs, a fantasy novel was a good place to indulge in it. And that's where the book came from.
Did any particular author or movie or television show in this vein create this interest?
I don't know, everything! The world is structured in an Eastern Discworld-like way, where you have an Ankh-Morpork-like city, but it's also London, it's also a kind of idealised, pre-all-of-us Calcutta. Pretty much everything I'd read or seen up to that point was in that book.
Is Kol based on Kolkata?
You know, it was Calcutta then! I actually called it that according to the Bengali world kol to indicate 'cradle of civilisation', but then Kolkata became Kol as well.
I found a lot of Star Wars in that book, especially with the shocking revelation at the end…
Star Wars is basically a hero fable set in space! But yes, the twist was definitely one plot point when I was thinking of Star Wars. There's also a bar in one of the books that is similar to the Star Wars Cantina bar. I think, in a strange way, if I'd known more about the world of publishing and all of this (gestures at the Author's Lounge), that was not a practical or smart book to have written.
When I read the trilogy, it felt like whatever of the book was in your head was also on the page.
That is, fortunately, not true! There are a lot of unused notes for that series. But I didn't know how to do any of this. If you're starting out as a writer now, there are a lot of 'How tos' and 'What To Dos' available. I didn't even know how long a book was supposed to be in the first place! Perhaps more importantly, I didn't even know what to write about. So the book that ultimately came to a modest 500 pages was going to be much longer (laughs). My sister worked in publishing and told me, 'Boss, no one is going to read this if you make it this big!' This was at the point where I was about halfway through and I was showing it to her and because she's a big sister, I thought she was just saying, 'I don't have time to read this nonsense', but it turns out that she was right and it was too long!
What rules did you set down before creating your fantasy worlds? Anything along the lines of J.K. Rowling's "Food cannot be created from magic" rules?
Lots of them! It was a lot about building parallelly-existing systems of magic, which were all familiar with each other and all internally consistent. In sci-fi and fantasy, the world-building is tremendously important.... I think it's crucial to have internal consistencies and, as the author, you must know how strong everything is and what the people can do and what are the limits of that, because that enables you to structure the flow of your narrative. When writing non-fantasy later, it's much the same, except it's not physically manifest in the way that it is in this genre. But it was a good tool to learn how to use before writing any other kind of thing.
How about the new vocabulary and terms for this world?
There were lots of different naming systems, which was me geeking around with languages and character names and names of Sumerian gods for one set of people and everyday American names for another and I think part of that is having read Tolkien. But things have to be consistent. You can't just give one character an exotic name and name their brother David! (Laughs)
You've mentioned that Stoob is based on a real person...
Stoob is based on three real kids around that age — my nephew and two friends' kids.
Is it difficult to write children?
Not really. It's a set of sliding scales for any character.
Do you have to project retrospectively to write them?
No, it's not necessarily always about you and your experience. In some ways, it's like writing about very close friends. You know that if you put your two closest friends in a situation, what they would do and say, because you know them really well and have for a really long time. It's not difficult in the sense that you know what they would do. They might do something very different, but that's not the character you created!
Some of the quirkier super powers in Turbulence and Resistance are very now, such as those of Viral and That Guy. Was this book created out of your irritation with the Internet?
Not really. I wrote this in 2012, and the internet wasn't as wrong as it is now! If you look at all the lead characters' powers, they are to be connected and aware, to have wonderful lives, to be liked. When it comes to creating secondary characters — in a superhero film or comic series, secondary characters are usually purely functional — if your basis for power selection is, 'What do people want?', then your secondary characters need to be people who aren't very relevant but still want things that will help them to become relevant, because it's a book and you can't really have just 'This person's really strong' sort of powers in that. It works in comics and visual media, where you can see them doing things, but in books, that can't be done.
How do the creative processes of writing novels and graphic novels differ?
It's entirely different. I find that most people don't know what graphic novelist is. They'll have seen the word somewhere and they'll say graphic novelist, but they'll have no idea what it means. Whether it's a collaborative effort or whether it's someone doing the text and pictures themselves, it's an entirely separate process from prose writing, because it's visual-led.
As a writer of any book, fiction or non-fiction, you're used to letting the meaning and reason and consequence and action and reaction be the driver of events, whereas in film or comics, your visual is the indicator of progress. So you basically let go of the steering wheel, you're explaining what's going on, you're filling in gaps, and the real writing of a comic book or graphic novel is the bit that you don't see. It's the bit where you tell the artist what's happening. One is that you're separating meaning and event in the writing. So the event is happening entirely in the description, which otherwise you would have to describe, and you're only supplying meaning to an image.... And the other thing that happens is that you have to work within constraints. Here, physically, you have to tell a story in this much space, and you have to visualise what is important and how a page will look, whereas a text page looks like, well, a text page.
Which are the contemporary Indian sci-fi and fantasy authors you're reading at the moment? And internationally?
Actually, right now I'm trying to write, so I'm not really reading anyone.
Tell us a little about your future projects. Are you working only on books or something more right now?
I'm writing a very complicated literary saga crossover thing but for the Americans. As in, to be published there!
Now that you have acquired a lot of experience as a writer, if you had to give yourself some advice, what would you say?
That's a tough one, because what advice would I give a young writer now, as opposed to what I would have told myself then, would be very different things. I'm very glad I wrote that book, because that was what I always wanted to do and, as it turns out, 15 years later, I'm still doing it. But also because, I think, the world we live in now doesn't allow you to have a kind of complete, clueless ignorance about some large venture that you're heading out on. I feel lucky that I had that experience. And now, what I do is I end up giving a lot of starting-out writers their 'do not do this' notices! But the two experiences are entirely different.
And lastly, how is Tingmo, your dog? Is he the inspiration behind Wolverfluff the dog?!
He's amazing! He's a primary source of happiness. And no, Tingmo is younger, he's two! Wolverfluff is based on my sister's dog, Fluffy.
Text: Rushati Mukherjee
Picture: Sanat Kumar Sinha