My sequins now all shed…
Born Empire Theatre. Died a single-screen cinema in the time of multiplexes. In between, a siren song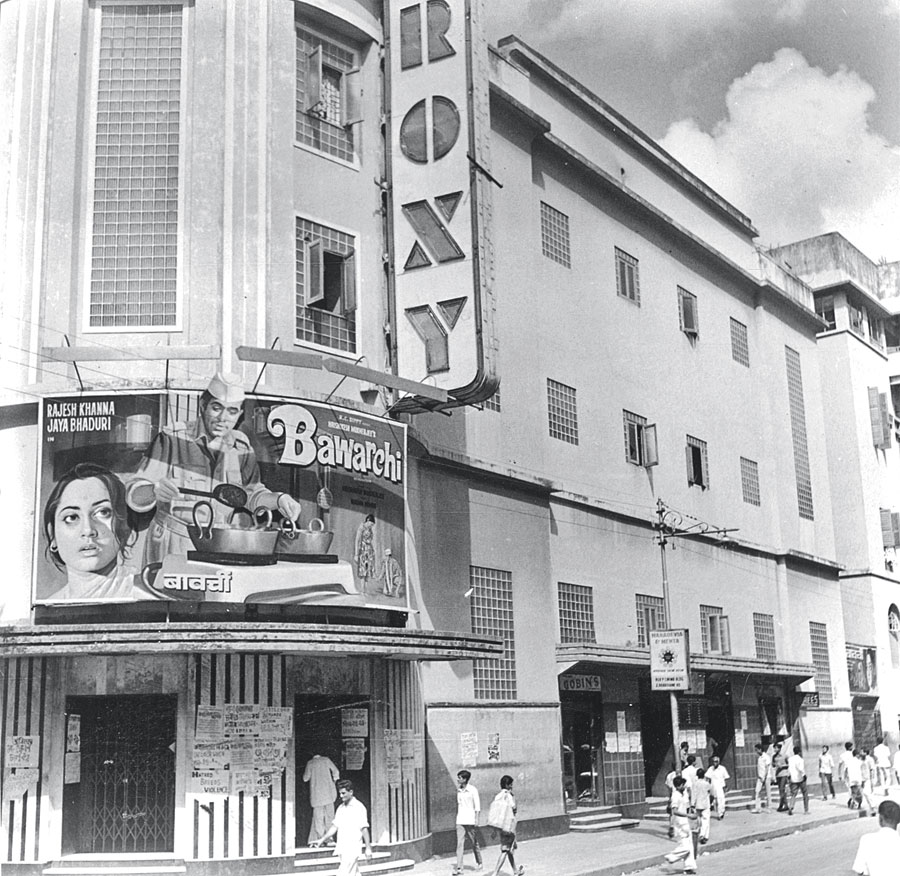 I was reborn Roxy. Named after Roxy cinema in Bombay owned by the Kapurchands.
Courtesy, Sunit Singh
---
Published 21.03.20, 09:51 PM
|
---
I've never done this before
But this is such a special night
And you are such a great audience!
And… And I just... really feel like I can talk
to you, why 'know?
So, forget what you've read in the papers!
And forget what you've heard on the radio!
Because, because... I'm gonna tell you the truth
Not that the truth really matters
But, I'm gonna tell ya anyways…
That was my namesake, Roxie Hart, rocking the stage in Chicago, the 2002 Hollywood musical. At that time, I, Calcutta's grand old Roxy Cinema, was entering my twilight years. My last show finally over and the locks fastened, I shall now sing about the life I lived, and own. Not that it matters, but I'm going to tell you anyway. All that I nurtured in my womb, of all the days and nights I spelt entertainment.
It was the dawn of the 20th century and I set to work building the city's cultural landscape. Then I went by the name Empire Theatre — I turned Roxy much later, in 1941. I was the opera house on Chowringhee owned by Arathoon Stephen, the Armenian real-estate baron who also owned The Grand Hotel. In fact, Grand and I were creations of the same builder.
The Chowringhee of that era was like a festival circuit — Lighthouse, New Empire, Globe, Metro... Grand soon groomed herself to be the Grande Dame of Chowringhee. The band boys who performed there pretty much regarded me as an extension of their uppity hotel. So there was music all around, and some serious action as well.
Remember Modhu Bose? He was among the prominent filmmakers of the 1930s-40s, but perhaps his most significant contribution was the theatre group, Calcutta Amateur Players (CAP), which he started in 1927. Well, I hosted the first show of CAP's iconic play, Alibaba. The Statesman reported on January 18, 1928, that the production at "the Empire Theatre last evening was received with unrestrained expressions of delight by a large audience which included the Hon. Lady Jackson and prominent members of Indian and European society."
I'll tell you why exactly it was epoch making. Although dance and drama were all the rage, women from "respectable" families were barred from participating. So Bose, who had been a student of Tagore's Visva-Bharati, took it upon himself to bring in talented young women from such households. As expected, there was stiff opposition to the staging of Alibaba. "Reacting first to the fact that a play based on The Arabian Nights could be allowed to be staged and second that the characters were being portrayed by people from respectable families, a dharna with black flags was staged outside the hall," writes Pritha Chakrabarti in a paper on South Asian history and culture. It was only after pleading that the show was for charity — and not for earning money — that Bose could escape the wrath of conservative society, she adds.
I was also the debut stage of dancer Sadhona Bose, whose tireless craft and innovation later morphed into what was called Bengali modern dance. "In Alibaba, she was one of the chorus girls — and so was her sister, singer Naina Devi — as she was too young to play Margina, the lead," points out Pritha, who teaches media and communication at Symbiosis, Pune. Sadhona got to play Margina in the 1934 production, again upon my stage, as also in the 1937 film of the same name.
Let me tell you about how it all functioned in tandem. "There is a beautiful painting by Gaganendranath Tagore called Madan Theatre by Night," points out filmmaker and archivist Shivendra Singh Dungarpur. "It shows people coming out of an opera house, but it was actually a reflection of that whole area at the time." Narratives of stagecraft were being imagined, innovated, fashioned and improved upon. It was a hungry ambience.
Why did Modhu Bose choose Empire Theatre for his show? "Because Anna Pavlova, the Russian prima ballerina, was performing on that very stage at the same time," says Pritha. Pavlova's The Dying Swan at this opera was a milestone, points out Aishika Chakraborty, dancer and Jadavpur University professor. She adds, "She was perhaps most recognised for her creation of this role, which was choreographed for her by Mikhaile Fokine and which she performed about 4,000 times since 1905."
Pavlova's ballet shows were held in the morning. They would end by 10am, wrote Bose in his autobiography, where he also describes his first meeting with Madame Pavlova in the royal box of my hallowed hall, wherein she sat and watched his play, anonymously! He also wrote about how she requested him to perform in her ballet, Radha-Krishna, in which Uday Shankar played the male lead till he and the ballerina had a falling out.
History was happening and I, an enabler.
"In 1933, a few days after Basanta Utsav or Holi in Santiniketan, Rabindranath Tagore staged Shapmochan at Empire Theatre. The performance by Visva-Bharati students took place on March 29 at 6pm. One year later, the team left for Ceylon [now Sri Lanka] for its first international performance of Shapmochan," says Aishika.
As they say, there is no good fortune that is ever permanent. In 1941, I was put out on auction. My then owner had taken a bank loan which he couldn't pay off, and the balance period of the original lease of 99 years was passed on to the new owner, Kapurchand Limited, a Bombay-based business house. That year, my guardianship changed, as did my name.
I was reborn Roxy. Named after Roxy cinema in Bombay owned by the Kapurchands. A pamphlet published by the Kapurchands, and titled Trade Announcement for 1945-46, reads, "In 1941 they surprised the trade by purchasing the Empire Theatre in Calcutta which house formerly proved to be a graveyard for many exhibitors — in the past all attempts either to run it as an Opera House or convert it to English or Indian house miserably failed. However Kapurchands at a huge cost thoroughly renovated the theatre and turned it into the present 'Roxy' — the finest and the popularmost Indian show-house in the city... (sic)"
***
The name on everybody's lips
Is gonna be Roxie
The lady raking in the chips
Is gonna be Roxie!
"Roxy retains its unique structure to date, a semicircular hall with three floors for viewing, and 736 seats in all," says Sunit Singh, who is the owner of Paradise, another single-screen cinema in Calcutta, and until a few days ago, was the owner of Roxy too.
The first film that lit up my screen was the Ashok Kumar-starrer, Naya Sansar. However, the event that became synonymous with my name was the screening of Kismet (1943). The film starred Ashok Kumar along with Mumtaz Shanti and Shah Nawaz. It ran for 110 weeks and was the first big hit in the history of Bombay cinema; the first blockbuster. The Kapurchands' pamphlet, which was brought out to celebrate the cinema industry's first Cosmic Jubilee, lists Roxy's week-by-week sales figures. The earnings of the 108th week were a princely Rs 12,523.
Kismet featured the song, Door hato o duniya walon, Hindustan hamara hai, which had apparently slipped past the British censors. At several screenings, the reels would be rewound and the song played multiple times on public demand. It is said the popularity of the song forced lyricist Kavi Pradeep to go underground in order to avoid arrest for sedition!
But then, as kismet would have it, World War II broke out. The British rulers turned many of Calcutta's buildings into army barracks. The Grand Hotel, which could accommodate 500 guests, opened its doors to 4,000 soldiers. The glorious run was severed, and I too became a shelter for the actors caught in the dangerous fights of the big bad world.
"I have heard Subhas Chandra Bose had come to see Kismet," says Singh. "Those days the owners lived in a duplex in the building. Stars such as Raj Kapoor, Rajendra Kumar, Dev Anand were regulars at the screenings... Roxy also had a bar then. It remained closed in the 80s and 90s, and reopened in 1997."
Always a destination for Bollywood releases, eventually I made space for English films such as Bend It Like Beckham, James Bond films, Pink Panther and so on as part of the rejig to remain relevant. "In 2005, we did a massive upgrade, overhauling completely the flooring, cooling system, sound mechanism...," says Singh.
But what good are cosmetic changes in a changed society? My cousin, Paradise, is still in business. "But it hasn't seen a single houseful over the last three years," says Singh with a straight face.
Look at the remains of Chaplin, which stood a few hundred metres away. If they could pull down the country's first cinema hall…
It needs effort, great effort, money and will to keep alive single-screen halls, and I know it. Actor Dhritiman Chatterjee says, "We can only hope that some theatre owners will realise that a different kind of model can work… Not as a venue for mass cinema, but perhaps something very different. Because there is a space, both in artistic and financial terms, for small theatres." He cites the example of Basusree cinema which is trying to reinvent itself by showing different kinds of films, hosting film festivals and so on. Chatterjee recalls frequenting the mini theatre at Roxy in the 1970s while working as an advertising professional. "It was a 20-seater comfortable room, where we would watch ad films, talk to the makers and even do shoots."
Not that securing expert opinion or iterating illustrious history will bring change. But then my being is as real as real can get, the entertainment I entertained for decades — a narrative of which only I am the owner. That's the truth, and nothing matters but the truth.