The war when it came upon the women
Bangladesh is celebrating 50 years of Independence but the occasion also marks a half century of violation of large numbers of Bengali women. The Telegraph revisits the biranganas and what they have had to endure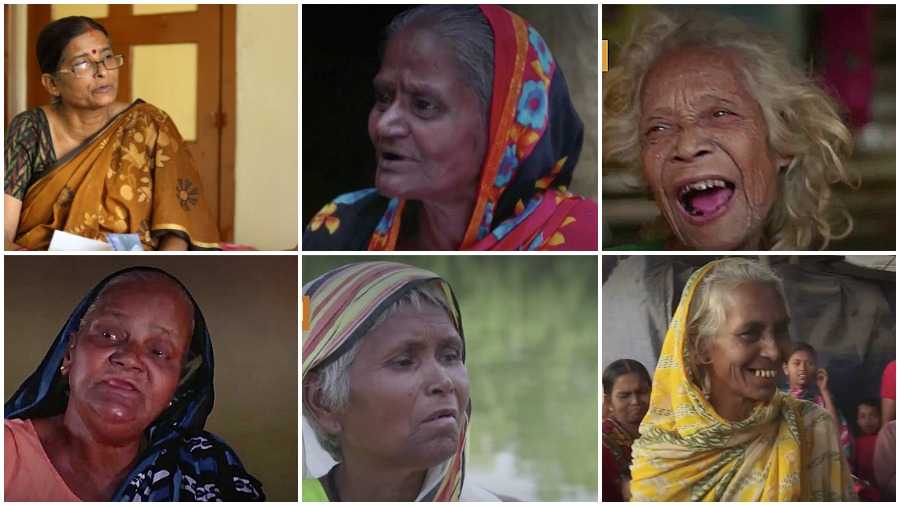 Clockwise from top left : Jharna Basu Halder, Maleka Begum, Chaindau Marma, Rijia Begum, Tepri Bewa, Mukhlesa Begum
Jharna Basu Halder's pic: Shahadat Hossain; The rest: Sourced by The Telegraph
---
Published 19.12.21, 12:11 AM
|
---
I had just got back home after a dip in the village pond when they broke into the house — two Baluchis and a local whom I later came to know as Mujib koshai," says Jharna Basu Halder. Those days, she used to live in Bagerhat in Khulna division in what was then East Pakistan.
That was in 1971. Jharna, who is in her seventies now, lives in Barasat in West Bengal.
This narrative is part of the 2019 documentary on the biranganas of Bangladesh, titled Rising Silence. Jharna continues, "That day, when I stood without a thread on my body, I spotted the gun within my reach and I knew there was a knife under the bed. For a second, I thought of grabbing them, of countering, but I couldn't. I am apparently a birangana or brave woman. But what bravery did I exhibit that day?"
During the Bangladesh Liberation War, thousands of Bengali women became collateral damage. These women were raped, assaulted and in many cases murdered by West Pakistani forces. Newspaper columnist the late Amita Malik reported how after these forces had surrendered to the Indian Army, a soldier said: "Hum ja rahe hain. Lekin beej chhor kar ja rahe hain... We are going. But we are leaving our seed behind."
After the war ended, Sheikh Mujibur Rahman, Bangabandhu and the founding father of Bangladesh, acknowledged the sacrifice of these women and hailed them as biranganas. "But the biranganas did not find their place in society. Many were forced to give up their judhhashishu or war children, others were forced to abort. Many women had to leave Bangladesh," says Nishat Jahan Rana, a writer and an editor based in Dhaka. Till recently, even imams refused to conduct the burial rituals when a birangana died.
Bangladesh-born British writer and theatre practitioner, Leesa Gazi, is also the director of Rising Silence. In 2015 and 2016, she undertook two long trips to find out how the surviving biranganas were faring. It was barely a year since the Bangladeshi government had announced its decision to recognise these women as freedom fighters. This would mean allowances and quotas in government jobs four decades after Independence.
It was during this trip that Leesa met Jharna. "Rape has more often than not been used as a war tool for almost each and every war fought in the world," says Leesa. "Currently, 15 armed conflicts are being waged throughout the world and everywhere rape is being used as a war weapon," she adds.
According to her, many Bangladeshis believe these biranganas sacrificed themselves for the nation. She says, "I strongly disagree with this. It is not atma tyag. What happened was a planned sexual assault."
It has been said several times over how. despite being a salutary term, birangana was used pejoratively to mean barangana, the Bengali word for prostitute — "because of the phonetic closeness".
It has taken the biranganas every day of the last half century to be able to arrive at the point where they can share their horrific experience with the rest of the world.
Educationist Nilima Ibrahim published a collection of first-person narratives in her two-volume Ami Birangona Bolchhi (The Voices of War Heroines) in 1994 and 1995. Sculptor Ferdousi Priyabhashini came out with her story in the late 1990s.
The search for the biranganas started after 1995. Says Nishat, "Sheikh Mujib was assassinated in 1975 and Bangladesh was under military rule till 1990. Khaleda Zia's government was not lenient towards the muktijoddhas or freedom fighters, let alone biranganas. Only after 1995, when the government changed and the Awami League came to power, were the muktijoddhas rewarded and NGOs and social workers started looking for the war-impacted women."
Leesa travelled right through Ranishoinkul, Sirajganj, Mohal Chhori, Thakurgaon, Sherpur and Dhaka in Bangladesh. She met a rezakar or collaborator. The rezakars were local people who joined the Al-Badr force — the paramilitary force in East Pakistan that assisted the Pakistani army. They were also the informers and some of them allegedly "supplied women" to the army.
Early on in the documentary, the camera focusses on Mukhlesa Begum. She says, "To avoid capture, I hid. I held my breath underwater. But they found me. For four months, five of us were kept in a room. They would come and rape us one by one and leave us as one naked heap." After independence, her family married her off to a rich man but did not tell him the whole story. But someone eventually did. Says Mukhlesa, "My husband broke my teeth with a brick, fractured my leg and gave me talaq." She mutters, "Ami napaak, ami kharap... I am impure, I am bad."
The story is no different for Rajubala Apa, Shurjyo Begum, Chaindau Marma, Tepri Bewa and Rijia Begum. Rajubala's daughter Ratna Bhowmick refuses to recognise her as her mother. "We do not keep in touch," says Rajubala, who lives in Shirajganj. She adds, "I am not accepted in this society. I am still addressed as 'the naked woman' in the village."
According to Leesa, who has met around 80 biranganas to date, the impact of the physical trauma continues to affect not just them but also their children and grandchildren. Once, during an interview, birangana Shurjyo Begum pointed to a distant field and said, 'Look, they are coming. You can't see them but I can'." In 2018, Leesa had taken two survivors to attend the Global Survivor Network organised by the Dr Mukwege Foundation in Den Haag, Netherlands. She says, "As we were going to the hotel, survivor Jabeda suddenly stopped at the door. She asked, 'What if someone breaks in and tortures us?'"
When the government gave her the freedom fighters' stipend in 2015, Rajubala donated it to the masjids and temples. Today, she wears a tilak on her forehead and sings kirtans with abandon. Maleka Apa says, "Ami manusher bichar chai na... I don't want to be judged by men. When our country got independence, my own people hit me with rifle butts. Those scars are deeper than those given by the Pakistani army."
Asks Shurjyo, "What will we do with a title now, when we have spent decades in misery, in poverty, as social outcasts? Even if they write off entire Bangladesh to us, will we get back our honour?"
Leesa interviewed Chaindau Marma, who is a Buddhist. Chaindau has lost her mental balance but she has not forgotten what was done to her at the army camp. She cannot recall how many days she spent there but she remembers how they would dump her with other women in a truck and take them wherever they went.
"The Pathans took me with them to Guimara, from there to Ranguya to Matidanga to Logang to Khagragachi," she says. "We were shields against bullet firings," adds Mukhlesa.
The people of independent Bangladesh wanted to kill these women on their return. Tepri Bewa was pregnant with the child of her rapist. She says, "Everyone wanted me to abort the baby. But I could not. Sudhir knows he is a war child. He is still made fun of; he could not finish school. Why is he insulted? Where lies his fault? And how am I responsible for what happened?"
Jharna's children know everything and they are proud of her, but there are some nightmares she cannot shake off. She says, "After independence, I went back to Bangladesh and joined college. And guess who was my classmate? Mujib koshai. The indignity was too much. My husband and I decided to leave Bangladesh forever."