Remembering Charlie Watts
The rock of calm through Rolling Stone's five-plus decades of rock-and-roll excess — leaves behind a number of memorable stories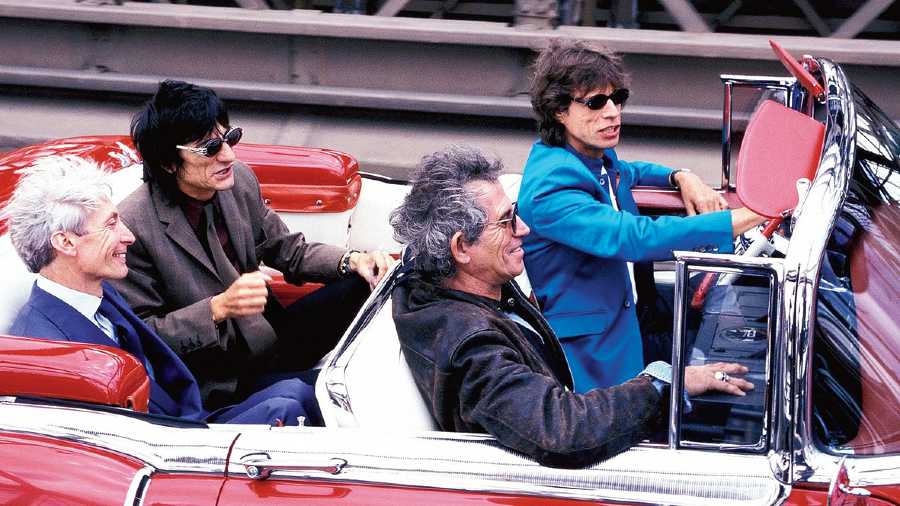 ---
Published 26.08.21, 01:17 AM
|
---
Punching Mick
The story goes that in 1984, an intoxicated Mick Jagger rang Charlie Watts's hotel room in the middle of the night and asked: "Where's my drummer?" The "drummer" got up, shaved, slipped into a suit, knotted his tie, and walked down the stairs to Jagger's room. When the door opened, he punched the singer in the face and said: "Don't ever call me your drummer again. You're my f***ing singer!" A few years later, Keith Richards recalled the incident during an interview: "Charlie punched him into a plateful of smoked salmon."
Pre-show warm up
The man had a strange but one of the coolest warm-up routines before concerts. It was sort of a wiggle. "I always do that. That's really just like warming up really. That wiggling thing comes from — it's my version of seeing these Cotton Club-type dancers. I saw some dancers in Harlem doing it, oh god years ago, show girl dancers I mean. And I started to do it. And now it's become a feature thing with Keith," Watts had said in a TV interview, adding a wry smile while mentioning Keith Richards.
One-woman man
Mick Jagger and Keith Richards have lived a rock-and-roll life in all sense of the phrase but not Watts. He married Shirley Ann Shepherd in 1964 and their union remained rock steady, giving birth to their daughter Seraphina. His commitment to Shirley was never doubted and when he was not touring, the two tended horses on a rural estate in Devon, England. He didn't fight the reputation of being the more "staid" member in the group.
Sketching hotel rooms
Always the man to stay out of the band's internal politics, after every tour night, he would go back to his hotel room alone and make sketches. "I keep a diary of drawings. I've drawn every bed I've slept in on tour since 1967. It's a fantastic nonbook. I used to take a lot of things that keep you awake, and I'd have nothing to do. So I have all these hotel rooms recorded…. What's nice about it is, it's visual, and it just goes on and on, and you think, 'Is this ever gonna end?' You've got Washington in '67 and then you've got Washington a couple of years ago, and they're kind of the same," he told Rolling Stone magazine in 1996.
All that jazz
Watts was always verbose when it came to expressing his love for jazz, to the point of penning an illustrated tribute to Charlie Parker — Ode to a High-Flying Bird, which was later reprinted as part of the box-set From One Charlie.... He assembled a big band composed of some of Britain's finest jazz musicians for a November 1985, engagement at London's jazz club, Ronnie Scott's. The Charlie Watts Orchestra was a hit. The Orchestra performed across England and in Germany and had released an album titled Live at Fulham Town Hall. He also formed a number of other jazz, boogie-woogie and big band outfits, including Rocket 88, the Charlie Watts Quintet and the Charlie Watts Tentet. Watts spent his childhood listening to jazz and fell in love with the drums after hearing Chico Hamilton. Ultimately, he taught himself to play by listening to records by Johnny Dodds, Charlie Parker, Duke Ellington and other jazz giants.
Sharply dressed
On stage, he was mostly seen sporting short-sleeved shirts or T-shirts and have on a few occasions played in jackets. When he was not touring, he preferred wearing suits. In fact, he and the other late Rolling Stones member, Brian Jones, were clotheshorses with different tastes. Watts loved all things "English", taking cues from the great jazz men while Jones was the exact opposite. "I have a very old-fashioned and traditional mode of dress. I get embarrassed, and I don't really like going to photo shoots. I don't like stylists. If you were Fred Astaire, you wore something and you had it on all day. It wasn't just put on you, which is what a stylist does. So I always felt totally out of place with the Rolling Stones. Not as a person — they never made me feel like that. I just mean the way I looked. Photos of the band would come back — I'll have a pair of shoes on and they've got trainers [sneakers]. I hate trainers, even if they're fashionable…" he told GQ in 2012.
The mediator
Mick Jagger and Keith Richards are like brothers who have fought enough number of times. But there was a time when the relationship was quite strained. Watts was helpful in keeping things together. "They're like brothers: always opposite, always agreeing. But you better not get between them. Because they'll agree with each other, and you'll be left on your own," Watts said in 2005. "When they get too far apart, you think, 'Enough is enough.' But most of the time they do it themselves," he added.
Ronnie Wood said in 2003 that "Charlie's the engine. And we don't go anywhere without the engine."
Approach to drumming
Watts had a modest set up and he was always happy to be there for the band. "The way I look at drumming is, it's backing somebody. If you think like that, you're quite happy backing Keith in whatever time he plays — musical time or length of time," he told Rolling Stones.
The quiet one
He never grudged the other band members steal the limelight. He was quiet and reserved. The San Diego Tribune asked him in 1991 why he was always reserved. "I don't know if I'm the 'quiet, dignified one. I've actually never been interested in all that stuff (fame) and still am not; I don't know what showbiz is and I've never watched MTV. There are people who just play instruments, and I'm pleased to know that I'm one of them."
A few t2 favourites
Get Off Of My Cloud: It became a teen anthem for generations and came with a killer Charlie Watts intro.
Undercover Of The Night: The song has a lot of electronic layers and Watts's drumming is stunning.
Honky Tonk Women: That out-of-the-world cowbell-driven intro and then the drumming sets in!
Sympathy For The Devil: The song with a hypnotic groove and Watts at his finest.
Gimme Shelter: The drumming lends a dark overtone, a masterclass in restraint.
Ruby Tuesday: That he could keep things simple is highlighted here.
Paint It Black: The art of perfect timing.
What next?
Charlie Watts joined the Rolling Stones in January 1963 and besides Mick Jagger and Keith Richards, he has appeared on every record. He also didn't miss a single concert throughout his 58-year history in the band. The last time he was seen with the band during a live concert was on August 30 at Miami's Hard Rock Stadium. (The group perform together for the last time over Zoom during the One World: Together at Home concert in 2020.) Rolling Stones had announced earlier this month that Steve Jordan will be filling in for Watts when their tour kicks off on September 26 in St. Louis. And the band had even reportedly been thinking of a 60th-anniversary tour in 2022. But with Charlie Watts gone, future plans remain to be seen.