Reinventing Kajol
Read more below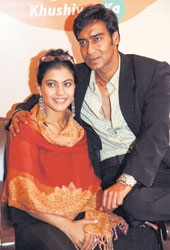 ---
Published 15.04.06, 12:00 AM
|
---
Whatever happened to Kajol, the dusky, light-eyed beauty who was destined for great things on the screen? Her career was going great guns four years ago when she suddenly opted out and slipped into the Mummy Track.
But her fans needn't despair because she's about to make a comeback. She's just finished shooting with Aamir Khan in Kunal Kohli's Fanaa that's slated to release soon. And she's open to doing more films ? even though she insists that a full-time return to the screen is unlikely because her daughter Nysa will always get first priority. Says Kajol, "It was possible to take some time away from Nysa because her school had started. I thought, now I could work for three to four months in a year without feeling guilty about it."
Certainly, Kajol has been more visible in recent months. She and husband Ajay Devgan are carving out a special niche in the advertising world with their double-starrer commercials for companies like Reliance and Whirlpool. Commercials can be demanding says Kajol. "In 30 seconds, you have to do everything ? laugh, cry and dance."
Kajol makes no secret that her life revolves around her daughter who is now two-and-a-half years old. And while she was busy shooting Fanaa, it was Ajay who came forward to play the role of a dutiful husband and father. "Ajay took a two-month break from work to look after Nysa. I was relaxed and knew she would be fine in my absence," she says.
Motherhood has been a great turning point for the actress who feels it has brought a welcome change in her life. "I have mellowed down as a person," she admits with a smile. "I am able to take things a little more easy now," she adds. But even if she has mellowed as a person, there's no doubt that she has preserved the girlish charm of Simran (the character she played in Dilwale Dulhania Le Jayenge), even after the years of marriage and motherhood. Kajol's last big role on the screen was opposite Shah Rukh Khan in Kabhi Khushi Kabhie Gham. Her other big performances came in movies like Dilwale Dulhania Le Jayenge, Kuch Kuch Hota Hai and Gupt. "I was always choosy when it came to selecting roles," says Kajol.
The last few years away from the screen have had their ups and downs. Her daughter fell sick some time ago and had to be rushed to hospital. "Every mother knows it's the most frightening thing to see your child in the hospital. It was a very helpless situation for me as a mother," says the actress. The result, she says, is that she can't bear to see any child in pain. And, of course, she admits that she has now become more tolerant of other people's children and doesn't get irritated "when a kid wails in the back seat of a flight," chuckles the actress.
Talking of Fanaa ? the actress is tight-lipped about the storyline but is keen enough to share her experience of getting paired opposite Aamir Khan for the first time. Inevitably, she praises his professionalism. "My respect for him as an actor has gone up 10 notches after working with him in this film," she says. It took a day or two for Kajol and Aamir to get used to each other, but once the ice broke everything fell into place. "He is a technical superstar who sits down and thinks of the tiniest of details about not only his performance but yours as well," says the actress while munching cookies and sipping coffee.
But on the whole, Kajol has been enjoying herself at home. "I manage people very well," she says. "I believe home is where the heart is, not necessarily where the kitchen is," quips the actress. Next, comes a quick confession ? "I am not a natural- born cook whereas Ajay is the chef of the house. Actually, I find cooking very boring," says the actress who loves to gorge on the delicacies Ajay serves up for her. "Be it biryani or chilli chicken, he makes it with so much flare that you end up licking the bowl at the end of the meal," says Kajol.
While Bollywood is always in the news for marriages breaking up and extra-marital romances, what's Kajol's recipe for a good marriage? "Marriage requires a lot of hard work everyday and that's what both of us have been willing to do," she says in a matter-of-fact way.
The best time of the day, which doubles as a stress buster for the dusky beauty is spending time with daughter Nysa. Then comes reading and working out. So if the actress doesn't intend to come back full-time to films, does she have any alternate vocation in mind? "I'd love to open a bookshop," says the voracious reader who loves collecting books on historical romances and fiction. "Another option would be to run a school," she adds. Nevertheless, these options are obviously far off in the future. For the time being, the actress is content with the plan of doing one or two films a year.
While most of the stars are defensive about being tagged "moody" and "temperamental", Kajol has no qualms about accepting the adjectives. "That's not a perception, but a fact ? I am moody and temperamental," she elaborates. So how does the "temperamental" actress cope with the gossip and rumours surrounding her personal life? "Nobody has the guts to come up and quiz me about any rumours." This also results in her not getting to hear half the rumours about herself says the actress with a sheepish smile.
As far as her mood swings are concerned, "One needs to understand that everybody has good or bad days whether you are a public figure or not. At times, you don't feel like being nice or good or even smiling. That's when the media terms you as temperamental, moody and everything in between," she says. "But I do accept that I'm temperamental, which is only human."
Kajol is excited about being on a comeback trail. She says, "But I will take things slow and steady."
Photograph by Jagan Negi