Reaching for the stars
Read more below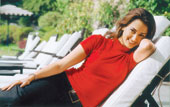 ---
Published 05.02.05, 12:00 AM
|
---
The elan with which she carried off those crisp cotton saris and salwar-kameezes in Swades reflects in her personality even if she is geared up in a completely Western outfit. For clothes do not determine the person, believes model-turned-actress Gayatri Joshi.
Gayatri is experiencing a new high, one where her much-coveted debut has put a name to her face. ?Though I am a familiar face on the small screen, earlier people would think twice about my identity. Now, at least, there?s no doubt about that,? she smiles.
Accompanied by her mother, Nootan Joshi, the actress, however, refuses to be taken unaware by any queries. Very carefully she measures her answers, so what you get is Gayatri at her diplomatic best. But prod her about Swades and she is enthusiastic, ?I was very excited initially, which was followed by the realisation that it was a huge challenge. After all, the director in question was Ashutosh Gowariker and the actor none other than Shah Rukh Khan.?
Did she face any insecurity about getting lost with King Khan in the same frame? ?Never. Shah Rukh isn?t the kind of guy to hog attention. He makes sure everybody is comfortable. I think that he helped me get the best out of myself,? she says. The prologue to the film came somewhere in the Hyundai ad where Gayatri shared that ?sunshine? car ride with Shah Rukh. Ironically, she never thought she?d get second time lucky with him and be the reason behind his character, Mohan Bhargav in Swades, leaving a comfortable career in the States to find his roots in India.
Playing the role of Gita, a well-educated, independent and strongheaded girl, came naturally to Gayatri. She says, ?It struck a chord with the audience because there is a Gita in each one of us. I couldn?t have asked for a better debut.?
Along with the praises that she has been showered with, there have been the occasional brickbats. ?I have heard that my performance has been lacking in some emotional scenes. But my critics have let me off the hook saying, ?Oh, she?s a newcomer?. I admit I have a lot to learn. In terms of acting you can learn as long as you want. You can just go on forever and discover new things about yourself,? she says.
Gayatri says there were many special moments during the shooting that have stuck in her memory. ?I enjoyed the dhoti scene. Courtesy Mohan, I have learnt how to tie a dhoti. While I was at it, I had no idea how it would turn out, but it looked cute on screen. I also liked the scene where I throw a sheaf of hay at Shah Rukh when he is having a bath at the well,? she recalls.
With almost 250 commercials already in the bag, Gayatri?s modelling experience came in handy because she found herself comfortable when the cameras started rolling. She started out at the age of 18 as a young mother in the Colgate ad, which went by the punchline ?Yeh hai hamara suraksha chakra?.
Since then, it?s been a long journey for Gayatri, and she?s modelled in a host of ads for LG, Godrej Coloursoft, Sunsilk Fruitamins, Ponds, Philips, Bombay Dyeing, Siyaram, Colgate, Cadbury Perk, Ponds and Boro Natural, besides appearances in music videos like Jagjit Singh?s Sagar Ki Kashti and Hansraj Hans? Jhanjaria.
A BCom first-class graduate from Sydenham College, Mumbai, she began her modelling career in 1996 when she was still at college. She says, ?Surprisingly, I?ve never been inclined towards acting. Neither have I been on stage in school or college, nor was I into theatre. I was a regular kid, into playing table tennis and drawing. But then again, no singing or dancing classes.?
It all started when she received an offer for modelling while in college. ?People from advertising agencies often come to check out fresh faces in colleges and they come up with offers. That is exactly what happened with me,? she says.
Eager for a change, she tried her hands at the Femina Miss India beauty pageant. Gayatri was chosen to represent India at the Miss International contest in Japan in 2000. Though she didn?t win, it was a tremendous learning experience.
Yet there is no desperation for more. ?If good roles come her way, fine. But if there are no offers that appeal to her, she?ll do her post-graduation or probably get married,? chips in her mother.
The actress says she has never been unhappy about what might have been. She has learned to take both failure and success in her stride, whether it was not bagging the Miss India crown, not making it to the sets of Dil Se (a role which Preity Zinta bagged) or posing in her first advertisement as a young mother. Says Nootan, ?We are a middle-class family and the one thing I have always instilled in my daughter is not to make a mess of things. She even gave up modelling at the peak of her career to pursue a course in the US for six months on packaging and designing of a product, a concept which fascinated her immensely.?
At a time when Bollywood is flooded with starlets wanting to wow audiences with a dare-bare image, Gayatri insists she won?t be a part of it. ?I have a very Indian face, so I believe I am not cut out for such roles. Anyway, such roles give me the goose bumps. I would love to act in a role which I would be comfortable with,? she says.
Gayatri doesn?t have any dreams cut out for herself though. She laughs as she says, ?After all, I am only one film old, so I can?t specify what I am good at exactly. At the end of the day, I?d like to give the audience what they?d like to see. And hopefully in a few years, I will be able to figure out what I am best at.?
Photograph by Rajesh Kumar