Rap rage
Indian rappers are talking up a storm with their sparky lyrics both in Bollywood and at high-voltage live events, says Anupma Mishra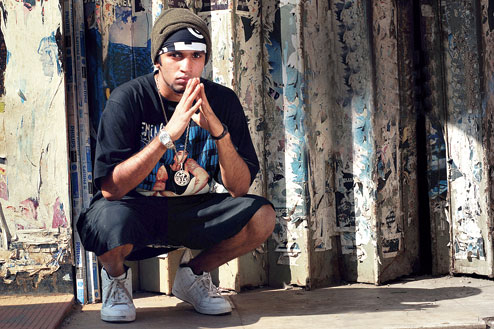 ---
---
He drives an Audi, has homes in Delhi and Mumbai, and had recently put on his dancing shoes for Jhalak Dikhhla Jaa Season 8, the popular celebrity dance reality show on Colors. "I also composed the rap for the show's title track," says Dilin Nair, aka Raftaar, with obvious pride. He began putting together funky words as a writer with Yo Yo Honey Singh. The 26-year-old rapper is just two-and-a-half years old into the profession but has already arrived on the scene in a big way by delivering super-hit Bollywood numbers like Tamanche Pe Disco from Bullett Raja, Dhup Chik from Fugly and Whistle Baja from Heropanti.

Or, look at 25-year-old Vik Feyago Sen from Calcutta, who already has 172 gigs under his belt in just two years. "I hop across countries for my gigs and now I do 160 shows a year," says the rapper, who's about to kick-start a 10-city tour across the country.

Indian rappers have come of age and they're making themselves heard just about everywhere. You see them onscreen, belting out their lyrics in a sing-song, rhythmic tone in top Bollywood movies or entertaining select audiences at A-List events.

Inevitably, the lyrics are uniquely Indian — and often in a confusing melange of languages like Malayalam with Hindi and English interspersed.

Check out Smokey The Ghost aka Sumukh Mysore, a 25-year-old Bangalore-based rapper, who chucked up the safety of a government job early this year. Earlier, an evolutionary biological scientist at the National Centre of Biological Sciences, he chose to pursue his passion for music full-time. "Back in 2004, I used to beg for work in clubs but today I charge anywhere between Rs 30,000 and Rs 80,000 per show and clock about 75 shows a year," says the snappy rapper.

"A decade back, people wouldn't understand rapping, but today, we get approached by big record labels and big Bollywood music directors," says Brodha V aka Vighnesh Shivanand, who shot to fame after his rap number Ready, Steady, Po in Chennai Express. The 25-year-old rapper's YouTube channel has received more than a million hits and he now has a contract with Sony Music which is promoting his singles on various digital platforms and also managing his gigs.

Krsna aka Krishna Kaul, another Delhi-based rapper is signed to Contrabands, a joint venture between Universal Music, Vh1 and Hard Rock Café and has just finished the India-wide promotional tour for his album Sellout. "The title's Sellout as people kept telling me I should only focus on serious music that I made earlier in my career," he says. His album talks about the dilemma that an artist experiences while making a choice between staying true to the art form and selling out to make a larger commercial impact.

"In today's day and age, artistes are getting umpteen opportunities through various digital platforms, and, so, more people are getting exposed to this particular art form," says the flamboyant Delhi-bred Nair who also has huge Punjabi hits to his credit like Swag Mera Desi and Desi Hip Hop. "This has created a market for us and a need for quality rappers in the country," he says.

Mysore, who started out as one of a Bangalore-based rap trio Machas With Attitude, teamed up with Brodha V and Bigg Nikk. He used to rap in various languages including English, Hindi, Tamil, Telugu, Kannada and Malayalam. Though, the trio split in 2013, the passion remained.

"Back then, we used to do shows even for free, but now there's clearly a huge wave that has swept over the country," says Mysore, whose Bollywood journey started with a performance at the India Music Week 2014 in Bangalore. "Sneha Khanwalkar (a Bollywood music director) was there and offered me the song, Bach Ke Bakshy! that I have co-written and sung with Big Deal, another rapper. "Before this I had never written or sung in Hindi."

He recorded the number in a Bangalore studio with Khanwalkar on a Skype call. Later, the song went on to become a hit and got over two lakh hits on YouTube. "Bollywood gives much-needed visibility and exposes us to a larger audience. People now know that there are a whole lot of good rappers besides Honey Singh," he says.

But not everyone succumbs to the big bucks of Bollywood. "I get lucrative film offers, but I can only sing something that makes sense," says Sen, who dropped out of college in the UK to follow his dream. "I can't do club music and party hip hop that is so prevalent right now as I have to do justice to the art form and so I just can't take any opportunity that comes my way even if it means big money," he adds in a matter of fact tone.

Shivanand, on the other hand, wants to focus on creating an independent body of work. "I want to develop my own sound and become a brand. Bollywood doesn't do justice to rappers as they use rap verses as fillers," he says. "I want to do all kinds of rap songs like the devotional song called Ayigiri Nandini I did for my record label. Bollywood doesn't give you that kind of freedom," says Shivanand who charges between Rs 50,000 and Rs 5 lakh depending upon the venue, organisers and events.

Sen, too, tries to avoid filmy tracks. "I experiment with the genre by doing covers of popular English tracks and change the lyrics to Indianise the songs. This apart, I also create my own bank," says the rapper, who started out making beats and videos with a friend while still in college.

His first show in India was in 2012 at a club when he hesitatingly asked the organiser to give him the mic. "But the moment I started rapping, the crowd went crazy," says Sen. Impressed by his performance, the organiser called him the next day and offered a gig once a week for Rs 3,000. "I then started calling show organisers across Bhutan, Nepal and the Northeast who responded positively and started inviting me," reminisces Sen.

"My album is a far cry from Bollywood, yet it maintains a commercial vibe," says Kaul, who adds that he has also made what are called 'conscious' rap songs on social causes. Kaul started out with a rap song titled Kaisa Mera Des in 2011 and shot the video using a hand-held camera in slums like Dharavi. The video eventually got him a million likes on YouTube. He later followed it up with another rap called Vijay for Save the Children.

Nair has a YouTube channel called Underground Raps where he puts out raps on social causes and considers creating 'conscious' rap songs as part of his responsibility as a musician. "On the one hand, I rap lines like Hum teri jaan hai baby (I am your life, baby) but I also sing Jab liya tha janam mujhse pehle pucha na tha kisi ne chahiye kon sa dharam (When I was born, nobody asked me what religion I wanted to embrace) from a song called Allah Ve that I performed at Coke Studio," says Nair, who has just finished recording with A.R. Rahman for a Rhea Kapoor movie. "Now that I have made it big, I want to bring other underground rappers to the fore," he adds.

But if you thought that rapping is only about sound, hold it right there. These rappers emphasise that quality videos are as crucial as good music. "My first professional video was shot by Vh1 channel for the song called Last Night for my album," says Kaul, who has shot about 10,000 videos.

In fact, Sen's video that he shot for his rap song titled Someday — about issues like corruption, greed and sexual harassment — was aired on Vh1 and also fetched him the Best Hip Hop Act India at the 2014 Vh1 Sound Nation Awards.

According to Mysore, good quality videos widen one's fan base. "Videos on digital platforms enhance brand visibility. So dedicating videos to songs is as important as creating music."

And don't think for a moment that the enthusiasm for rap is restricted to the metropolitan cities, for it has also started to find followers in states like Bihar and Uttar Pradesh.

"I've done shows in Bihar and, trust me, they know as much about rapping as any other urban guy," says Sen.

Shivanand agrees fervently. "Go to any small town in Punjab and the locals would know about Eminem, the famous American rapper. The awareness about rapping and hip hop music is just mind-boggling."

And yes, this new crop of rappers has big plans to up the rap game in the country. Mysore and his friends visit schools and colleges to educate would-be rappers in Bangalore. Their sessions include explaining to students technicalities like punch lines, hooks, the flow, delivery, metaphors, lyricism, etc., and the importance of good content.

Nair, too, is keeping a close watch on the underground artistes through digital platforms. "We have got really good talent out there. In future, I would want to nurture them," he says. Meanwhile, Sen plans to launch a label soon that would only release hip hop music.

"Every big person starts off as a wannabe, until he becomes something that all the others want to be," raps Nair as he breaks into an impromptu freestyle rap and rhyme.