Ode to a Yarn
Raglan-sleeved cardigans, Fair Isle sweaters, Aran jumpers, Argyle pullovers... Going nostalgic about patterns of a lost living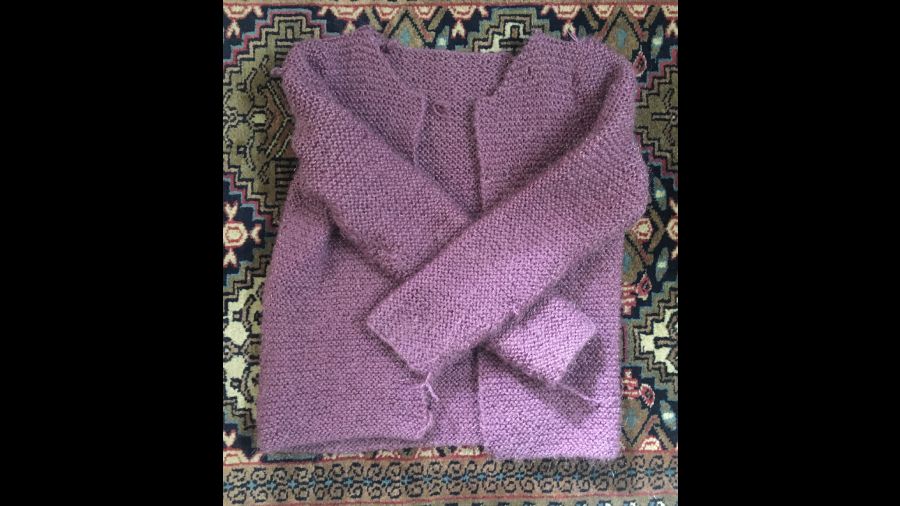 Many schools have done away with sweaters and included jackets and blazers instead.
Upala Sen
---
Published 09.01.22, 12:11 AM
|
---
Sweater. The word itself evokes faded winter mornings, foggy breaths and hands wrapped around a cup of hot tea, or coffee. The advent of winter was signalled by the sunning of sweaters. Sweaters that popped the gloomy winter with their bright reds, yellows, blues, sea greens...
But whither the sweater now? Even in Wellington Square in central Calcutta, where the Bhutanese have been selling inexpensive handmade sweaters for decades, rarely will you come across one. The reasons offered vary — too warm for Calcutta, not warm enough for New Delhi, too chunky, too form-fitting, too fancy, not smart enough — the list goes on. The real reason for handmade sweaters going MIA possibly has to do with time.
Time has shrunk and there is no room for knitters or knitting anymore. Even 20 years ago, schools had mandatory knitting projects but now science and "design" projects have taken their place. Many schools have done away with sweaters for winter uniforms and included jackets and blazers instead. These mass-produced, whole or part machine-made garments are easy on the pocket and the eye.
For a certain generation, sweaters are synonymous with warmth, of the wool and of relationships. And the very act of knitting was ritualistic, knitting closer old bonds and new. "Every winter afternoon, my mother, aunts, sisters, sister-in-law and all of us younger cousins would sit together on the verandah, enjoying the sun on our back as we knit," says Anjali Sen, 84.
"I never found knitting interesting," says muga revivalist Sampa Das, 78. "But my mother and grandmother were prolific knitters. They used to knit sweaters for all of us from these thin design books, which usually had the design for one knitted garment. There was always a coloured picture of the sweater on the cover," she says. Readymade sweaters were looked down upon.
Sen remembers, "Each of my aunts used to subscribe to a different British magazine — such as Ladies' Journal or Woman and Home. These used to have short stories, a serialised story, a section on cooking, on embroidery, on knitting. My mother and aunts referred to the designs there. There was competition too about who could finish a garment the fastest." She recalls them using multiple colours to knit beautiful scenes on sweaters, something called Fair Isle knitting and also using wool to embroider on plain sweaters.
According to Sen, knitting was an elitist thing, at least in the early 20th century. Till the 1950s, all wool available in the Indian market was imported. Both Sen and Das remember wool being procured from New Market.
One of the shops stocking wool at that time would have been Guin and Company. "The shop would have been 100 years old if it was still open," says Swapan Kumar Guin of Guin Wool House in Gariahat, Calcutta. "In the early decades of the 20th century, two European ladies at the shop would teach interested customers how to knit," he adds.
The shop in New Market shut down apparently due to lack of manpower, but chances are lack of customers played a part too.
The Gariahat shop, the only one in the city to stock pure wool and pashmina these days — it used to stock Angora wool from Japan at one time — now depends mainly on the sales of machine-knit sweaters from Ludhiana. Apart from elderly ladies, only students of fashion design visit the shop to buy wool. And they don't even use it to knit; they use it to embroider on fabric, Guin says morosely.
Ila Bhattacharya, 72, shares a fond anecdote. She says, "I was travelling by train and there was a man sitting opposite me wearing a sweater with a beautiful but rather complicated cable design. I kept staring at it all through the four-hour journey. He must have thought me weird." Soon after getting off the train, she bought some wool and started knitting a sweater for her husband. "I felt such a sense of achievement when the design came out perfectly," she says proudly. Most things she knitted were copied from designs other people made or wore. "We had no knitting design books. We adapted them from cross-stitch books," she says.
Bhattacharya, who grew up with five other siblings in a lower-middle class family in Nawabganj, Ichapur, bought all her wool from feriwalas or peddlers who roamed the neighbourhoods with baskets of wool on their heads. She learnt knitting using a pair of broomsticks from a narkoli jhanta (made up of the midriffs of coconut leaves).
And although she had two elder sisters who knew how to knit, she learnt the basics from a friendly neighbour — a man she knew as Mintu Kaku. She says, "Mintu Kaku had a job though I don't remember where, but knitting was his passion."
While men knitters were more the exception than the rule, there were some who wielded the needles. Sen remembers, "In those days, Nepalis were employed as darwans in homes and banks. They would knit all the time."
Reba Sengupta, 68, remembers men ferrying wool on Calcutta roads too. "But that was of an inferior quality. At that time, there were some shops in the area that sold wool, both pure wool and cashmilon (acrylic yarn)," says the retired ITC employee. Sengupta still knits, mostly for her grandchildren, but procuring the yarn is a bother. Recently, however, her niece has introduced her to the bounty of Amazon.
Hopefully, Sengupta will be able to keep her grandchildren in sweaters for a few more seasons, at least until they decide that granny-made sweaters are too yesterday.