Scars and Stripes
Project Tiger will soon roar its way to half a century. The Telegraph gets in touch with a forest man who embodies the spirit of it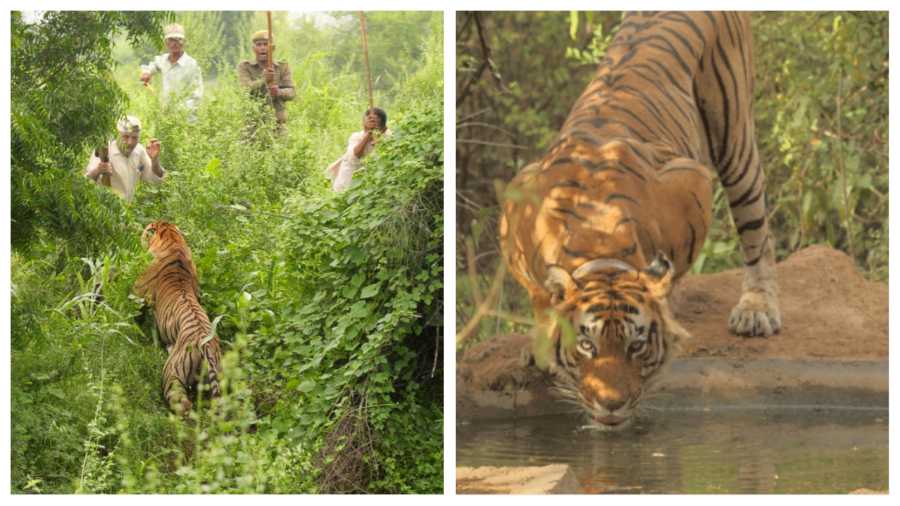 SHER CAN: Daulat Singh Shaktawat (left) being attacked by RT-7 in Ranthambhore; the same tiger, renamed RT-6, at Sariska
Courtesy, Daulat Singh Shaktawat
---
Published 19.06.22, 04:03 AM
|
---
Daulat Singh Shaktawat, 64, can open his lower jaw just enough to be able to take in a morsel. He also takes his artificial eye out of its socket every day, disinfects it and puts it back. It's part of life, he says.
In 2010, a tiger mauled Shaktawat, who is the retired deputy conservator of forests at Rajasthan's Ranthambore Tiger Reserve. He tells The Telegraph from Kota, "When people go deep into the jungle and fall in love with the wildlife, it's imperative to also know that thousands of lives have been lost in making our tiger reserves the institutions they are today."
Shaktawat is talking about Project Tiger — the conservation programme launched in April 1973 by the Government of India. At the time the tiger count was 268.
Today, Project Tiger is nearly 50. According to the last census report in 2018, the overall tiger population in India was estimated at 2,967. That's a long way since the programme was launched at Jim Corbett National Park. Starting with nine tiger reserves then, India has 52 now, with the latest — Ramgarh Vishdhari in Rajasthan — being notified as recently as on May 16, 2022. "It's a success story of the Government of India, something that's celebrated the world over," says Shaktawat.
Shaktawat joined Ranthambore in 1977 as a forester. "The frontline team consists of forest guards, assistant foresters and foresters. Much of the wildlife management, water management, developmental research, protection, etc. is executed by these people," he explains. 
Those days, 90 per cent of the patrolling was done on foot. Shaktawat says, "We would form groups of five or six, often with those from another naka, and one day cover one block, the next day another and so on. Ranthambhore had only 14-15 tigers then, with one or two or three sightings a month… we would mostly keep track by following their pug marks."
In any wildlife conservation effort, the biggest area of conflict almost always is with people residing within or close to the forests. With Ranthambhore being declared a national park in 1980, cattle grazing became illegal. "Clashes with villagers were rampant. The worst was during the rainy season, when cattle owners camped inside for months," says Shaktawat.
To elaborate, he takes a page out of his book My Encounter with the Big Cat, published in 2017. Shaktawat narrates: "…a group of 10-12 of us were on patrol to check grazing. We had to forcibly bring them out of the reserved areas, but at the gate was an angry crowd of about 200-250 villagers. They attacked and injured us, one of my colleagues died in that incident. In another incident, two colleagues were shot dead by poachers.  I have written all their stories in a chapter called The Unsung Heroes of Ranthambhore."
He continues, "I have spent 25 of my 40 years of service away from my family. But I also got to see and learn things not many have the privilege to."
There's a lot of misconception about these beasts, he says. "We often hear it's the tigress who feeds the babies, but I have also seen fathers feed. Again, if an offspring from an earlier litter happens to meet a parent, they do recognise each other."
And then the event that changed his life. On August 1, 2010, word got around that a tiger — RT-7 — had killed a buffalo. He says, "We first try to make noise and drive the animal back; tranquillisation is the last resort. About 2,000-3,000 people had gathered that day, police too. It was August, the bajra was four or five feet high and the tiger could not be seen. Some people were still throwing stones from rooftops and machans, and I could tell that the beast was agitated. My jeep could go no further into the ravine, so we set out on foot. It was about 50 metres away when we heard a roar. The tiger seemed to be backing off into the forest and we were relieved. But suddenly there was another growl and this time it was a few feet away. It leapt straight at me. I tried to lift my right hand in which I held the rifle, but he had already dug his canines into my flesh. I then felt my head attacked. Everyone apart from my team members had run away. One of my mates threw a stick at the tiger, which roared again and jumped away."
For 72 hours in the hospital, the doctors did not attempt any surgery. It was important to first administer treatment for rabies. It took the man two years and multiple surgeries to recover.
A couple of months later, RT-7 was spotted in the Mathura region and, soon after, in Bharatpur. "An area of 30-40 sqkm can accommodate a male-female ratio of 1:3, but with increasing population the animals start to stray," says Shaktawat. So barely six months after the accident, Shaktawat was back in Ranthambhore on his own request. He wanted to be part of the mission to translocate RT-7.
For four days, they tried to bait him using animals. And then one evening, while discussing a wildlife documentary that had long episodes of a female tiger's mating calls, an idea came to him. Says he, "We decided to play the CD to get RT-7 to come out of hiding."
It worked! RT-7 came out, was tranquilised and released in Sariska. In its new life, it was known as RT-6. "Whenever I went to Sariska thereafter, I made it a point to see him," adds Shaktawat.
RT-6 died this April 19, at a ripe old age of 16 and with the laurel of being the most photographed tiger of Sariska.