Photographers Anjali Kanakia and Upahar Biswas get candid about their passion
On International Women's Day The Telegraph goes behind the frames with the two power women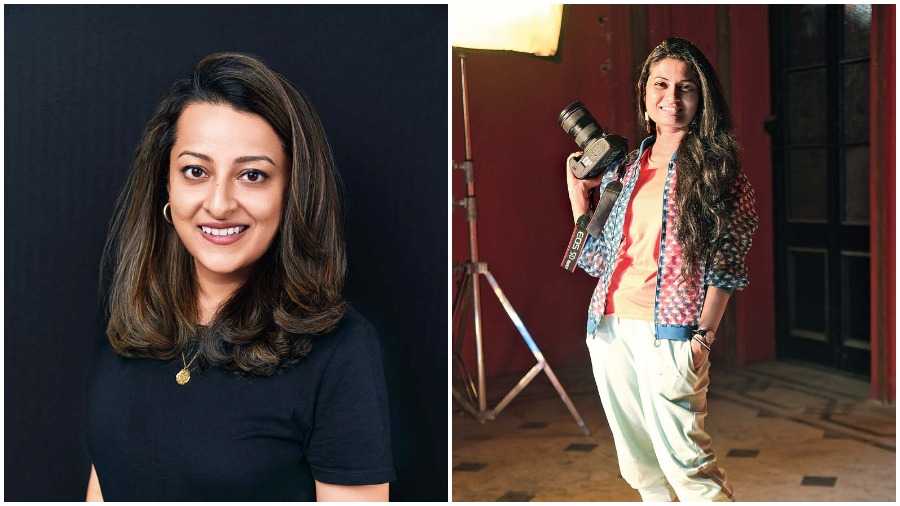 (L-R) Anjali Kanakia and Upahar Biswas
Sourced by the correspondent
---
Published 08.03.22, 02:25 AM
|
---
For one, it has been 26 years since she picked up her first camera. And the other has clocked six years as a professional photographer. Anjali Kanakia and Upahar Biswas. Both distinctly different yet united by their quest for the picture that speaks about their mind as artists. On the occasion of International Women's Day, we chatted with the two power women to delve into their minds as women photographers, and found out if their gaze is any different from that of their male counterparts and what captures their imagination while photographing fellow women.
How does the world unfold before you when you look through your lens? Is it any different from your photographer friends who are men?
Upahar: There is always a good photo and a good photo that makes you feel a certain way. My effort has always been to tell stories through my imagery or to give meaning to a photo. So the world is selective and better through the eyes of a camera. Well, people have different styles and sensibilities and liking for different things. I feel I developed a keener, very individualistic eye for details and for beauty.
Anjali: Photography is like a love affair with life. My camera lets me strike up a conversation with just about anyone. It's changed my perception of the world, and my relationship with people. It's made me more empathetic, and more aware of the many different realities people experience. In a world where everyone wants to look perfect, it's a great way to connect with people and keep it real. When I got into this profession I was constantly told by my peers, how I should consider being a stylist or take up production. After working in this industry for 12 years I have come to realise that women too are taking up photography and other creative jobs that are male dominated. Women have their own unique style, vision and expression. Social media has given women all over the world a platform to express themselves and be out there.
What are the stories, as a woman photographer, that you like to tell?
Upahar: I have always been a big fan of photo stories and love creating one. My previous photo stories have portrayed sisterhood, family bonding and have shed light on simpler times and its charm. Since I live in this beautiful city, Calcutta, I also love to create stories in and around the city. It amazes me how one can find stories in every corner of this place. My next project will talk about Calcutta's food, fashion, culture and architecture.
Anjali: You don't have to do what everyone else is doing, you can do something new. We cannot all have things placed into our hands. We have to pursue our dreams. It may take some time, but with determination, we can achieve what we would like to. When you photograph women, what do you notice first?
Upahar: If I am shooting someone new, I like to converse with her, try to know her characteristics and personality and feel her energy. Energy to me matters a lot, which eventually reflects on their physical features. It immediately helps me decide on the look/character I want to put her into. I personally am a big fan of simple, normal-looking women over someone who is intimidatingly gorgeous.
Anjali: Women have very intense eyes. That's the first thing I notice when a woman walks into my studio. Also the energy she brings in with her. She can brighten up the space or kill the vibe completely.
Tell us about some of your favourite projects featuring women...
Upahar: A personal project of mine called 'Suddhi'. It featured a trans man (playing a man) and a trans woman (playing a woman) and both of them playing a couple, offering puja at the Ganges, under the blazing orange sky. The message through this photo story, apart from giving my audience a visual tonic is also to connect people into a pure thought. Apart from this, I have recently done a commercial project called 'Yaadein' that talks about a city girl and her treasure trove of memories.
Anjali: I shot a project for EO, Kolkata. I shot 40 beautiful and powerful women from the city. It was very inspiring to see such talented women lead in their fields and hear about their experiences.
Name three women you would like to photograph some day…
Upahar: 1. Mary Kom, for inspiring us to be madly driven by our passion. 2. Barkha Dutt, because the eyes that see and speak truth should be photographed. 3. Rochell (artist name Green Olive Mama) who is a photographer and her Flickr account was my learning place during my high-school days. She doesn't know I exist but if by magic she is reading this, 'Rochell, here's thanks due'!
Anjali: Madonna, Jacinda Ardern, Annie Leibovitz.... They have all stood for what they have believed in, broken boundaries... shattered stereotypes....
Who are your favourite women photographers?
Upahar: Avani Rai, Rema Chaudhary and Dayanita Singh.
Anjali: Annie Leibovitz, Ellen Von Unwerth, Dayanita Singh.