All I was supposed to do was go out, get a vaccine and come back home for lunch. Until my sister stumbled across a story on Instagram where a golden retriever was found under a car in Picnic Garden. We fumbled, should we get him? It's a huge responsibility! Our impulse made us drive all the way to pick little buddy up. And although I am not the dog mom, I am more than happy to settle as a dog aunt for Kaebla Cam!
Welcome home friend! His two beady eyes, furry face and clumsy walk already had my entire family going aww. He was 45 days old when we found him abandoned and more than him getting lucky, I think we did.
Adopting a pet can be difficult but the feeling of satisfaction once you have done it, is unparalleled. Many pets have been left behind, let go of or even chained to poles with no food. Rather than buying from a breeder, one might as well give shelter to these abandoned pets or even adopt indies. In either case, there are many factors to look into while adopting a pet. The age of adoption, the medication, food, exercise, cleanliness and oh, let's not forget, the random 3am playing sessions.
t2 speaks to a few pet parents who have gone through the whole process.
Little Babies
When adopting a pet, it is really important to see what the age of the baby is. A pet that is too young will need their mother's nursing to grow into a healthy one. Film-maker Satrajit Sen says that a dog should not be adopted before 90 days after their birth. His pet dog Teetu, a Belgian Malinois, was adopted when he was about three months old, from a family that was looking for a home for him. According to designer Abhishek Dutta, a baby pup can be adopted when they are at least 45 to 60 days old. "Because before that they are not sturdy enough, they need that strength to go live with a new family," he says. Abhishek's St Bernard, Bosky, was mated at one point when she gave birth to 12 little babies. He kept one and gave away the rest to trustworthy families. "We are in touch with the families who have adopted the pups. There's one living in the North-east, whom we visited."
For one mother, feeding 12 babies can get tiresome. So what would one do if one pup isn't getting enough nutrients or the mother of the puppies can't be found? "At such a young age they can't even open their eyes. We had this problem with Bosky because there were 12 puppies. These are situations you have to handle with care and provide supplements to the pups," added Abhishek.
Finding a best friend
If one has the means and time to nurture a pet, only then must they go ahead. Social media is flooded with posters for adoption of abandoned pets and street dogs. During the lockdown, while everyone was at home, the need for buying and adopting pets had shot up globally. Unfortunately, as places opened up, so did the need for going out and quite a few pets were up for adoption or worse, let off.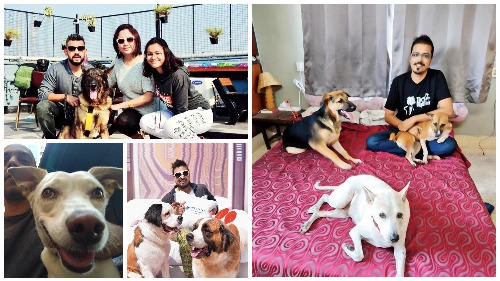 Satrajit Sen and his family with Teetu, Abhishek Dutta with Bosky and Alexa, Bodhisattwa Ghosh with his buds, Rohan Ganguli with one of his pets
Many groups on social media also keep the members updated about pets up for adoption. Actor Shruti Haasan's cute cat, Clara, was abandoned in Mumbai, where she was found seeking refuge from the rain. "She was all alone hiding in a pet store and I took her home," said Shruti. It's adorable to see how Clara reacts and likes being around her hooman mum now. "Clara instantly treated me like her human mum and stayed super close. She snuggled to my chest immediately and pretty much never left that spot for months," says Shruti.
Guitarist Rohan Ganguli has picked up all his pets from the streets near Jadavpur University and some litters here and there. "Some came in from family and friends as well," says he. There was a time when Rohan had a total of nine dogs at home. Sounds like a dream for dog lovers!
For musician Bodhisattwa Ghosh, adopting a dog wasn't only about having a companion but also about giving a companion to a companion. Back in 2008, he had found Dumbo, a white indie male around his house. He was about a month old at the time and had a spitz called Kutush for company. Sadly, after Kutush passed away in 2010, Dumbo felt lonely. "For various reasons we could not keep another dog, but in 2015 my friend and bandmate Gaboo (Gaurab Chatterjee), rescued a pup from the streets. He was having difficulty in keeping her because of other dogs in his house and neighbourhood, so I decided to adopt her after a year," he said. And in came Bebop in 2016, a brown indie female. Recently, a German Shepherd couple owned by Bodhi's mother's friend gave birth to six puppies and he adopted the first-born male and named him Rocky.
"All three of them are extremely precious to me and my whole family, and they are very much my children. They are very happy, best of friends (and sometimes worst of enemies!) and seeing them happy brings me the most amount of joy. I am glad that these abandoned street puppies got a loving home and Rocky found two best friends! Once touring resumes and I have to get back to life on the road, I will miss them immensely," he said.
Satrajit's dog Teetu came into his life when the pup was three months old and had faced some abuse in the home that had adopted him before. The original owners immediately pulled him out and Satrajit and his wife Sudeshna were the ones who gave him a home. It was initially a little difficult for Teetu to adjust in his new home but the Sens had provided him with a sense of security.
A new environment
Coming from one place to another is a big change for newly adopted pets. Some take weeks to adjust and some click in an instant. In both cases it is the love and nurture that matters and helps the pet call their new house a home. For Kahini Panjabi, a city-based drummer, her babies Tiki and Puka Puka were uneasy at first. "But eventually they got adjusted and comfortable and it wasn't much of a challenge," she said.
For someone like Gaurab 'Gaboo' Chatterjee, keeping dogs or cats at home was like keeping a family member, irrespective of age. "Sometimes it does get challenging to help the older dogs adjust at home but they enjoy living with us after a while," he said.
In the case of Shruti's cat, Clara had immediately accepted her new parent but older pets have it harder. For Satrajit's Teetu, given the past he was coming from, it was hard for him to let go of his original owners. "They would come by with Teetu often to get him adjusted to the surrounding. Eventually, they had to move out of the city and Teetu was staying with us," says Satrajit. This was when Teetu was a little upset and trying to live his new normal but eventually gained their trust.
While some take that time to gain trust, some become the self-designated boss at home. For Rohan's numerous babies, it started with the initial shock of coming to a new place and claiming the boss throne. "They read the place very quickly. My parents treat them better than me and my sister so they are very comfortable," he said.
The past also has a lot to do with how pets behave and adjust to their new homes. For Bodhi's Bebop, it was a little taxing. The pretty girl was scared and was isolated from the start till almost a year. "She was locked in the other rooms of the house because there were other dogs and cats who were hostile to her," he said. Bebop apparently took her own time and so did her new family to give her the best of everything and make her completely secure and by the end of 2017 she learned to trust.
Munching habits
No matter what, a pet will ALWAYS pay heed to what food is around them. Boiled rice? Yes! String cheese? Double yes! Most pets turn out to be the foodies that they are and will drool while making eye contact... but who are they fooling? From the beginning a pet's meals need to be monitored as their intake and preferences matter throughout. Fun fact I learnt as a pet aunt: milk actually causes gas problems for my dog and Puppy Ceralac is the way to go.
The best meal is the one with the most nutrients. "The diet is pretty much the same. Rice, chicken, beans, carrots in a pressure cooker together. It was all mashed together but after a time the mashing stopped," said Kahini, about her two buddies. For Gaurab's numerous dogs, they pretty much ate what they got, no questions asked of course but on a nutritious note, they got chicken, red meat, chicken liver, rice and vegetables. All that eating can give you the lazy snooze. "Running around on the terrace has usually been the exercise for the dogs," he says.
Some public places these days like Southern Avenue and Maddox Square have been against pet walks and outings, which is something Abhishek has faced. "There is no dedicated dog park where you can take your pets for a walk. They eat a lot and they need to burn off the food. No exercise will make them lazy and gain weight, which is not healthy," he said. He currently lets his doggos out for a stroll on his terrace.
Train train train
No matter how cute, basic training is always important. Where to eat, where to use the bathroom, "Stop biting hard Cam!" "No, your grandmother's slippers aren't a chew toy!" From a young age training is important as it conditions their way of life. Different teachings will cause them to learn new habits and therefore learn their way around their home. Toilet training is a must so that pet owners don't have the hassle of cleaning up right after their pets.
For older pets, the idea of unlearning and learning comes in. For Teetu, his entire training was done by Sudeshna. "All credits go to Sudeshna for his training. Because of her, Teetu knows where to do his business, or eat. He loves to sleep on our beds. Sometimes when we're travelling he doesn't sleep on our beds to show he is sad," says Satrajit.
Kahini's indies are "smart and receptive" and listen to basic commands. "However, slowly I am realising how they have trained me. They know exactly what expressions they need to make for me to get them treats," she says with a smile.
On the other hand, Rohan decided to leave his doggos untrained for a reason. "I like it when they are a bit unruly. Besides, it helps keep annoying people away," he says.
Doggo: 1, Human: 0! Rohan has had so many dogs that eventually they ran out of names for them. "We just called them Kukur, Boy, Girl, Mummy Ji and more," he adds.
For Bodhi, training is more about making them comfortable and imbibing trust. His doggos are treated like children, they are provided with love but at the same time they are reprimanded. "If they are doing something nice then they are rewarded with a biscuit or something, if not they get a scolding but no physical harm," he says.
Adopt, don't shop
Many people don't adopt as sometimes they look for a particular breed or don't trust the cleanliness of a pet from the road. For Abhishek, adopting is not only better but a safer option. "Some breeders do not take care of the pets and no information is given about the pet's family history. They are used as breeding machines and in the process the life span also gets reduced," he says.
At the end of the day, adopting a pet is no different than having another family member in your life. Yes, the training and care do take up time but it's always pleasurable. It's the intense tail-wagging, the lazy tongue falling out of their mouths, the face that silently begs for a bite of your meal or the random running sessions in the middle of the night, that keep you going. So look at all the faces on the road that need a home. Adopt, don't shop!