Panjikanama: Tale of a totem once considered soldered to Poila Baisakh
PANJIKA PRIVÉ: Poila Baisakh came and went, and given the way things are, folks could barely even afford notice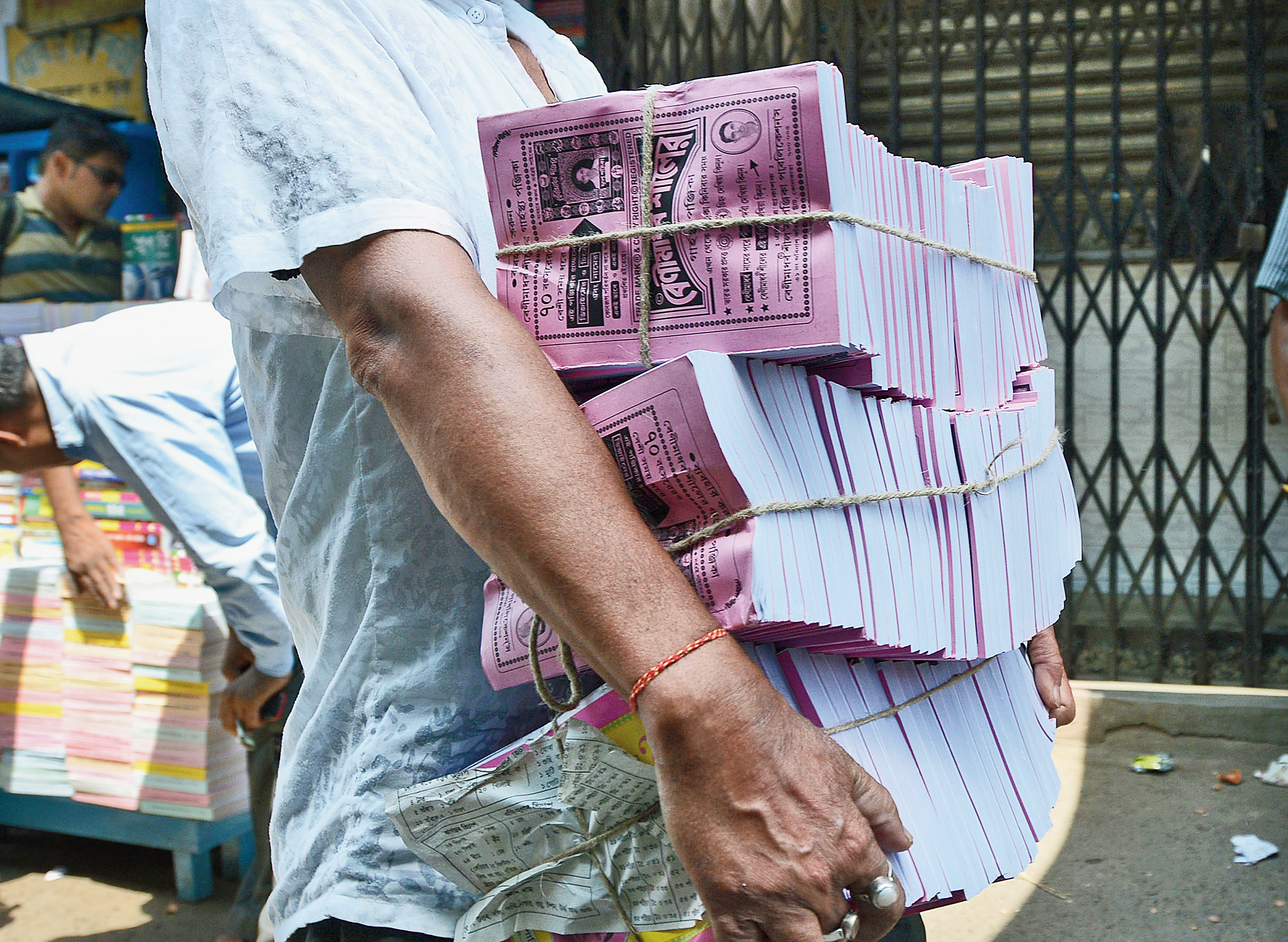 Freshly harvested grains of paddy, crisp cotton clothes, ritual feasts, haal khata, or traders' new ledger books, and a print-fresh panjika,or almanac, constitute the ideal Poila Baisakh or Bengali New Year.
Ranajit Nandy
---
Published 18.04.20, 06:55 PM
|
---
Freshly harvested grains of paddy, crisp cotton clothes, ritual feasts, haal khata, or traders' new ledger books, and a print-fresh panjika,or almanac, constitute the ideal Poila Baisakh or Bengali New Year. Panjikas or panjis have so far lived through wars, famines and even the bloodshed of sectarian riots, but seldom missed their date with naba barsha, the first day of the Hindu calendar. This year is different. This is Coronavirus year. It's a matter of inquiry — and some wonderment — if a panjika foretold it.

Panjis have been the go-to handbook for Bengalis, religious or not, for centuries. No year goes by without its share of celebrations and mourning decided upon consultations with a panji. With the auspicious dates, advertisements, bits and pieces of daily advice, engraved artwork and exhaustive appendices with names of hospitals, clinics, streets, etc. — the directory panjikas also reflect the socio-cultural evolution of a community.
This year, given the coronavirus-induced lockdown, of the five different panjika editions printed out of Calcutta, only the ones from P.M. Bagchi & Co. and Benimadhab Sil were able to make it to the market. The Bisuddha Siddhanta, Gupta Press and Madan Gupta panjikas were stalled.
The P.M. Bagchi Directory Panjika, which has commanded institutional status for the last 136 years, wrapped up its publication by early March. Jayanta Bagchi, who is the owner-director of the company, says, "Since we have always been strict about the deadline we were able to wrap up the initial print run on time." The first batch comprising approximately 30,000 copies is meant for circulation in North Bengal, Assam and the NorthEast. The subsequent batches with larger print-runs, are ready but yet to be distributed.
Benimadhab Sil's Full Panjika — there is a half or abridged version too — was ready for distribution in January. Published by Akshay Library based in Sovabazar in north Calcutta, the low-priced panjika is perhaps the bestseller among almanacs. Says Mohan Sil, co-owner of the publication house that has links to Battala, the traditional printing hub of Calcutta, "Our market is in rural Bengal. Panjis as well as our religious books have a burgeoning market in the hinterland."
Owing to their astrological moorings and no doubt from their umbilical attachment to religious events, panjis came to be considered sacred over more than a century in a lot many Bengali households. Some families even placed them in the prayer room alongside household deities. The more orthodox would keep panjis folded in a red cloth (lal salu) and offered flowers and bel pata during the daily puja. Such households would swear by the calculations and instructions mentioned in the panjis and no major decision would be taken without consulting them. Thus was born the old Bengali adage, haate panji mangalbar, which means you don't need to fret over dates if you have an almanac in hand.
The word panjika most likely originates from the Sanskrit word panchanga meaning five elements. According to classical Hindu texts, or shastras, those five would be Vaara (solar day), Tithi (lunar day), Nakshatra (stellar constellation), Yoga (angle of the sun and moon) and Karana (the lunar phase of a day).
The traditional Indian almanacs were written by hand on palm leaves by Brahmin priests. In medieval Bengal, astrologer-priests recited from panjis in village squares or at the doorsteps of wealthy families in early Baisakh, the April-May period. For this service they were paid in kind, with foodgrains and/or clothes.
Nilay Kumar Saha, fellow at the Indian Council of Historical Research, Delhi, has been working on the origin and evolution of panjikas, for three decades. His book, Bengali Almanac: The Uncharted Area of Indian Mass Communication, too has got caught up in the presses because of the lockdown. According to Saha, the publisher of the first printed volume of the panjika was one Durgaprasad Bidyabhushan, a resident of Jorasanko in central Calcutta. It was printed in 1812-13 at a Battala press. Says Saha, "The printed panjika opened up a new horizon for subaltern Bengal. It released what had till then been considered classified information of the panchangas from the clutches of the Brahmins and upper classes."
Within years of its launch, the printed almanac turned out to be a bestseller and there were several publishers vying for space with multiple versions. In 1857, when the British government employed Reverend James Long, a missionary and scholar, to survey the status of vernacular publishing in Bengali, he recorded 5,71,670 books printed from Calcutta. Among those, he estimated an approximate production of 2,50,000 copies of the almanac every year. He reported, "The Bengali Almanac is as necessary for the Bengali as his hookah or his paan [betel leaf], without it he could not determine the auspicious day for marrying… for first feeding an infant with rice… commencing the building of a house, for boring the ears… when a journey is to be begun, or calculating the duration or malignity of a fever."
Artist Aditya Basak lives in his centuries-old ancestral house in Ahiritola close to the legendary Battala. He has inherited his grandfather Raghunath Basak's collection of books which includes several hundred panjikas. He says, "The panjis were preserved in our Radha-Krishna Mandir. The almanac not only told my ancestors auspicious dates and planetary positions, but was also considered 'guruthakur' (guiding lights) in our daily lives." Saha has analysed the wood engraving, lithographs and other artwork used to illustrate the panjis and has this to say: "Most artists involved were self-trained and were primarily goldsmiths employed at Garanhata. They developed a unique style of wood engraving, a combination of Indian miniatures and British three-dimensional printmaking."
The artwork was mostly used to advertise a range of products, from ayurvedic medicines to fishing rods, from cosmetics to magic lanterns, from sleazy novels to cookbooks. Says Saha, "Before the arrival of newspapers and periodicals, panjikas were the most powerful mass media. Since it had a wide reach across households in Bengal, indigenous manufacturers of consumer products inserted their ads in them. For publishers panjikas were lucrative business."
Today, these advertisements can be seen as clues to understanding a distant past. For instance, the abundance of advertisements for aphrodisiacs such as Ratibilas Taila or Ratikanta Batika or Sarsa Parilla says something about the babus and zamindars of 19th-century Bengal. Ads for football clubs reflected the rising popularity of the game.
The almanac became such a potent vehicle for advertisements that Jayanta Bagchi's grandfather Kishorimohan — an industrialist and manufacturer of chemicals — started a printing press in 1896. He began to publish and market the two-volume P.M. Bagchi Panjika Directory in the name of his father, Peary Mohan. Kishorimohan used the panjikas to insert advertisements of his own products — printing ink, perfumeries, hair oils, rubber stamps and so on. To make his panjika stand out in the crowd, he turned it into an exhaustive all-India directory — a list of who's who, government offices, schools, colleges, a Calcutta street directory, a section on steamers and post offices, a chart on the expenses of fighting a case in the high court, and so on and so forth. Taking a cue from him, the competing panjikas also introduced value additions.
Gradually some of them started playing the role of social reformers, publishing treatises on child marriage, dowry, caste system. Some promoted the Swadeshi movement, inspired the youth to become entrepreneurs and encouraged people to support indigenous industries, forsaking all foreign products.
After Independence, the almanacs tried to downplay their astrological moorings. In 1952, the Government of India formed a Calendar Reforms Committee, with astrophysicist Meghnad Saha as its head, to prepare calendars and almanacs based on a scientific study of the stars and planets. This resulted in the publication of the Rashtriya Panchang in 10 languages. Panjikas in Bengal, especially the Bisuddha Siddhanta, started following the national panchang.
The scientific reforms encouraged panjika publishers to drive home the message about the pointlessness of astrological calculations in matrimonial alliances. The Bisuddha Siddhanta Panjika of the Bengali year 1414, or 2007, said in a primer: "…rather than following a horoscope, get the blood groups screened of potential bride and groom. This will prevent congenital illnesses like thalassaemia in offspring, ushering in true marital bliss."
The nature of value additions in the directory panjikas has changed in the past few decades. Now you will find listings of doctors, blood banks and eye banks. Panjikas have been keeping up with the public psyche. A peek into the 2019 (Bengali year 1427) almanac reveals pages of astrologers advertising gemstones and vashikaran mantras. One panjika has a page on tiltatwa or theory of moles. Mole on the cheek means you will never be wealthy. Mole on the belly, a sign of gluttony and so on. Another panjika has a list of all kinds of forebodings that might be suggested if a house lizard falls on this part of the body or that.
For now, heaps of panjikas lie stacked in publishing houses, waiting to be delivered. While some publishers have started despatching soft copies to dedicated clients, some are planning to launch online editions.
Post the passage of the coronavirus from our parts, publishers might consider updating the good old book with a whole new section, something about vanquishing the virus, perhaps with some help from the stars. That may well make the panjika viral.