Anwar Chitrakar, 41, is working away on a huge canvas. There is a lot happening on it; there is Rama, Lakshmana and Sita and several men and women with masks on their faces paying obeisance to them. There are two vigilant Hanumans on either side of the canvas, overlooking the huge gathering. "It is my response to the inauguration of the Ram Mandir amidst Covid-19. Is it the time for such huge public gatherings for such a cause," asks Chitrakar who is a Patua from West Midnapore's Nayagram village.
Patuas are a folk artist community of Bengal; they are concentrated chiefly in Bankura, Purulia, Birbhum and Midnapore districts. "Patuas are travelling minstrels who in ancient times wandered around singing mythologies and spreading social messages. For visual effect, they would paint on long strips of cloth and present these to the people of the village," Chitrakar tells The Telegraph. This art form is known as patachitra.
When he was a child, Chitrakar saw his father, his elder brother and sister do this work. He too learnt to paint from his father but that was that. For a decade he worked as a tailor.
In 1999, Chitrakar turned to patachitra. "There was so much happening around me, socially and culturally," he says. "Patuas are not only folk artists. They record history," he adds. Around the same time, he came across books on Kalighat patachitra. He would also visit the Indian Museum in central Calcutta frequently, wherein he picked up a better understanding of patachitra.
Chitrakar now began to get a better sense of the social commentary behind and underlying the art and craft of patachitra. He learnt that Patua artists of Kalighat were adept at making clay idols. In the 19th century, Patuas used to go to the houses of zamindars and other aristocrats, stay there for a couple of months and make idols to order. During their stay, they got a glimpse of the life and style of the other half who lived in those grand mansions, says Chitrakar. The insight lent colour to their art in more ways than one.
As is evident from the Rama canvas, Chitrakar also addresses contemporary issues using this ancient art form. He says, "I would hear people talk in and around tea shops, in public transport and I started writing poetry and also painting." In 2011, he came up with a series of 20 paintings that told the story of Operation Lalgarh.
In November 2008, the convoy of the then chief minister of Bengal, Buddhadeb Bhattacharya and central ministers Ram Vilas Paswan and Jitin Prasada was attacked by Maoists when they were returning from laying the foundation stone of a private steel plant at Salboni in West Midnapore district. The CPI(Maoist) eventually claimed responsibility. Subsequently, Salboni block, which comes under the Lalgarh area, bore the brunt of police atrocities and brutalities.
Says Chitrakar, "I titled the series of paintings Lalgarher Maobadi, Na Maobadider Lalgarh... The Maoists of Lalgarh, or Lalgarh of the Maoists."
It has taken Chitrakar 10 years to develop his own style of patachitra. He experimented with the medium. He says, "But I didn't move away from the use of natu-ral colours which is integral to patachitra." He still uses raw turmeric for his yellows; blue from the aparajita flower; red from the seeds of the lotkon fal. "For white, I use the white clay that is common in these parts," he adds.
He talks about one of his early paintings, which he calls Santhal Janmo Kahini or The story of the genesis of Santhals. He explains intently that Midnapore colours are very bright and the Santhali colour, which is another type of colour used by the Patuas, is derived from stone and has a matt finish.
Some of the other issues Chitrakar has engaged with in his art are HIV/AIDS, tsunami, Digital India, Swachh Bharat Mission, migration labourers. "When demonetisation happened and new notes were printed, rumouredly with chips in them, I drew a picture of a village boy who is seen clipping a currency note to his computer and trying to load songs into its chip," he says.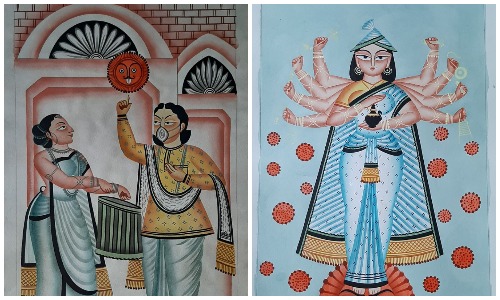 (L-R) Phase unlock begins; in the meantime earnings have come to nought. This man uses the virus as an excuse to avoid going to the bajaar; Chitrakar imagines Durga as a healthcare worker. Mahishasura has been nudged out by the virus Picture Courtesy: Anwar Chitrakar
His creations from lockdown time show how people were punished for not wearing masks, how truck drivers bribed police officers with bottles of sanitiser instead of cash, how a beleaguered people prayed to an indifferent god for a coronavirus vaccine and so on.
Patachitra is a 2,500-year-old art form. Chitrakar says "We, Patuas, are a secular community. We are artists, we are casteless. There are Patuas who are Santhals, who are Hindus, who are Muslims. But our foremost identity is that we are artists and our job is to spread messages of social responsibility, of peace and harmony."