Our tongue from a newspaper spoke
On the bicentenary of Urdu journalism, an incantation of its plural history, by The Telegraph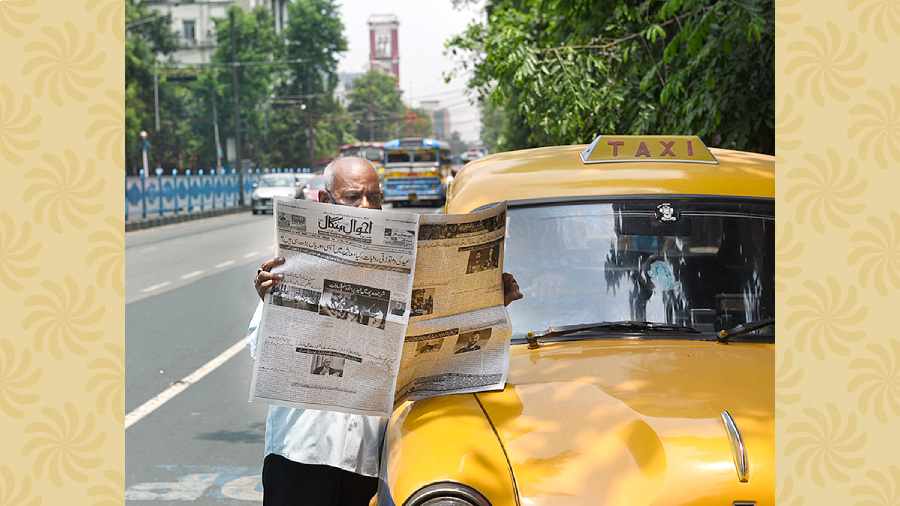 FIRST PRESS: Urdu journalism took off from Calcutta in 1822.
Photograph by Pradip Sanyal
---
Published 08.05.22, 03:07 AM
|
---
No. 2 Colootola Street is in the heart of a bustling marketplace in central Calcutta, not very far from lower Chitpore. A shop that sells colourful plastic sheets is a far cry from a newspaper production house. But this happened to be the spot where the first Urdu newspaper of the world Jam-e-Jahan Numa was published on March 27, 1822. The publisher was a Bengali, Harihar Dutta, and the editor was Munshi Sadasukhlal, a Punjabi. The printer was William Hopkins, a British sahib. Dutta was the son of Tarachand, journalist and co-founder of Sambad Kaumudi, a Bengali weekly newspaper published by Rammohun Roy in 1819, to actively campaign for the abolition of sati.
Today, not far from No. 2 Colootola Street is Tara Chand Dutta Street, a narrow lane off Rabindra Sarani (the erstwhile Lower Chitpore Street). Harihar's name, however, is all but forgotten. All we know about him is that he was an employee of the East India Company and had a keen interest in journalism. It was perhaps to keep his bosses happy that he used the Company's insignia in the ear panels of his Urdu paper.
Jam-e-jahan numa  means world news in a chalice. The weekly paper priced at Rs 2 a month was published every Wednesday. And while applying for licence, Dutta had declared "Hindostani" as the chosen language of the paper, and not Urdu.
Hindustani, the language of Hindustan, has been the lingua franca of a large part of India, especially northern India, for centuries. It is derived from Khariboli, the dialect spoken in and around Delhi for over a thousand years. It was Hindustani that evolved into present-day standard Hindi and Urdu. Basically, sibling languages with a common vocabulary, phonology, syntax and grammar. Only, Urdu opted for a Perso-Arabic script and drew literary, political and technical vocabulary from Persian. Hindi derived these aspects from Sanskrit, including its Devanagari script. Says historian Amit Dey of Calcutta University, "Urdu emerged as the common language of soldiers of heterogeneous origin (Mughals, Rajputs, Pathans, Turks, Iranians, etc.) in the Mughal camp; it literally means 'the language of the camp'. Later, it became a language of the masses."
To get back to  Jam-e-Jahan Numa, Dutta opted for Hindustani as the chosen language of his publication, and his chosen script was Perso-Arabic.
But the weekly ran into trouble. There was hardly any readership for Hindustani or Urdu, primarily a language of unlettered Indians. Persian was the language of literate society and the intelligentsia.
Dutta now changed the language of the main paper into Persian. He also dropped the Company insignia and the paper went on to publish critiques of the British. The then chief secretary of the East India Company, William Butterworth Bayley, noted in an official review that Jam-e-Jahan Numa could turn into "an engine of serious mischief".
Five years later, Dutta shut shop but he had already pioneered a tradition of nationalistic journalism in Urdu. In the coming years, other Urdu newspapers flourished — Agra Akhbar (1831), Dehli Urdu Akhbar (1836) and Jamiul Akhbar (1841).
The editor of Dehli Urdu Akhbar, Maulvi Muhammad Baqir, used his paper to build public opinion against the British and came out in support of Bahadur Shah Zafar in his columns during the revolt of 1857. The British named him a rebel, had him arrested and was shot dead without trial. Legend has it that he was tied to the mouth of a cannon and blown to pieces, as depicted in the painting Suppression of Indian Revolt by the English by Russian artist Vasily Vereshchagin. Says Shakeel Akhter, a radio producer at Delhi's Jamia Millia Islamia University, "Moulvi Baqir was the first journalist martyr of India's freedom movement."   
According to Mrinal Chatterjee, who is director of the Indian Institute of Mass Communication in Dhenkanal, Odisha, Urdu newspapers played a key role in India's freedom movement. There was an extensive growth of Urdu journalism between the 1850s and 1947. He talks about Lahore's Pratap, Bijnor's Madina and Calcutta's Al-Hilal — edited by Maulana Abul Kalam Azad. Chatterjee says, "Today many people think Urdu is the language of Muslims, but in those days there was no such perception. Many of the journalists, editors and publishers involved in Urdu journalism were Hindus and Sikhs." Arya Samaj, a Hindu reform movement, ran the Dainik Milap, an Urdu daily in Lahore and Jawaharlal Nehru founded Qaumi Awaaz in 1945. The Daily Milap is still published from New Delhi, and will celebrate its centenary in 2023.
In 1947, there were 415 Urdu newspapers in India (including dailies and periodicals) but after Partition, 70 shifted their base to Pakistan. Today, there are over 6,000 Urdu newspapers in India; among these there are many dailies with multiple editions.  
The West Bengal Urdu Academy is planning to celebrate 200 years of Urdu journalism in India, commemorating the publication of Jam-e-Jahan Numa. There will be a series of seminars and meetings in Calcutta, Asansol and Islampur (Uttar Dinajpur) beginning May 22. Journalists, academics, scholars, students and other members of civil society from across the country will be invited. Nadimul Haque, who is MP and also vice-chairman of the West Bengal Urdu Academy, says, "We want to highlight that Calcutta is the cradle of journalism in the Indian subcontinent."