On a heritage hike
The Blue Trail hugs the Italian Riviera coastline and touches the five villages of Cinque Terre that are all about terraced vineyards and colourful homes, says Arundhati Basu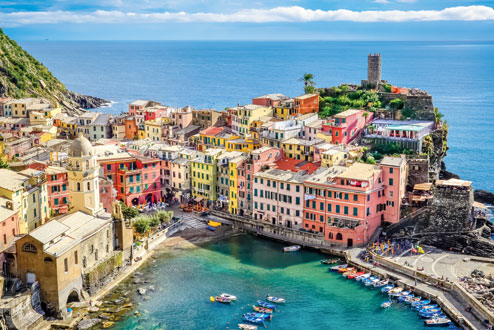 ---
Published 26.06.16, 12:00 AM
|
---
A few summers ago, I met up with a young cousin of my husband who had backpacked through villages in the Liguria region of Italy and had the most fascinating tales to recount. I had already seen tantalising shots of the rugged landscape of the Italian Riviera that's better known as the Cinque Terre (pronounced as Chink-weh Tay-rreh). Cinque is 'five' and terre means 'lands' in Italian, referring to the five villages of Monterosso al Mare, Vernazza, Corniglia, Manarola and Riomaggiore. They are all part of the province of La Spezia.
At the start of spring this year, I sat on an intercity train from Milan for Monterosso al Mare, the oldest of the villages that was founded by hill dwellers trying to escape invading Visigoths in the 7th century.
It was a three-hour journey in the company of two Italian jocks and a trio of women. I nodded off in some time but my eyes shot open when the blue waters of the Ligurian Sea filled up the window. The blue was relieved occasionally by ochre-hued villas and multi-tiered red roofs.
At Monterosso, I was in the westernmost (and largest village) of the Cinque Terre. My plan was to set out on the Sentiero Azzurro (Blue Trail) and hike my way from one village to another, through Parco Nazionale delle Cinque Terre (National Park of the Cinque Terre), a Unesco World Heritage Site within which the villages lie.
I stood on a promenade facing Monterosso's sandy beach, nibbled into a slice of warm spinach quiche and questioned the reality of it all — the waters sparkling away like a million tiny diamonds in the morning sun.
Old Monterosso turned out to be home to a medieval castle and a Capuchin monastery. A statue of Neptune, or the Giant, as he is known by locals, stood sentinel over the coastline. A clutch of cheery and very charming looking houses loomed up on one side. Soon I was on the 11km-long Blue Trail that hugs craggy cliffs and skirts the coast line.
Gentle steps cut a path through terraced vineyards and orchards of lemon trees. Then came about 600 or 700 steep steps and I thought my lungs would give up under the pressure. I had to stop every five minutes and a devilish inner voice cajoled me to just abandon my crazy scheme and take the train.
Elderly couples on the way downhill chirped out sunny "Buongiornos". I was walking a beautiful landscape of terraced cliffs, orchard dotted woods, tiny waterfalls, stone bridges and gushing brooks. I rather felt like George (you know sulky Georgina of our childhood Famous Five tales). Except that I was without my Timmy. Farmers worked on their crops as I passed by and a lone old man stood outside an equally lonely cottage with a pile of oranges and sold fresh juice.
After an hour and fifteen minutes I came upon one of the sights that's often splashed all over postcards from the Cinque Terre. Lo and behold, the village of Vernazza, with its stack of tall and narrow pastel-hued houses, nestled besides the astonishingly jewel-like turquoise waters below.
Of the five fishing villages, my heart was captured by Vernazza. Charm lurks around every corner — the 12th century chiesa (church), the fishermen's cottages that hug each other and wind up and down narrow alleys, the harbour that is brightly coloured with fishermen's boats and the 16th century tower that stands guard over the village (it once used to be a lookout for pirates).
Lunch, for me, was a humongous cone of gelato. I sat dangling my legs on the harbour and watched life go by just as it would have in the old times — with the exception of tourists trooping in. Vernazza's quintessential fabric remains. Fishermen still go about their business, clothes still dry on lines, piles of fishing nets still dry in corners while centuries-old traditions of olive and lemon farming and winemaking continue undeterred by the modern world.
After some daydreaming, I got on to the next leg of the hike, to the village of Corniglia. The initial part again was made up of a lot of steps, of panting profusely, my hat flying off in the wind, and the like.
Corniglia crept up, a gaggle of colourful houses sticking out from atop a green promontory which sat upon a cerulean sea. The houses rose in tiers, surrounded by vineyards and terraces. From a terrace in Corniglia, I could see the villages of Monterosso al Mare and Vernazza on one side and Manarola and Riomaggiore on the other.
Craving citrus refreshment, I managed to order a glass of lemon juice amidst the loud Italian chatter of several locals in a café. But just one sip had me almost hit the ceiling. The woman at the bar hadn't added any sugar and she had also generously squeezed in the juice of an entire lemon. "These leeemons arre so sourr," she added with a grimace. After a few more sips, I gave up.
Post rambling around Corniglia and taking a quick look at the 14th century Church of St Peter that was commissioned by the Fieschi family, I decided to take the train to Manarola. It wasn't a wise decision. At Corniglia, the train station was down a monstrous set of 380 odd steps called the Lardarina.
Thereafter my plans went haywire. The next train to Manarola was due only after an hour. I would have been better off just hiking it. But the thought of climbing the Lardarina to get back on the Blue Trail made my already trembling legs quiver even more. Thus it was that I skipped Manarola and got on the train to the southernmost village of Riomaggiore.
The train wound through tunnels and took a stunning coastal route into Riomaggiore. It is the first of the Cinque Terre villages if you are travelling north from La Spezia.
Dating back to the 13th century, Riomaggiore was an assortment of pastel coloured houses piled on top of one another, standing above a deep ravine. Below lay a small wharf and a rocky beach. The houses were mostly three or four storeys high, all with two entrances. In the old days, their occupants wanted an extra exit in case they were attacked by the Saracens.
Perched upon the Mediterranean Gulf of Genoa, I found Riomaggiore the quietest of the villages and watched the sunset in its serene beauty.
Now, if you are not particularly enthusiastic about hiking, the train that chugs along a 19th-century railway line is a way out. Yet the elation of discovering each village is not complete unless you have felt the heart thud audibly, and then (because there is always a shining beacon at the end of it all), post all that thudding and huffing and puffing, is the promise of a big bad cone of gelato. And that is apart from multimillion-dollar views.
Only then would you know, my friend, that you have earned it.
READY RECKONER
♦ How to get there: Qatar Airways, Emirates and Etihad Airways fly from Calcutta to Milan with one stop, while airlines like Air India and Jet Airways fly with two stops. Monterosso al Mare in Cinqua Terre is a three-hour train ride away.
♦ Where to stay: A vineyard in La Spezia. At the 18th century property of Agriturismo Villanova (agriturismovillanova.it) the owner grows apricots and vegetables and serves up his own wine and olive oil.
♦ What to do: Buy a pass for the hiking trail and just hike. You will thank me.