Off-court ace
Read more below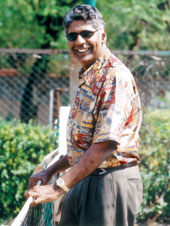 ---
Published 19.03.05, 12:00 AM
|
---
His first film was an action-packed James Bond mega-production and his first screen test was with a snake. It was a fantasy come true for tennis ace Vijay Amritraj ? except for the slithering reptile. ?But I?ve never worked with a snake except for McEnroe,? he had protested straight-facedly when director John Glen told him about the scene.
?Octopussy was my first encounter with Hollywood. I could never have dreamed of cavorting about Udaipur with Roger Moore in a palace that was brimming with 32 of the best-looking girls you can ever come across,? reminisces the tennis legend. For the young star-struck tennis player who had watched his first movies as a 10-year-old at the Gymkhana Club in Chennai, it was like dreaming an impossible dream.
Now he sits in the sidelines and urges his son Prakash Amritraj on to greater heights. ?Today?s game is different and Prakash has to adapt to the modern game. His game is a mix of the old school of serve-and-volley, but he is strong from the baseline too,? says the proud father. From the court, Prakash keeps looking to his father for a ?nod or any sign of encouragement?. ?I think I play better when my dad?s watching,? says Prakash candidly.
What happens to sports legends after they retire from the court, pitch or the field as the case may be? In Amritraj?s case, he moved gracefully off court and built dual careers that revolve around the movie industry and the commentary box. Also, he bought a mansion in California and tried to become a Hollywood czar ? an unusual move for an Indian tennis star.
Today, he still lives in California with wife Shyamala and sons Prakash and Vikram. But he criss-crosses the globe and returns to India every month. ?It feels like I never ever left the country because of my frequent visits. I visit Chennai, Bangalore, Mumbai and Delhi, the first because it?s my hometown and the others for business purposes.?
How could a young lad from Chennai dream of becoming a Hollywood mogul? For a start, his years at the top echelons of tennis had left him on first name terms with scores of movie stars. And he was also crazy about films. Says Amritraj, ?Movies, movies and movies. They were an obsession with me and Ashok when we were young.?
So, in the early 1980s he started his own production company, Amritraj Productions. He was soon joined by Ashok and they were in show business. Moving to the heart of the action, they rented an office on the Avenue of the Stars in Century City ? in a skyscraper with Beverly Hills on one side and the 20th Century Fox studios on the other.
?We started modestly by distributing the highlights of the WCT Dallas finals in 1981. And Ivan Lendl?s girl friend at that time, a beautiful model called Taryn, wore one of our T-shirts with ?Amritraj Productions? displayed across the front,? says Amritraj. He and Ashok went on to produce B-grade films like 9 Deaths of the Ninjas (1985) and School Spirit (1985) together.
Five years later, the two brothers parted ways. ?We have our separate companies, but that?s only when it comes to business,? adds Amritraj quickly.
UN Secretary General Kofi Annan presents a pin to Vijay Amritraj on his appointment as Messenger of Peace
Now he owns a state-of-the-art audio-visual studio in Chennai, which does post-production work for everything from ad films to Tamil serials and promos for South-Indian movies. The studio is about to start producing animated serials for children. He now has two companies, First Serve International and First Serve Entertainment, which look after the post-production business in Los Angeles and Chennai. He?s also in talks about making a big budget movie.
In addition to all this, he?s travelling the globe as a commentator and as a public speaker. He?s also one of a handful of sports personalities chosen to be a United Nations messenger for peace. ?All this keeps me very busy. I have started travelling more now than I used to when I was playing tennis,? he says.
Back in the ?80s, Amritraj made the occasional screen appearance after playing the role of an Indian secret agent who manoeuvres James Bond in an autorickshaw through the streets of Udaipur in Octupussy. The scene he remembers most is where he fends off villains with a tennis racquet. Amritraj?s romance with the silver screen continued with roles in films like Star Trek IV: The Voyage Home (1986) and 9 Deaths of the Ninjas.
He even made his way onto the small screen and got a role as an Indian struggling with the English language in the American series What a Country in the mid-?80s. The serial was the American version on the hit British sitcom Mind your language. At around the same time, he appeared in The Last Precinct (1986) as a cop who is a part of a group of police academy rejects, given one final shot at redemption.
But even when he was trying to make it big as a movie producer he never abandoned tennis. He has been a TV commentator for almost 15 years and is always on the sidelines for the top tournaments. ?I never planned to give up tennis completely and I still haven?t, which proves two things. That I love the game and am obstinate.?
Amritraj has always been thankful that he was pushed onto the tennis court as a youngster. The game brought him fame and fortune, but it also cured the ill-health that had plagued him as a child. ?For six to seven months a year I used to be in hospital. I had a breathing problem where I had a 30 per cent breathing capacity,? says Amritraj. ?The doctor finally prescribed an outdoor sport.?
Most onlookers wrote off Vijay in the beginning because of his poor health. ?I would play for one minute and sit for five minutes,? he says. Eventually I ran 10 miles every morning. By 14, I was playing abroad, by 18, I was India?s champion and by 19, I was in the top 10. Things were moving fast and suddenly it became a profession,? he says.
Initially, he did try to dodge the arduous physical effort. He was supposed to go jogging at the ungodly hour of 5am every day and occasionally tried to give it a miss. Till one day his mother found out the trick he was pulling on her. Says Vijay, ?So the neighbours used to see two sweaty boys ? and eventually a third ? pounding along the streets at dawn, pursued by Mrs Amritraj behind the wheel of her car, crawling along doggedly in second gear.?
He was so sick at times that his mother Maggie would go to school and take notes for him. So there were no vacations for his parents, Robert and Maggie. They invested Rs 100 a month each for Anand and Vijay to play tennis ? a fairly large sum in those days.
Still it was a long way to international tennis. Chennai, at that time was home to star player Ramanathan Krishnan who had made the Davis Cup and reached the semi-finals at Wimbledon twice. ?The idea that a Catholic family with no previous record of achievement in international sports could produce one son, let alone three, who could even remotely challenge the great Ramanathan, would have seemed absurd to any less determined couple than my parents,? says Amritraj.
It was a different era, but Vijay insists it helped to make him who he is today. He says, ?It was a unique time and I am glad I played during that period. It was my greatest education. I met people from different walks of life, different countries, cultures, backgrounds, religions and languages. Even now I tell Prakash that this is the best education for him too.?
He tried to do his bit for Indian tennis in other ways. A few years ago, he established the Britannia Tennis Academy in Chennai to provide a platform for aspiring young players. Leander Paes trained there for a time. He is also on the board of the Air Deccan and the Leela Hotels. In addition, he has even churned out an autobiography complete with anecdotes about the top personalities of the tennis court and even celebrities such as Princess Diana and Prince Charles.
The tennis ace has always considered himself big on repartee. He relates an encounter that took place in Bombay when his mother and he were trying to persuade R K Khanna, then secretary in the sports ministry, to be helpful about something that affected Amritraj?s career. Finally, an exasperated Vijay told Khanna, ?You can kick an old man because you know what he is, but never kick a young man because you never know what he?ll become.?
Photographs by Rupinder Sharma
The son also rises
Prakash Amritraj made an early debut in international tennis. One day, as a child, he dashed onto court when his father Vijay was getting the worst of a match with Ivan Lendl. ?In the middle of the match, I ran on to the court because I was upset. Even Lendl started laughing,? he recalls.
Today, it?s 21-year-old Prakash who is striding onto the court with his racquet in hand and his father who is sitting on the sidelines. Prakash is currently the highest-ranked Indian singles player on the ATP tour. He is also the first Indian tennis player after Leander to qualify for an ATP tour event.
But Prakash is always on the watch for encouragement and inspiration from his father in the audience. He insists that he?s an Indian even though he lived in America. ?I haven?t ever thought of myself as anything but an Indian,? says Prakash about the controversy about his playing for India in the Davis Cup. Vijay is also an Indian citizen though he lives abroad.
A 2001 graduate of Harvard-Westlake High in North Hollywood, California, Prakash decided to play tennis because he grew up around the game. Tennis ace Leander Paes calls him ?explosive? on court and his own father is understandably proud of him.
Prakash lists his father as his biggest sports hero because of the countless times he defeated the odds ?with dignity and class? and calls him his best friend off court. And even Vijay admits that his son ?hangs on to every word that I say?.
Do the father and son play a similar game? Nandan Bal, India?s Davis Cup coach says how he and Vijay once noticed that Prakash swung his arms before a serve. ?Vijay was wondering where he had got the habit from. I remarked that it must be genetic, for it was something that Vijay also did.?
Prakash has played two seasons of varsity tennis and has led his prep team to the CIF Los Angeles City Section championship in 1998 and 1999. In the 18-and-unders, he has won international doubles titles in Manila, Montreal, Singapore and Jakarta. He has also won the 2000 Easter Bowl doubles title and has competed at the Australian Open, Wimbledon and the US Open.
Advantage Amritraj
Achievements on court
• Led India to the Davis Cup finals in 1974 and 1987
• Reached the Wimbledon quarterfinals in 1973 and 1981, the US Open in 1973 and1974
• Five-time president of the ATP Tour Players Council
• Only Asian to receive the Baron Pierre de Coubertin Award
• Padma Shree award from the Indian government
Words of praise
• I was very young when Vijay Amritraj was at his peak. In 1974, when he came to Pune to play with Anand Amritraj against Russia for the Davis Cup, I was a ball boy for the tie. He used to keep a small hand-towel tucked and that became such a rage with the young boys at the club. After he left, every kid there between 10-15 years had these small towels with them. On the whole, Vijay is a suave man. A thorough entleman who says and does the right things at the right time.
Nandan Bal, former national champion and Davis Cup coach
lHe?s a great brand ambassador for Chennai and Tamil Nadu. In January, we organised the largest tennis event in South-East Asia and he helped to ensure that it stayed in Tamil Nadu. He?s always in touch by cellphone or by e-mail and we keep him in the loop on everything we do.
M.P. Shankar, Honorary Secretary, Tamil Nadu Tennis Association