Next time you walk into Madame Tussauds in Delhi, prepare to meet a burger!
Walking through the different halls of Madame Tussauds Wax Museum in Delhi is a series of "wow" moments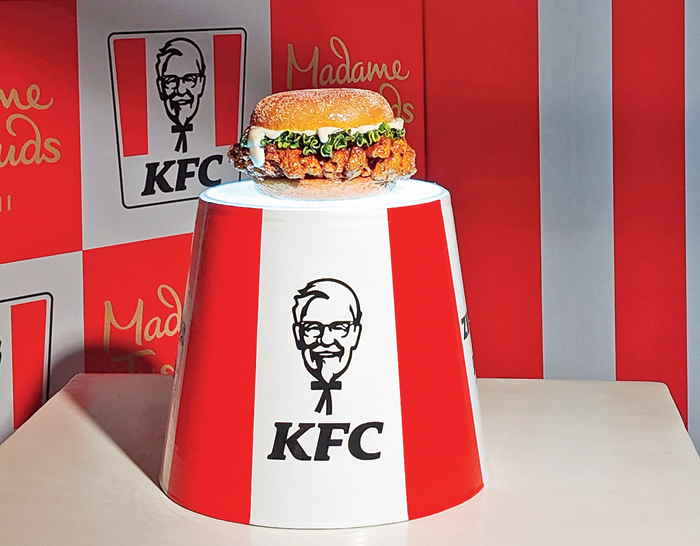 ---
---
Walking through the different halls of Madame Tussauds Wax Museum in Delhi is a series of "wow" moments as you encounter Virat Kohli, Shah Rukh Khan, Anil Kapoor and Katrina Kaif, to name a few. Amidst them, all thanks to KFC, one can now find the well-loved Zinger burger for the next couple of months! KFC firmly believes that their Zinger burger deserves to have its wax model because it is a celebrity like no other. The Telegraph was present at the unveiling of the wax model, in New Delhi on August 21. We spoke to Moksh Chopra, chief marketing officer, KFC India, to understand what went behind this unique idea and what we can expect from KFC in the near future. Excerpts...
The germination of the idea...
Madame Tussauds is an iconic brand just as KFC is so we thought it was a great collaboration and partnership to do. We looked at our product portfolio and realised that there was one product that had all the attributes of a celebrity and that is the Zinger burger. It's been around for almost two decades and it has actual fans who have even tattooed the burger on themselves. Last year, 10 million people ate the Zinger burger and so we say that it has 10 million fans! If you open Instagram, you will see people even take selfies with the burger and one of the star attractions of Madame Tussaud's is Shah Rukh Khan who even tweeted about how much he loves the Zinger burger. It has even made headlines in 2017 by being the first burger to go into space.
But what I think is its best attribute is that the Zinger burger is unique. It's the only burger with a 100 per cent chicken fillet that's freshly prepared with our secret ingredient and served to customers as opposed to being made in a factory. People have tried to imitate it and there are many such in the market but nobody has really got it right.
So thoughts like these led us to the idea of placing a Zinger at Madame Tussaud's. Many burger lovers in India have not yet tried the Zinger, surprisingly. So with events like these, we hope we can encourage them to try it.
The target audience...
People who are tourists in Delhi and Delhi residents are the ones who will physically be able to enjoy viewing this wax model since Madame Tussaud's is here only in Delhi. But we think that the idea will permeate to various other levels. So we think the idea will appeal to lots of people beyond the above demographic, hailing from other cities, as a news-worthy perspective.
Scope of digital media...
Digital has certainly been a big change. Even from our marketing perspective, though TV is our primary medium, digital is a close second. The screen time now is much higher. We use digital in three fronts — to reach people, to engage, which traditional media can't do, and of course, e-commerce. Now you can order KFC from the comfort of your home instead of coming all the way to our shops at kfc.co.in. Even though we still find a lot of people who love to come down to our restaurants, and we know they will keep coming, but it's great to have the options. So the use of digital has most certainly been the largest change in the industry, I would say.
Host consumers at the restaurant vs deliver online orders...
We are open to any channel that ensures that people get their fill. The fact is people love KFC for its unique taste, both food and beverages. Depending on the need and occasion, we are pretty much available everywhere. We are not partial to any channel thus and just want you to have a KFC at an arm's length, whenever you crave it.
The Calcutta connect...
Calcutta is one of our strongest markets in the country. We love the consumers in Calcutta and they also love kfc. We also have fantastic restaurant teams in Calcutta. It's one of the biggest growth markets with one of the highest brand love in the world.
Future plans...
As brand ethos, we always believe in being original. You will see a lot of food-related news coming out this year. We have a lot of exciting things planned around chicken, burger, beverages and desserts. We also have a lot of activations being planned, of which this was one. We try to do things that keep the brand young and connect us to millennials. There are also a lot of new restaurants opening. We are in 107 cities now with over 400 restaurants. We still keep getting comments on our social media accounts asking when a store is opening in their city. So we are moving ahead with the idea that KFC be made available to every single area where a consumer craves our burger.
Worried about competition?
There is enough place in the market right now for everyone. Every brand has its unique proposition and consumers love it for that. The category is growing every day. At KFC we don't obsess over competition and instead focus on our strength.