NEW MENU, VEGAN LIVING
THERE'S A LOT NEW TO CHEW AT WHAT'S UP!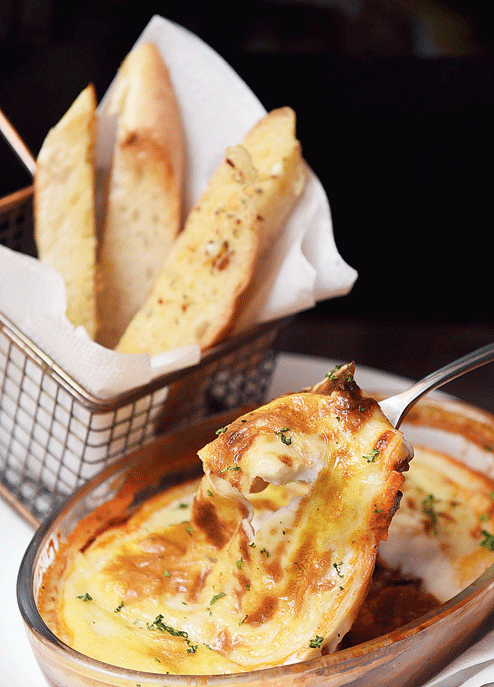 ---
Published 04.11.17, 12:00 AM
|
---
Where do you get Khachapuri, a popular Georgian dish, in Calcutta? On the sixth floor of 122A Southern Avenue. On turning two recently, What's Up!, the cafe with a view of the south Calcutta skyline, got itself a new menu, which includes the egg-ilicious Georgian Khachapuri.

"We keep introducing new dishes to our menu at regular intervals to make sure our customers and loyalists don't get bored. At the same time, we try and retain the most popular ones. This time we have changed almost 70 per cent of the menu," said Anamika Sengupta, partner, What's Up!.

The menu not only has several additions but also an entire new section dedicated to eggs — In a Class of Its Own — that offers dishes like Scotch Eggs, Anda Ghotala la Francaise (scrambled eggs with desi spices stuffed in a croissant) and Spanish Omelette.

For loyalists, all-time hits like Fish N Chips, Grilled Fish, Nachos with Roasted Chicken and Club Sandwich have been retained.

"Tandoori dishes and pizzas are our best-sellers, followed by Chinese, Italian and Continental dishes. We have tried to keep a good balance of finger food and filling meals in the new menu," added Anamika.
Sibendu Das
MAMS' LEARN THE VEGAN WAY OF LIVING
Motivational speaker, author and educator Will Tuttle delivered a 90-minute talk to a rapt audience comprising members of Millennium Mams' at the International Management Institute in Alipore on November 1. The topic: The urgent need to shift to veganism.

Brought up in Massachusetts and having grown up on a diet of strictly non-vegetarian food, Tuttle stumbled upon "the vegan way of life" in 1980 after visiting a community of 900 people in Tennessee who had denounced the killing of animals. Since then, Tuttle and his wife Madeleine have travelled the world, talking and inspiring people with their experiences, art and music to live a vegan lifestyle.

"India has always known the significance of veganism since the days of yore. However, some of that got lost due to many believing that consuming meat and poultry is essential for proteins. But that is wrong information as the rich diversity of the country ensures many other sources of protein for Indians," said Will.

Bishnu Dhanuka, founder and director of Millennium Mams', acknowledged the need to make this shift, especially at a time when climate change cannot be ignored any longer and people are consumed by their busy lifestyles.
"Veganism does not only help us co-exist with animals but also ensures a healthier lifestyle for us and, in turn, the world. Therefore it's only apt that Will and Madeleine show us a way of doing so," he said.
Anannya Sarkar
BITERIGHT
What: Special Anniversary Weekend Brunch
Where: JW Kitchen, JW Marriott Kolkata
On till: November 5,
12.30pm to 3pm
On the menu: JW Marriott Kolkata completed a year on November 3 and to celebrate the occasion, the star hotel's kitchen has laid out an elaborate buffet brunch offering a mix of Indian, Asian and Continental cuisines with four live counters — Salads, Frito Misto, Mezze and Chaat — each serving customised dishes. The sip list has five types of sangria, apart from beer and beer cocktails. Don't forget the dessert counter, a favourite with regular guests.

What's more, there will be a specially designed platter for kids. Expect dishes like Potato Smileys and Jelly Sandwich that even adults may find irresistible.

Pocket pinch: November 3 (Rs 1,250 per head);
November 4 (Rs 1,500 per head)
and November 5 (Rs 1,850 per head).
The prices are all inclusive.
For reservations, call 033-66330000.