Narrative quality of Ed Sheeran's music remains steadfast
'I feel like it's good to be in contact with people, and especially nowadays when you can't see people and you're in lockdown'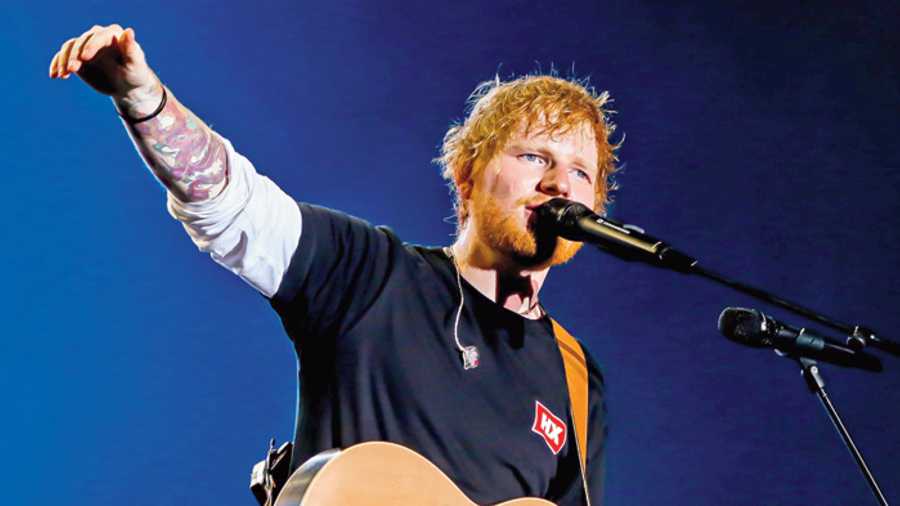 Ed Sheeran's debut album — + (plus) — is 10 years old and he is now looking forward to his next effort, titled = (equals)
Sourced by the correspondent
---
Published 26.08.21, 03:24 AM
|
---
Ten years ago, a mangy redhead burst on to the music scene with an acoustic guitar and the occasional loop pedal. He didn't dance. He didn't have stage antics. But he attracted the constant gigging and fawning of teenagers to become a superstar, a lyricist praised by the likes of Elton John. Ed Sheeran 2011 debut album — + (pronounced plus) — released. Kiss Me he sang and the crowd sang along. The man appeared like an assertive busker at times but his lyrics won the day.
"I actually haven't listened to it + since it came out, but I'm doing a 10th anniversary show at some point this year, so I'm going to go back and relearn all of it. There'll be songs that I'll have to literally relearn the lyrics to, because I wouldn't have played them since the tour in 2011," 30-year-old Ed Sheeran recently told Apple Music's Rebecca Judd.
While listening to his June 2021 release, Bad Habits, from his forthcoming release = (equals), it will be hard to correlate the sound with the 2011 album but his sleek song crafting remains. The craft was inspired by a Damien Rice show. "I actually can't remember the exact date, but it was definitely like lower school. What I liked about the gig is it was under eighteens only. And for adults to get in, they had to be accompanied by a child. And it was like 4pm… no alcohol, no nothing. And afterwards my dad went for pint at the bar and Damien Rice was there. So I met him and that was the day I started songwriting," the singer tells Apple Music.
Life obviously changed soon after. Success came in such abundance that he and his now wife Cherry Seaborn could manage to have dinner with Beyonce and Jay Z after their first date. He ended up giving Queen B a Jagerbomb. And he has been woken up at 7am by the legendary singer-songwriter Van Morrison, who landed up in the lobby of the hotel he was putting up at during a gig at Odyssey Arena. They ended up having a breakfast of salmon and cream cheese bagels.
Yet, the man manages to stay away from mobile phones. "I feel like it's good to be in contact with people, and especially nowadays when you can't see people and you're in lockdown and blah, blah, blah, blah. Stuff like FaceTime and Zoom are really important, but it shouldn't detract from everyday interaction. If we were having a conversation right now and I just kind of was still talking to you, but texting...I just think it's rude, innit? You're not in the moment," the singer has said.
A rule he lives by is not the meet his heroes "unless they want to meet you". After working with Rick Rubin, they were in New York. He was offered an opportunity to meet the rapper but he refused. "No, I want to get to a point where Eminem wants to meet me." Down the line, he had an opportunity to work with the rapper; they have done three tunes together and now calls Eminem his friend.
Sheeran has a reached a point where he feels all the music that he has released belongs to the special moments people make with those songs. So, in a way, Thinking Out Loud is no longer his song. "I'd say it's this couple that had their first kiss to it or this couple that enjoyed their first dance to it or this couple. I've had people that have had it on in the birthing room where... actually when we had our child, the song that came on there, it just came on randomly."
Technically, the songs from the upcoming = still belong to him, except the recently-released track Bad Habits, which is synth-heavy but the narrative quality that defines Ed Sheeran is very much there. Check it out.