The Park, Calcutta, recently saw the launch of the city's newest food delivery app — Nanighar. Founded by Debjani Mukherjee, alumni of IIM-Calcutta and MICA and a chef herself, Nanighar is an initiative that aims towards women's empowerment, where homemakers can cook from the comfort of their home and at their convenient time. However, anyone with an inclination towards cooking is free to join the platform.
The food tech start-up app is co-partnered by power couple Subhashree Ganguly and Raj Chakraborty, and it has actress Rachana Banerjee as its ambassador. While Rachana unveiled the logo, Subhashree curated it. Apart from providing the basic service of delivering meals, Nanighar comes with a 'Call a chef' feature where one can call in a chef at their home to prepare food for about 40 people at one go. This will also include a team of assistants who will help clean the kitchen once the cooking is over.
Nanikhazana, the app's very own cloud kitchen, has been specially designed to facilitate cooking for those who are unable to cook at their homes. The entire process of cooking will be headed by chef Debasish Pal, who has worked for about two decades in the culinary industry and works as a consultant chef for various restaurants. He is expected to bring his professional experience and technicalities in terms of presentation, portion, quality control and costing. Currently, Nanikhazana is present at Kasba, and the start-up plans to open another one at Nagerbazar soon.
Brand ambassador Rachana Banerjee, founder Debjani Mukherjee and co-partner Raj Chakraborty display the mobile app. Nanighar is currently available on Android phones and has a website, and plans to launch on the iOS platform soon.

"I am really privileged to be associated with such an initiative. I am always for women's empowerment and I believe amra naari, amra paari (we are women and we can). We have become very health conscious nowadays. We want to have food that is less oily and less spicy, but at the same time want it to taste like home-made food. I personally maintain a strict routine and do not eat anything after 8pm. An app like this comes really handy for people who want to have home-made food or want to serve such dishes to their guests without the hassle of cooking," said Rachana.

Rachana and Raj cut a pretty picture twinning in white. "I love classic Bengali dishes like shukto, shaak, aloo bhaja, aloo posto and post-er bora. Though I try to avoid rice, I am an avid fish lover. Dishes cooked in restaurants cannot be a substitute for home-cooked food, and that is what Nanighar aims at catering to. The dishes made by our mom chefs are entirely home-cooked — something which we miss so often. I feel the biggest advantage of this food delivery app is that one will find a variety of dishes and cuisines, be it something like the very humble danta chochchori or something fancy like pasta. Quality of food and hygiene are also ensured, at very reasonable prices," said Raj.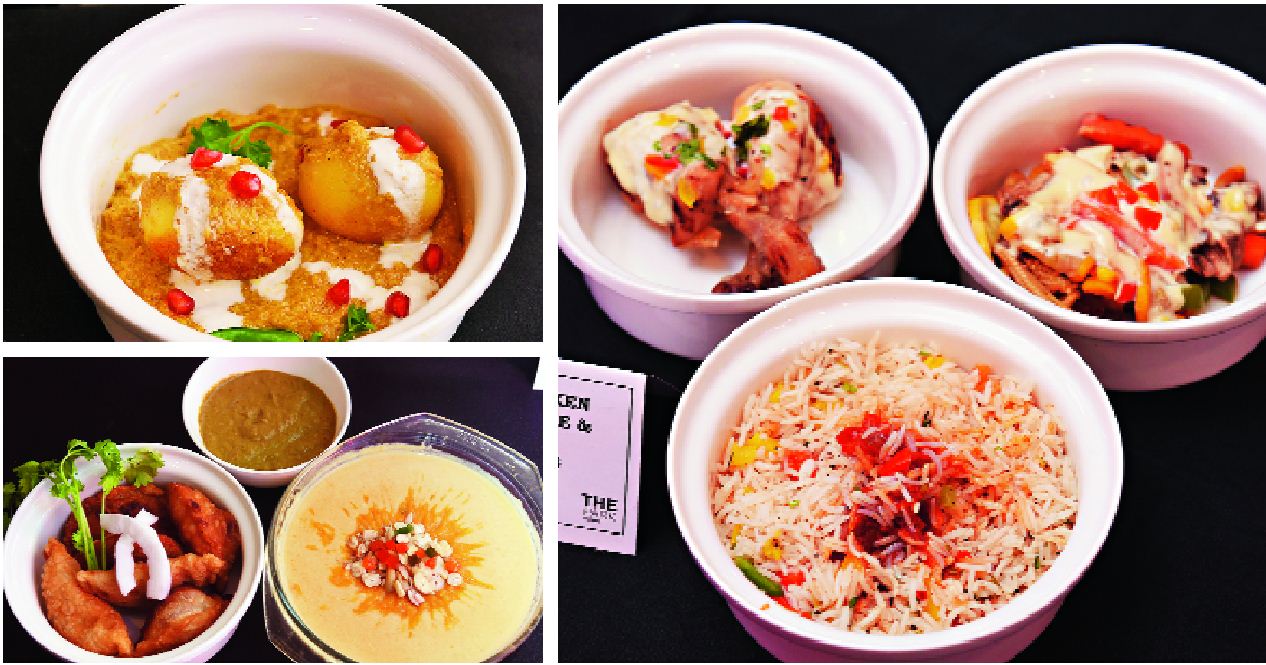 Pictures: B. Halder
The afternoon served up some dishes from the Nanighar menu. Haansher Dim-er Malai Curry, Mango Firni, Grilled Chicken with Herb Rice and Exotic Vegetables were some of the delicacies that truly represented the diverse nature of the app's menu.
"The concept of Nanighar is phenomenal. A lot of people talk about women's empowerment, but only a few walk the talk. As far as mom chefs are concerned, we are not worried about their cooking, since they are experts. But they will need technical inputs, now that they are in the commercial zone. For the youth, it is a great opportunity to taste home-cooked food, which they miss so much," said chef Debasish Pal.
"I have learnt a lot of Bengali recipes from my previous generations. A lot of people might not know how to cook something like a mochar ghonto nowadays. I have tried to include such recipes which people love to eat, but are unable to cook due to constraints of time. Our mom chefs can cook a variety of cuisines like Marwari, Parsi, Chinese, Continental, Punjabi and coastal," said Debjani Mukherjee.